---
Dropping the Flag
Share on Facebook
Share on Twitter
Published: 18th March, 2012
Another 'thank God the winters over' blog. XC racing hasn't started in Scotland yet and it's Sherwood next week. How do we know what we've got in the tank? When you look at Facebook updates or Twitter all you see is how other racers have done 6hours in z2, or done 3 hours Z3 plus the gym. Some of them kindly upload their Garmin tracker and average power.
Forget psychological warfare. A motorbike racer once pointed out to me 'when the flag drops, the Bull**** stops'. Right he is. Well Gareth and Dave of GT have been off sunning themselves in Andalucia, Rab from Alpinebikes has been getting snowed on in Israel, Kenta and Grant from Boardman have been smashing up the World Cup until they both punctured. What about the rest of us north of the border?
Winter for me hasn't all been the Joe Friel (no relative, cool name) Training Bible workouts. I got that out of my system a few years ago. 4 hour road rides are important.... But so is daylight in the winter and I wasn't prepared to spend every weekend getting sprayed by the tarmac. I've done my own little training camp wearing a groove on the turbo trainer and ridden to work everyday, but what else can you do...
1. Race cross
.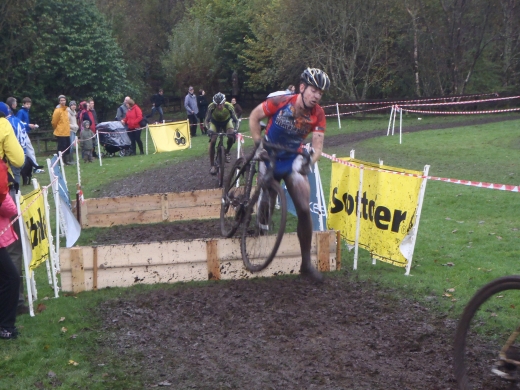 Scottish Cyclo-Cross events attract over 300 riders across the categories including strong folk from different backgrounds. In the Senior mens the GT mtbers were there as usual, and Gareth took the Series, Champs and 'World Santa Champs'. There's a few strong Road riders turn up with David Lines (Endura), Jimmy Mac (Rapha) and Ben Greenwood (Vanilla Bikes) always up there when they show. Dan Whitehead won a couple using his gazelle like running to maximum advantage.....and then there's the guys who concentrate on CX as the main objective. Never count out master of all things two wheeled Craig Hardie or Colin May's baggy shorts. I even won a couple of races myself. The courses vary from old school and tech, mud baths, to fast and open. The races are close and always competitive. You don't get the winner riding 10 minutes off the front like you do in some of the epic SXC races. Plus, they are all done by december so you can get back on the mileage tally early enough.
See someone elses opinion here:
http://www.cxmagazine.com/england-verses-scottish-style-cross-racing
2. Go exploring.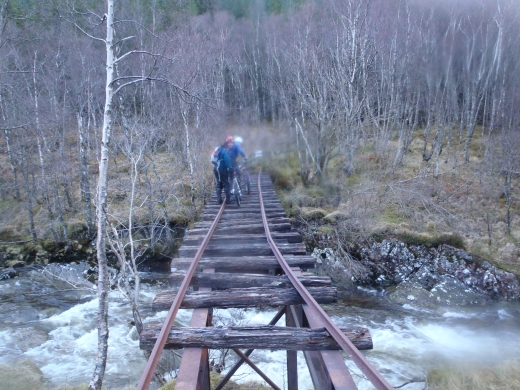 All you need is a guide book / internet for inspiration, appropriate maps, waterproofs, tubes, food......you know what you need. Also advisable is a couple of hard mountaineering mates who think that sleeping in a public toilet is a luxury for extra 'epicness'.
Never trust a cyclist in a climbing helmet and ronhills
. We've done some pretty big Cairngorm rides and ridden the Tour De Ben Nevis Route mid February. Kinlochleven always throws up brilliant technical descending I've not done before. Prepare for river crossings to be deep, fast and cold. Getting lost and crossing the "Unsafe structure - Do not enter" railway bridge is down right stupid, and not to be advised. These rides are fun and you will burn a tonne of calories, probably include time in Z1,2,3, and 4, get your tech skills up, but more importantly recharge your soul.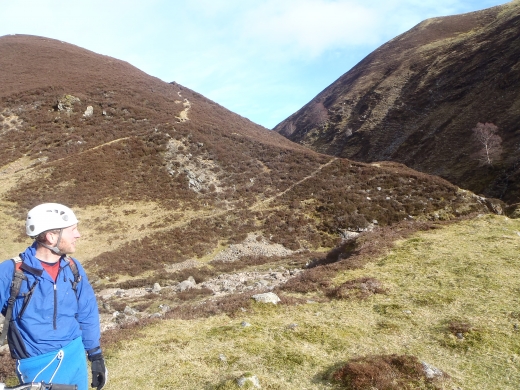 3.
Ride trail centres
. Ride them for a hard workout with minimal faffing around effort. They are fun and you can control the training effort, if you are that way inclined. A weekly night ride with Gareth gave me some good tempo work at Drumlanrig, made sure I maintained some left and right ability and allowed the Turbo to cool off.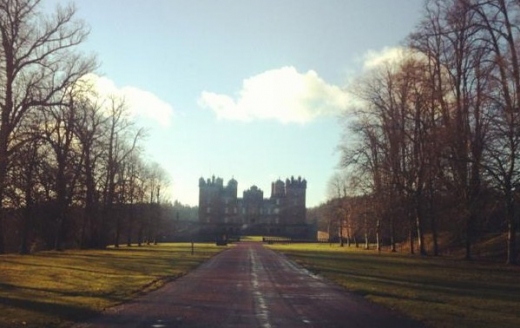 4. Enter Enduro events
. Innerleithen mtb racing ran a couple. 2 runs, raced day and night plus a practise lap. Thats 6 DH runs, 4 of them timed. Probably more importantly for an XC racer, if you use a single ringed 10 yr old Santa Cruz Bullit to ride to the top of Innerleithen 6 times in a day you are doing a good force workout that's for sure. Rab Wardell got 8th in Snr and I got 10th in Master at the last one. More importantly mid winter, we had a right laugh. See some footage here:
http://www.alpinebikesracing.com/2012/03/alpine-bikes-racing-video-episode-one/
5. Do some random stuff.
I managed my first winter route up the north face of Ben Nevis. It was those guys in Ronhills fault. Not only do you climb the biggest mountain in the UK, you do it with a heavy bag on. You also get a full body work out smashing Ice axes into melting snow and frozen waterfalls. If it rains all day too you get to scare yourself practising the art of self arrest falling down Gulley number 4 in the most unstable snow you can imagine. I would have given anything for my skis down there! The slow plod down to the car from the hut was hard. The wet rope and bag must have weighed about 5x as much as my pushbike!
The opposite end of the random spectrum - race a street race and a rollapalluza. See my previous blogs.
6. Get lined up behind a flag.
Enough of my Bull****. What am I dealing with on the start line next week. Honestly, I don't have a clue. I'll be near the back of the grid after a relatively poor year last year. I broke both arms flipping down Ben Nevis at 5am one morning in June. It ruined my season. (In fact, it ruined my holiday, kept me off work, meant I had a stinking cast and it hurt).
So coming into the season fresh but a little blind I practised what I preached yesterday and was pleasently suprised to get 6th in the Dick Longdragon road race. My first road race for 19months. It was a 78miler in the Cairngorms, National B ranking, E,1,2,3 status and had 80 starters. The flag dropped......and we're off. Bring on the suffering.
Blogger Info:
--- Read More By Robert
---
Disclaimer:
This blog post was written by a third party and their views do not necessarily reflect the views of XCRacer.com