---
European Marathon Championships 2012
Share on Facebook
Share on Twitter
Published: 20th June, 2012
Last Sunday was the European Marathon Championships, my second 'A' goal of the year - the first being the Cape Epic back in March. We left Austria and set off on the 8 hour drive to Czech a week ahead of the race so that I could spend some time familiarising myself with the course. During the drive from the south to the north of Czech I was a little dismayed with the lack of hills, but as we neared our destination - Jablonne v Podjestedi - I was pleased to see some forest covered rolling hills; not quite the mountains but a least there were some small climbs!
The local bike shop that organized the race gave us a course map and we set off on the forest trails, which were already marked. After a few days we'd ridden the full 95km course that included a variety of forest fire tracks, grassy fields, some fun rocky descents and steep, slippery climbs. There were no prolonged climbs - the longest being only 15-ish minutes - but there were lots of short power climbs throughout the course accumulating 2000 metres of vertical ascent. The first substantial climb wasn't until approximately 30km, meaning any splits in the race wouldn't happen until at least here.
The days before the race were hot and the course started to dry out, but heavy rain the night before greased the rocks and re-filled the boggy sections. This was a good thing because it added some more fun factor to the course. The weather forecast predicted a hot and sunny race day so the evening before I prepared my race nutrition with this in mind. The correct nutrition in this race was going to be critical and I couldn't afford to make any mistakes.
I predicted a 4 to 4.5 hour race time and I mixed 4.25 litres of Torq energy, attached a total of 6 TORQ gels to my feedzone bottles and took an extra 2 TORQ gels in my pocket. At the last 2 feedzones I took TORQ guarana gels to give me an extra boost to the finish line. I also added ELETE electrolyte to my bottles to ensure that I replaced all lost electrolytes during the race. In total this gave me 479 grams of carbohydrates. This is a lot for my body weight (51kg), but the fact that I tolerated it is testimony to how light TORQ is on my stomach! I felt brilliant from start to finish - strong, fuelled muscles and no cramps. I lost a lot of fluids through sweating and I know that if I hadn't drank so much TORQ energy and ELETE then my performance would undoubtedly have suffered.
The pace of the race from the gun was slow. I didn't like it, but the other girls were happy to sit behind me. I knew this would happen so I relaxed into an easy pace and tried not to spend too much time at the front, though this was hard because no one wanted to be there! Once we arrived at the first climb I increased the pace slightly and we became a group of 4 - Pia Sundtedt (Finland), Elizabeth Brandau (Germany) and Silke Schmidt (Germany) followed my wheel. Reluctant to do all of the work I backed off. I found it frustrating that the other girls didn't want to work together with me. I would have preferred a faster pace.
A series of short power climbs split the group again and from here onwards Pia and I rode alone. It continued to be a tactical race to the finish line and with 23 years of pro-road racing Pia knew exactly how to play the game. With 1 km to go Pia attacked and I was able to follow and pass her. There were 4 corners from here to the finish line and Pia utilized all of her road racing experience, overtaking me on one of the corners. I rode directly behind her but on a short bank up to the finish straight my gears jumped and I couldn't sprint. A silver medal 1 second behind gold is not so bad, but I would, of course, dearly have loved to win. I learnt some valuable race experience and this will undoubtedly benefit me in the future. It's great to race women only races and experience different race dynamics.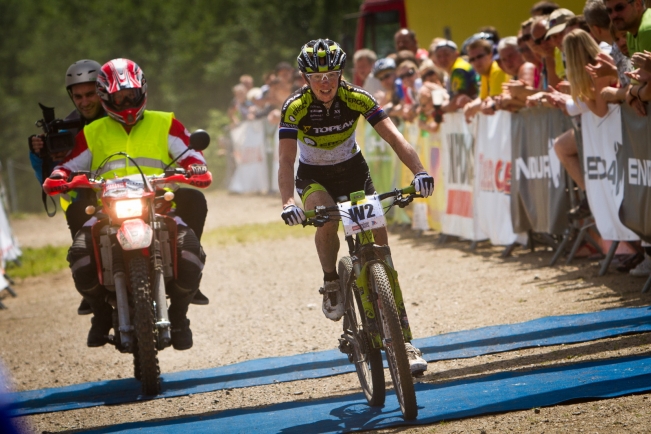 Huge congratulations to team mate Alban Lakata on his Bronze medal and also to friend and training partner Simon Willats on his win in the 40+ age group. Finally congrats to fellow Brit Ben Thomas on his strong ride in the Elite men's race.
Thanks to all of our Topeak Ergon Racing Team Sponsors and all of my personal sponsors, including ELETE electrolyes, Compressport, Northwave shoes, TORQ nutrition, BikeBoxAlan, Fine-ADC, Pukka Pads and Purple Extreme.
Peter Felber (Team Mechanic), Dirk Jucwer (Team Manager), David Padfield and Anita Reizner all provided brilliant team support. Thank you all!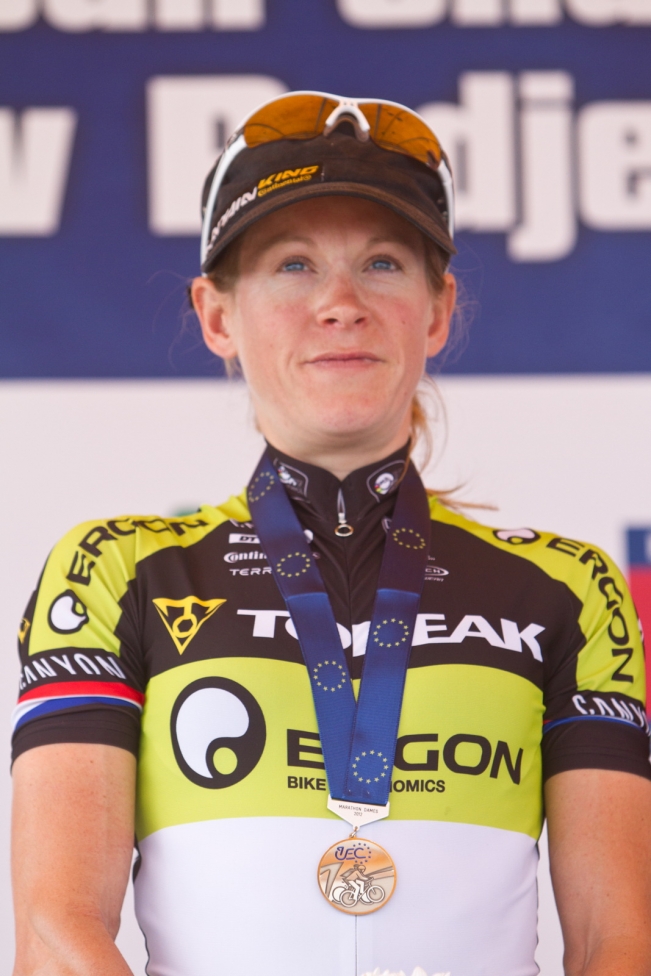 Blogger Info:
---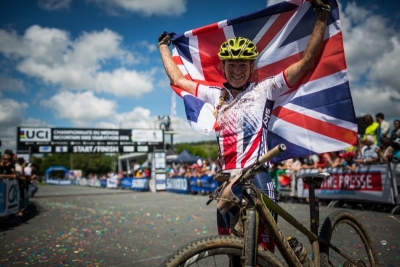 Topeak Ergon Racing Team Rider. European Champion (2016) and 2 x Silver World Championship medals (2016, 2013).
http://topeak-ergon.blogspot.com/
Read More By Sally
---
Disclaimer:
This blog post was written by a third party and their views do not necessarily reflect the views of XCRacer.com