---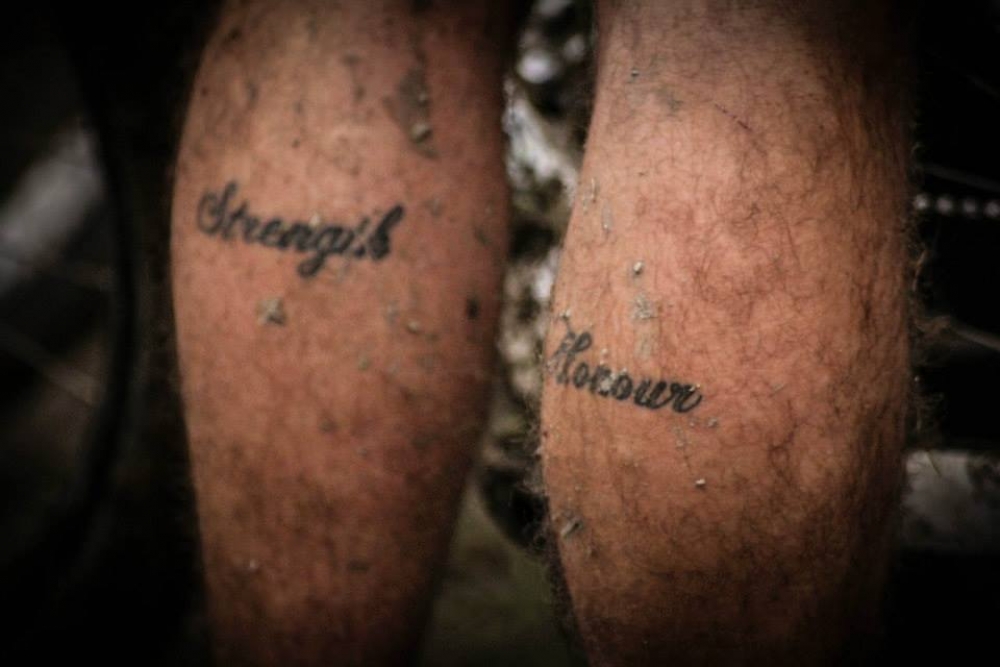 First ride review - Yeti ARC Carbon
Share on Facebook
Share on Twitter
Published: 23rd December, 2013
In a nutshell, the ARC is size zero jeans. With luck and judgment, I'll be able to support this argument with a convincing argument, but if not, it just is OK?

In the spirit of Christmas, and a euphoria induced by too much office eggnog and Quality Street, the mighty Silverfish agreed to lend us their demo Yeti ARC carbon. Full carbon, XTR, bling, kerching, spokey-dokeys. The bike elves have clearly devoted some thought and considerable care on this build; in my world, the only thing XTR means is a bad run of consonants on Countdown or in Scrabble.

So into the Fully Sussed team maelstrom the ARC has been flung. Like a lamb to the slaughter, the bike will be passed from rider to rider like…well, this is a 'U' certified website so you'll have to insert your own punch-line, but I'm sure you can see where I was going with it. Evie 'Calamity' Lane was first to train and race on the ARC, while I skulked in the background like Gollum, awaiting my chance to grab my precious.

My chance came at the grand finale of the SW cyclo-cross series. With the inevitable, interminable post-race, end of season speeches looming, we were determined to make the most of the fun part of the day; the riding. Evie was under team orders not to get the Yeti dirty (some chance) and I winced every time she insisted on getting air. The Fully Sussed motto of 'whatever happens, look good in the photos' has been instilled in all our Paduan learners.

No sooner had Evie crossed the line than I had her in a Vulcan death grip and scampered off with the Yeti. And within two minutes we had to have the compulsory, hilarious 'Hide the Bike' moment as soon as my back was turned. Children can be soooo childish! Ho ho bloody ho!

Saddle up, waterproofs off, number on, quick season's greetings and race time!
Now if you are looking for a scientifically based analysis of the bike and its performance, the geek department is on the second floor. I am an average rider who occasionally (recently very occasionally) pulls out a good result or a bit of technical proficiency and mostly by mistake. I wouldn't know a slack head angle if it kicked me up the arse and if a bike doesn't make horrible noises when I ride it, it has generally passed the test.
Luckily, by the time I got my mitts on the bike it was already dripping mud, so I didn't have the usual 'oooh, shiny' moment. My initial insightful observation of 'Christ these brakes are good' will probably never get me a job at MBUK, but Christ, the brakes are good. XTR brakes - just an 'A' and an 'E' away from a pretty respectable triple word score.

Then once you are aboard your bike, especially when you are racing, you are unlikely to look down at it, or pay it any attention whatsoever unless it is misbehaving or you are desperately searching for more gears. And for me, that's the whole point. At no stage in the race did I give the bike a second thought, it was absolutely faultless. Dull, isn't it. But this is a bike that I'd literally just picked up and raced. I had no back ache, neck ache, arse ache; apart from the usual excruciating pain in all the pedalling areas and eyeballs, it was a lovely sit down.

The ARC took me to the best result I've had for a long, long time. Now there's nothing to say that I wouldn't have produced anything so heroic, bodacious and awesome on any other bike, but the Yeti had me dancing past racers that I've spent the past few months watching disappear into the distance. Damn, it's good.

So, the whole size zero jeans thing. Don't buy a pair of skinny jeans to hang on the mirror as a prompt to stay off the pastries, just buy this bike. We have had a lot of conversations in the xcracer community about what events are motivating you to train through the winter, or which riders inspire you to put yourself repeatedly in the hurt locker. Well I reckon that the Yeti ARC is all the motivation anyone will need. Buy one, stick it in your lounge and only allow yourself to ride it once you are much, much better.
The ARC is better than you will ever be. Stick alivio on it and it will still be Jenson Button to your Driving Miss Daisy. They should imbed a body fat calculator in the grips and have the brakes lock on unless you register single figures. You should only be able to ride it once you have joined the 0500 club for a full six months, got your resting heart rate down from a quick step to a waltz and spend more time training than you do at work. Rest day? You should have your pedals confiscated.

I'm going to get one, just as soon as I've sold a kidney and Maddie. I'm going to put it in the bedroom, train super hard, watch my diet, and when my nearest and dearest all accuse me of 'looking ill', then and only then will I have earned the right to ride it. It's put all the bounce back in my bungee.

Lucy is next to try the ARC. This is a girl who wears out a set of grips in a ride and it will be two falls, two submissions or a knockout to decide the winner. We'll see what she thinks once we've reassembled it.

www.silverfish-uk.com
Thanks to Mullet Snaps for the photos. https://www.facebook.com/MulletSnaps



---
Click any of the images below for a larger view / slideshow
Blogger Info:
---
Event organiser - Fully Sussed
Read More By Jay
---
Disclaimer:
This blog post was written by a third party and their views do not necessarily reflect the views of XCRacer.com