---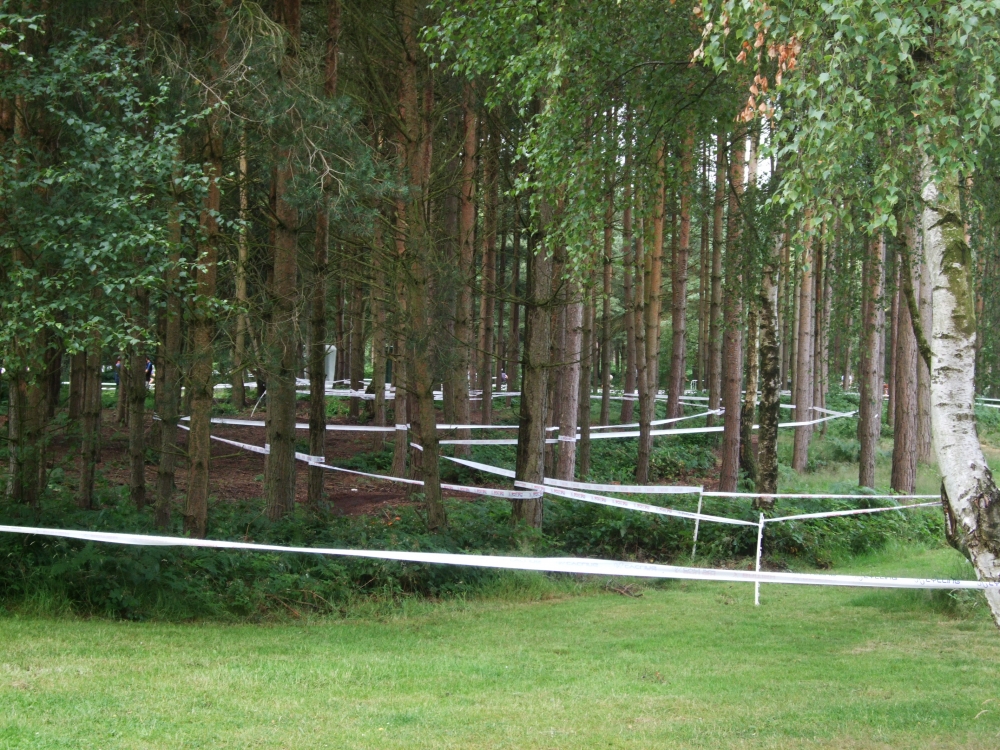 Flat out racing in a flat forest – BCXC Sherwood Pines
Share on Facebook
Share on Twitter
Published: 17th July, 2014
Until Sunday, my only experience of Sherwood Pines was slogging through snow and freezing mud while trying to make up places after a start-line crash. Seeing as it was in July this year, I was expecting something completely different.
And that was what we got. Not only was it (very) different to last year's white out, but also from all of the other national rounds this year. The relatively flat and twisty woodland trails were however, very much like the trails that I ride in the East, so I was feeling optimistic.
We (me and dad) arrived on Saturday morning, deciding to trade an extra night in a tent for a slightly early start. I left dad to put up the tent (he said he didn't mind) and set up camp while I went off to have a look at the course, although I did put the XCracer flag up first though, so I wasn't completely unhelpful!
Not wanting to get stuck in too much traffic around the lap, I set off rather quickly for my fist lap, and ended up in the slipstream of a group of Belgians, who were going rather fast. It didn't last though, as we hit a huge jam of riders who had skipped the start of the loop. I was just hoping that the same didn't happen during the race. The course itself wasn't technical in any way really, but seemed like it could be challenging at full race velocity, with several tight sections in the trees that got me worried for the safety of my fingers.
After a practice lap or two, a few efforts up and down the busy entrance road and a lot of Accelerade (it had gotten really humid and warm) I returned to tent city for a sit down and a bit of food.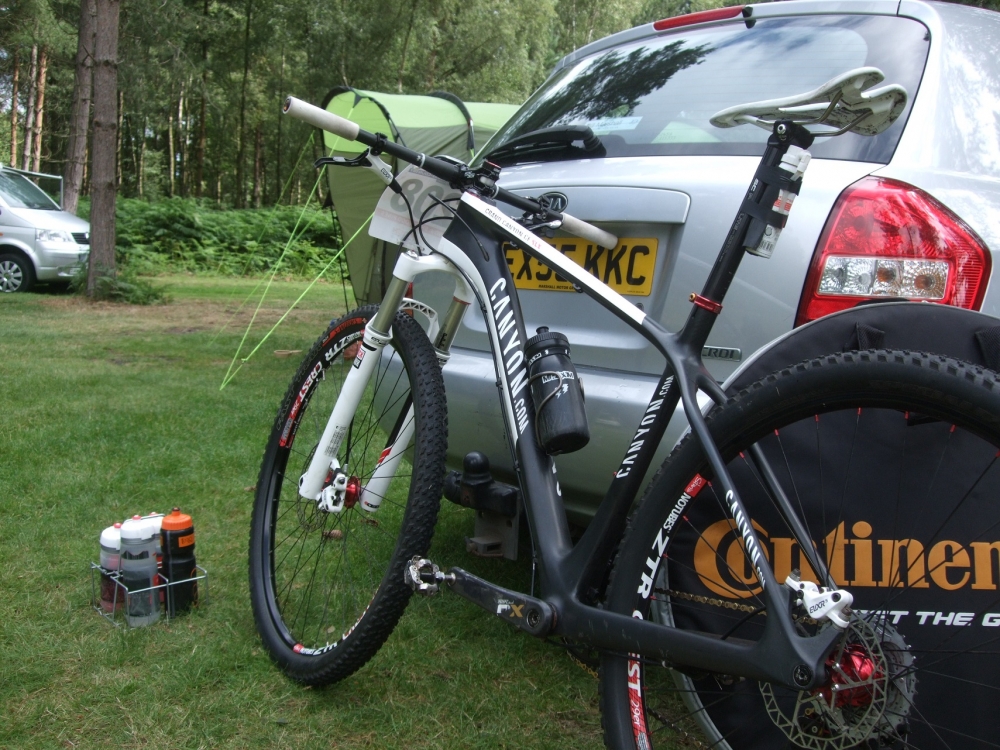 With the slightly odd combination of broccoli and cheese pasta and chilli coated beans safely tucked away, I spent most of the evening rolling around and chatting to various people. The nature of the course was the hot topic of discussion, with several (who will remain anonymous) riders claiming it lacked the technical features that should be present at a national level event. Most of the sport and open riders who had raced earlier in the day said that the course was a lot better to race than it was to simply ride, and the lack of gradient made for close competition. After admiring the vast XCracer/Scimitar star tent that the Hortons had inherited, I retired to my (inflatable) bed and drifted off.
Lie in and breakfast out of the way, it was time to watch the youth and juvenile racers tear their way around the forest. There'd been a fair bit of rain during, and they were coming back from the first lap a bit splattered in mud, enough to spark doubts of my tire choice.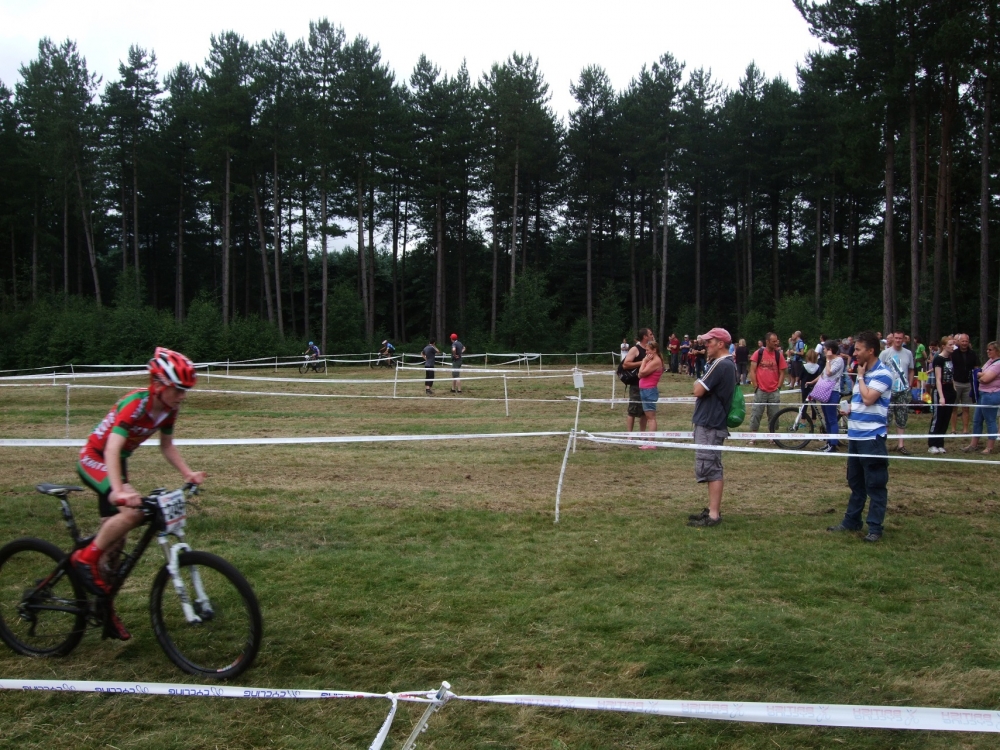 As in the Saturday races, many of the riders had to sprint for the line, notably Chris Rothwell and Matt Fratesi for 2nd behind William Gascoyne, where Chris won by a tyre's width. I would comment on the results of the other racers, but unfortunately I missed most of them, getting distracted by chatting to people!
Before long it was time to warm up and get ready to race. The nice people at Torq had kindly agreed to let me warm up alongside their stand in the race arena – as it was only me and my dad we had to leave the rollers somewhere they wouldn't get nicked!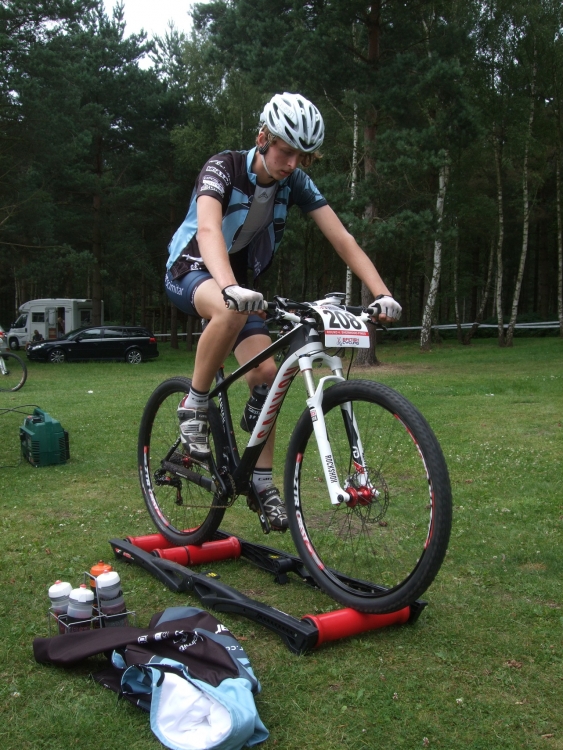 I span up to speed on the rollers, and despite taking in plenty of Accelerade I still felt lethargic and tired, as I always seem to before the start of any major race. I think it must be a by-product of nervousness.
I still felt sluggish on the line, and the fact that there was only space for 7 riders across put me on the second row, which I was a bit disappointed about. The nature of the course meant that the start would be one of the most important parts of the race. Still, if I managed one of my spectacularly bad starts my grid position wouldn't be of much consequence anyway!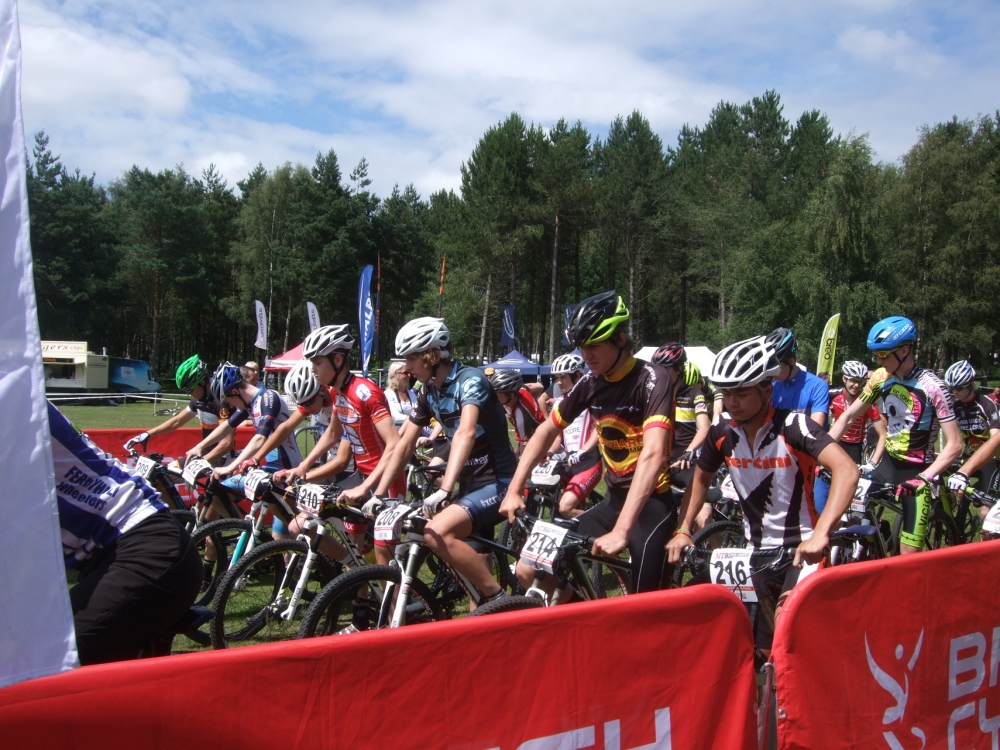 Surprisingly, I managed to get off the line quite quickly. That is, until I went into the back of another rider, and had to put a foot down. So I was in 8th on the grid, got up to 5th, then back to about 20th in the space of a few seconds.
I then proceeded to mash the pedals as hard as I could for the next 5 minutes, trying to make up places, but I felt like I was lacking in firepower. As hard as I pushed, I couldn't move up the field. As I thought might happen, I got held up in the singletrack behind crashes and slower riders, and ended up coming through after the 1st lap in 17th.
It was then that I started to feel my legs waking up a bit and some motivation returning. I got on the gas, and got past a load of riders, feeling the best that I'd felt in a race for ages! I can't really remember the 2nd and 3rd laps, but they must have gone quite well, because I managed to get up to 5th, leading a group of 3 riders.
Around the 4th lap, Robert Rogers came flying past, and I set off in pursuit, with Will Taylor close behind. We flew through the tight singletrack, picking off the slower elite riders as we went, and I had more than a few moments where the ends of my bars caught on trees (I still think that wide bars are the future, just maybe not at Sherwood)!
Just as I managed to get back in touch with Robert, we came up behind William Cheaney, who had been riding in 4th for the first few laps. I put in a big effort and managed to get to the front on an open section before we hit the singletrack, but somehow managed to annoy an elite rider in the process. Nothing serious though, and we got on with racing.
We stayed in this group for the last lap, with Will (Cheaney) losing his legs a bit towards the end and dropping back into 7th. I was really surprised with the number of people shouting in support (for me and the other riders) from the sides of the track, it was really nice to hear.
Right near the end of the lap, on a draggy grass rise (I won't exaggerate and say hill), the race for 4th place got yet more heated. We were all going full gas trying to get an advantage, and somewhere in the heat of battle me and Robert managed to tangle bars (not his fault by the way, things like that happen in races), the end result was me having to put a foot down momentarily.
This put me several bike lengths back as we entered the arena, so I dug deep, nearing my limit to get back to the front. I led as we left the 'north shore' (a few planks that seemed like a last minute addition to the course), and came into the last couple of corners at full speed.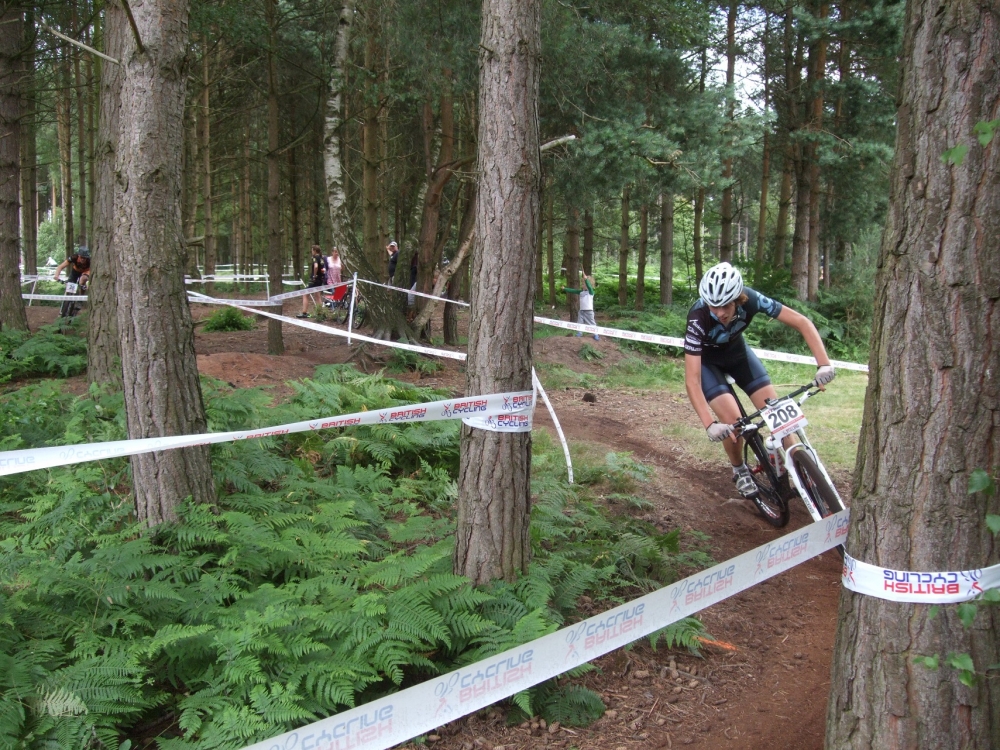 Unfortunately I didn't have the power left to sprint properly, and was left in 6th places as Will (Taylor) and Robert barrelled towards the line, with Robert emerging on top.
Still, I was (and still am) very happy with that result, my highest position in a national this year, and hopefully a good sign for the fast approaching national championships. What's more, I (and the other two I finished with) was only about 20 second off 3rd place, the closest I've ever been to a national podium in terms of time.
Well done to Jack Ravenscroft for taking the win after a race long fight with Mark McGuire, and to Grant Ferguson for seeing off the Belgian invasion and triumphing over Jonas de Backer in the elite race. Congratulation to anyone else who did well and I haven't mentioned, whether you won the race or simply achieved a personal best.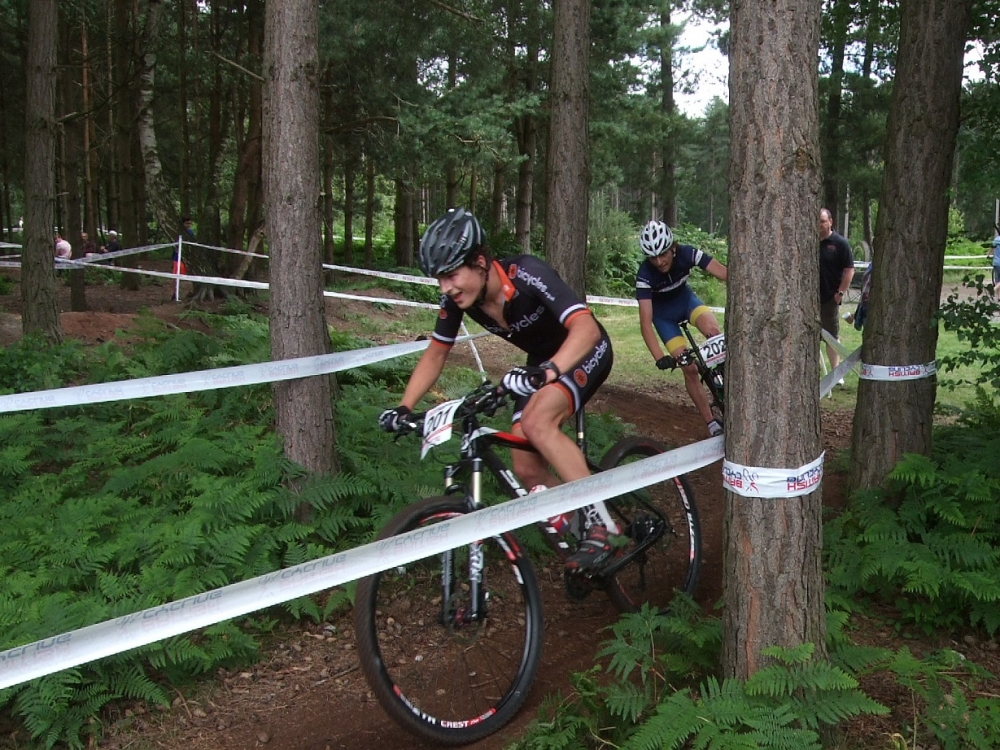 As always, thanks to my parents for supporting this mountain biking nonsense, and anyone who has helped me along the way.
---
Click any of the images below for a larger view / slideshow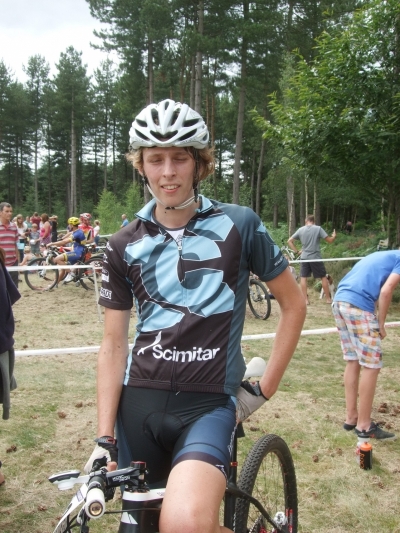 So tired that I fell asleep on the bike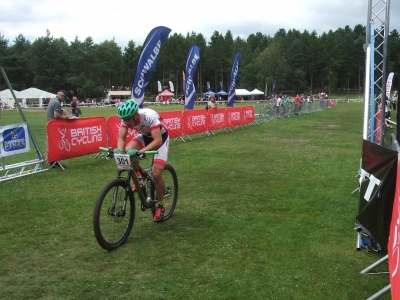 Philip Pearce (expert male winner) goes full aero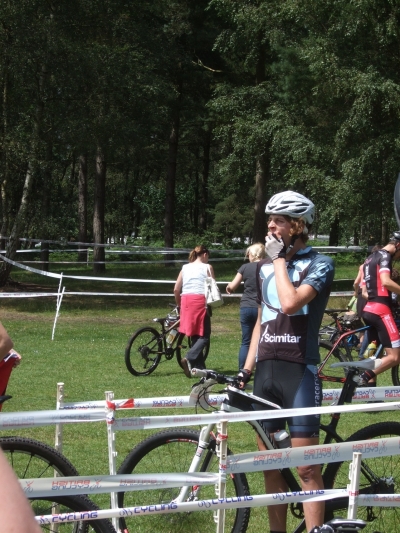 Gridding is clearly a tiring process
---
More on the 2014 BC National MTB Cross Country Series Rd 4:
Event Calendar Listing
Blogger Info:
---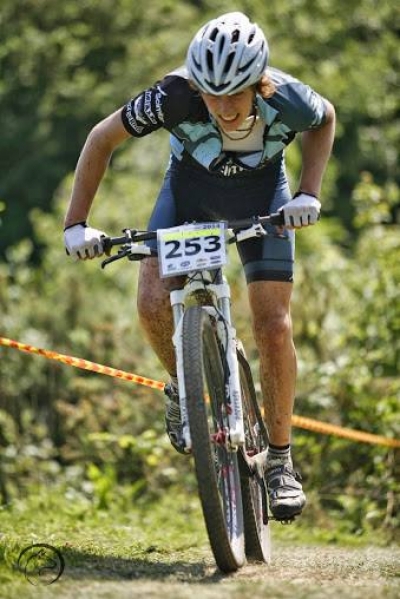 I've only been racing since early 2012, but been mountain biking since the age of 10. I try to balance training and A-level studies, then you get to read about it on here!
Thanks to XCracer, Scimitar, MtZoom, Accelerade and Exposure for all the help.
Read More By Paddy
---
Disclaimer:
This blog post was written by a third party and their views do not necessarily reflect the views of XCRacer.com