---
From Taipei to Swinley Forest
Share on Facebook
Share on Twitter
Published: 3rd May, 2011
Busy as ever over the last few months, so this captures alot ...
Taipei Cycle 2011
March saw me in Taipei at the big bike show in the Far East. Often this is where you see stuff first before the big bike brands grab it, shine it up and show it a Eurobike & Interbike. I picked up a few trick bits, & some of the better refined stuff will be sold through XCRacer under our MT ZOOM brand.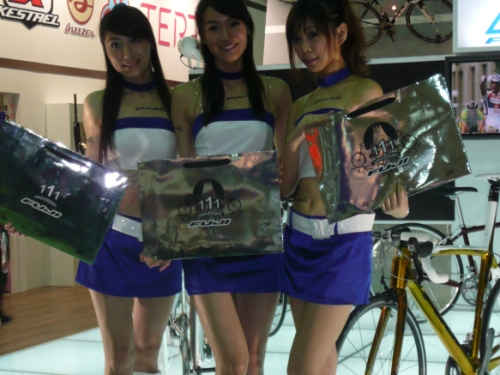 There was a lot of 29er action, all carbon manufacturers were showing 3 pound 29er frames … being fondled by European buyers.
Taiwan isn't my favourite country. I once tried to cycle there but failed to get away from people. You have to admire the work ethic and the passion for manufacturing though. Most of the best bike bits are made there. One lunch time I sat outside with some Taiwanese Engineering students. They were majorly peeved that they weren't allowed into the main halls. I imagine a similar disappointment might be felt amongst some British youth, if they missed out on their chance to audition for X Factor.
Aceh Province - Sumatra
Taiwan is a long way to go and just come back in a few days. I decided to take a mini side trip to Northern Sumatra. I had been there a few years ago, but now internet had landed I could work at the same time as do a mini cycle tour.
I cycled down the coast from Banda Aceh to Meulaboh (pronounced Malibu) and back (both of 2004 Tsunami infamy, c200k people lost their lives along this coastline). It's a beautiful place.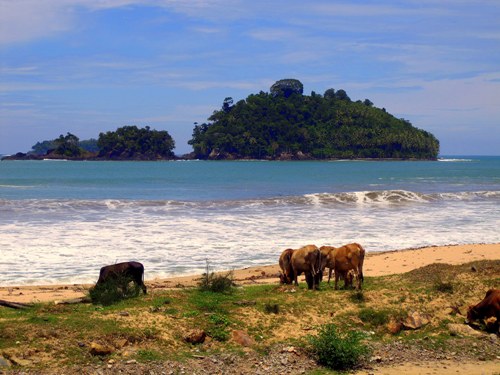 ... near Calang
The people are super nice and population density low.
The road was good. A gazillion Indonesian Rupees in foreign aid has been spent rebuilding the road & area.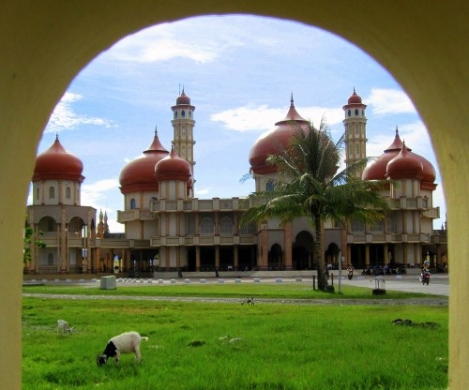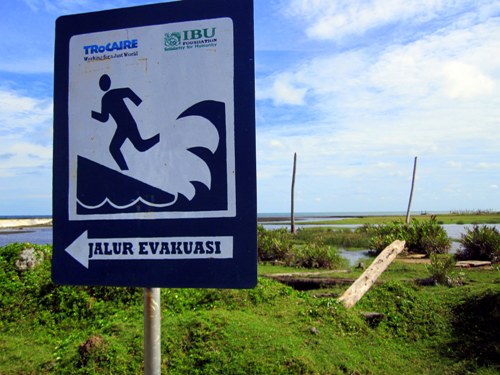 .... or you could climb a tree, or maybe not.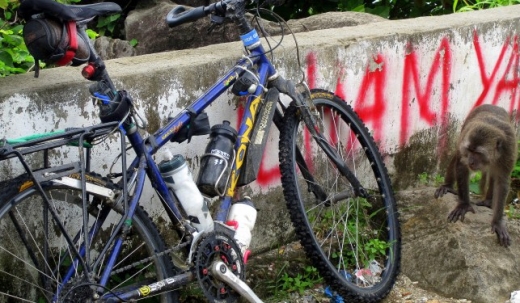 ... a bike and a strange looking squirrel / badger thing
Cycling back to Peterborough from Stansted was underwhelming and chilly.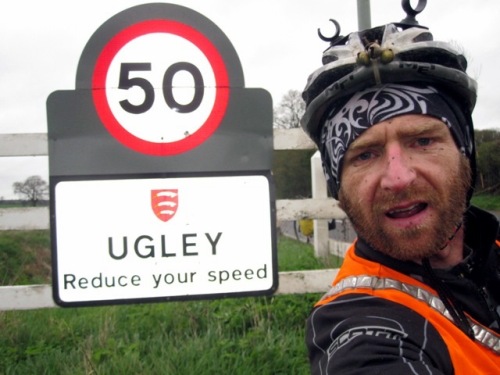 ... just outside Stansted
A non-wet weekend in Wales. CRC / Exposure Marathons Builth Wells - Wales
The sun shone, the vibe was good and there were two mtb races to do. Yay!
Saturday Night XC
For me this was my first race since 24 hours of Old Pueblo, my first time on the Cannondale Scalpel and my first time off road for quite a while. The night race was always going to be a tester. A 2 hour sprint for me … a necessary evil and badly needed. After a very long neutral start we hit the climb. I enthusiastically attacked it. Not enthusiastically as Ian, who was up front with legend Nick Craig & local fast guy Jonathon Pugh. I got ahead of one of my key 24 hour rivals, Matt Page, but not for very long he eased past halfway up the hill and looked smooth and strong. The climb went on & on and on. By the time the first descent came I had lost a couple more places. The bike was handling well and I felt comfortable rocking down the rough stuff in the dark. The leader's lights were easing away though. Mixed thoughts were passing through my mind, mainly this hurts and I feel like I'm going to soil myself. I tried not to as I only brought one pair of shorts for the weekend.
I settled into a rhythm and picked up a couple of places before catching Paul Ashby. For the rest of the race Paul & myself stuck together. He really dug in on the climbs, and the new bike & my Exposure 6 pack light was helping me on the descents. Tantalisingly just ahead was James Lister and ahead of him, Matt. Paul dug in at the end, got ahead of me & I couldn't out sprint him for the line. I was about 8 or 9th. Nick Craig won.
Sunday Marathon
The bigger race on Sunday saw hundreds more weekend warriors in the field and some more fast fresh xc riders to duel with.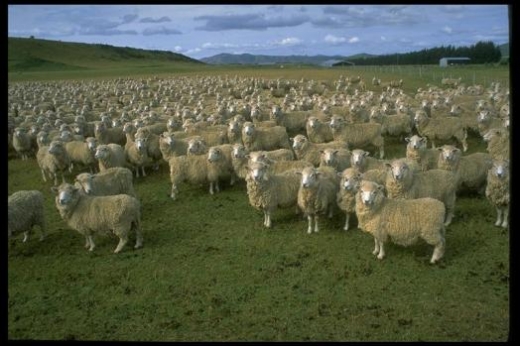 The start was similar to the night before. A long hill sorted it out. A very fast group of about 6 got a gap. Myself and Matt Page was just behind it. Matt managed again to ease away from me and ultimately get across. James Lister got an early puncture.
I was intermittently joined by other riders, but just pushed on pressing a steady pace. It was a beautiful day and the leaders weren't going away at all. For half the race they were just a minute or two ahead. I could see exactly what was going on. Nick Craig and a couple of riders who were fresh from not doing the night before (Ben Thomas & Neil Crampton) looked the most comfortable, Ian, Matt & a Beyond Mountain bike (BMB) rider were "dropping off and getting back on. First casualty was Matt with a massive tyre side wall split. Then Nick got a puncture. At the same point Ben & Neil, took a wrong turn and had a spot of hike a biking to get back on tracking. I passed Ian (who was shot from the night before) and for a while was in the lead with the BMB guy. Eventually Ben & Neil came past at quite a high pace. Ben then attacked Neil and got away and was first home. BMB guy found an extra gear and got away from me. At this stage I had shaken off riders that had been with me. Nick came sailing through close to the end. I finished 5th, satisfied with the result, quite refreshed and happy to have seen all the action. If only all race weekends were like this.
Dalby NPS XC Vets… back to the Old Skool.
I did my first bike race at Dalby forest about 15 years ago; I lived just down the road in Scarborough at the time. It was scary then, on my rigid Raleigh Marauder, and the new World Cup course was scary now. Just the way it should be. 15 years ago I didn't do that well, and because of it I caught the bug of goal setting and athletic self improvement.
I was in 2 minds to whether to make the long 3 hour drive north. I did. It was a fun day. I was gridded about 80th out of 85th in my first Vets race. yippy. After the very brief sprint to leave the main field I had made up about 20 places. Given the number of riders around me I decided to take the chicken runs on Worry Gill and Medusa … boo! On lap one in my haste to overtake I tumbled at the drop into the second feed zone undoing some good work.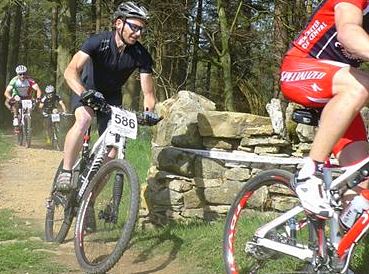 The rest of the race was over in a flash. I hammered the hills and flats over taking. The final lap came very fast, too fast. With 2km to go though my charge was over, the rear tyre was losing air … I coasted in trying not to totally burp it or smash the expensive rim.
Ultimately I finished 12th which was a pleasant surprise and puts me in a much better position for the next round. Ace.
Without the poor grid position, a few technical mistakes and taking the easier, longer chicken routes I reckon I could have been 3 mins closer to the race winner (a storming Paul Hopkins) and almost on the podium … cue XC goal setting and self improvement. Addictive.
p.s. Vets? Yes, I know I don't look a day over 30.
Nut Cracker XC Round 1 Gandale Yorkshire - Vets
More blue skies. Yay. Another quick XC sharpener, which gave me an excuse to do a mini northern mtb trip.
As opposed to the previous week I made sure I lined up in the front line of a 50 strong Vets race.
And there was a short sharp hill to climb from the start. Double Yay. The stiff back end of the Scalpel saw me accelerate up it, so much so I thought I'd made a false start. I was joined in the lead by Dan Cook and then by Noel Clough. Both were riding strongly and seem to have a powerful smooth cadence. I fluffed a few gear changes, dropped off, got back on and dropped off again.
A varied undulating course ensued, with a crowd pleasing water crossing. 4 big splashes.
On the final climb to the finish I nipped past 3rd into 2nd and was only 4 seconds behind Dan whose back tyre just made it in before fully deflating. A smooth riding Rich Rothwell was just 30 seconds back in 4th. Close.
4 laps, 1hr.20min, over in a flash. Painful, but kind of nice & mildly addictive.
Gorrick Enduro - the 4 lapper
Ahead of next weekend's big 24 hour race I had to curtail my natural urge to race in the long 7 lap (100k) race. I plumbed for the 4 lapper and was experimenting with tyre set-up for the following weekend.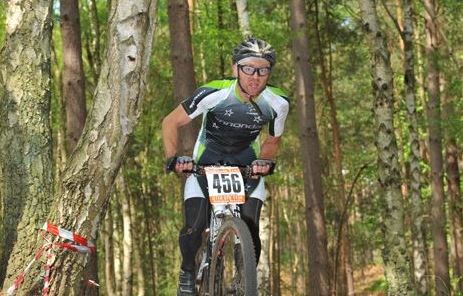 I was caught sleeping at the start and was snarled up in a subsequent singletrack bottle neck. I rode sluggishly for half a lap, eventually finding my legs towards the end of the lap. I came through in 8th, importantly there was a group of five that had got away at the start so my finger was not on the pulse of the race pace ahead. On lap 2 I gained another place and started to feel good, but then had a massive sidewall split. I considered binning it as I was very close to my van, however the course was great fun and I needed the practice of mending a sidewall split. I had put a strip of toothpaste tube in my back pocket and got things working again. This cost me a 7- 8 minutes. I came through in 13th on the 3rd lap, but had a nice flow on the 4th lap climbing back up to 8th … 8 minutes down on the winner (Sylvain Garde).
Every cloud has a silver lining, as does my toothpaste tube. I now know I need different tyres for next weekend.
Blogger Info:
---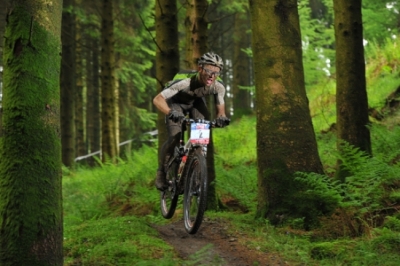 24 solo racer, world traveller and now the man behind the xcracer shop
Read More By Anthony
---
Disclaimer:
This blog post was written by a third party and their views do not necessarily reflect the views of XCRacer.com