By the end of the first lap I was back in the lead with Amy-Jo and Louise closely behind. Lap 2 was uneventful; I just kept working my way slowly through the men's sport field and really enjoyed riding in the sunshine. Lap 3 was a bit of a dodgy lap however. I ended up in a void for most of the lap. No-one immediately in front or behind me and my mind started to wander. I subconsciously switched into 12 hour pace. That was until Isaac Pucci blasted past me and woke me up! I dug back in for the remainder of the lap and managed to push out a decent paced lap 4 to keep Louise Fox at bay by just over a minute.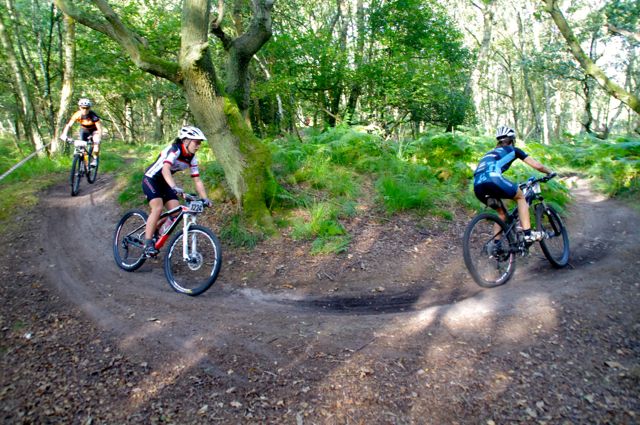 Keeping the girls at bay - early in lap 1
In the men's Expert race, Isaac Pucci and Will Taylor looked locked together for the first 3 laps until Isaac lit his booster rockets and pulled out his fastest two laps to take the victory.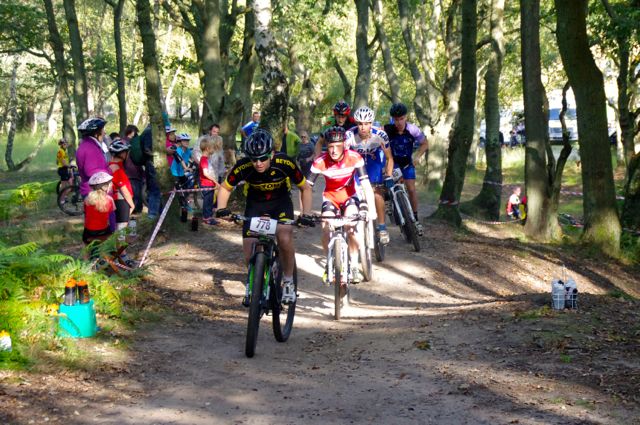 Nick Evans gets his moment of glory as he leads out the Mens Expert Race

In the master ladies race, Maxine Filby was getting in a bit of short course practice and Hannah Bussey made a return to racing after the birth of her daughter Kodi, 4 months ago. A hard earned second place for Hannah behind Maxine was well deserved. Especially when you consider the fact that Hannah's race warm up involved feeding baby Kodi them jumping on her bike with moments to spare before the gun.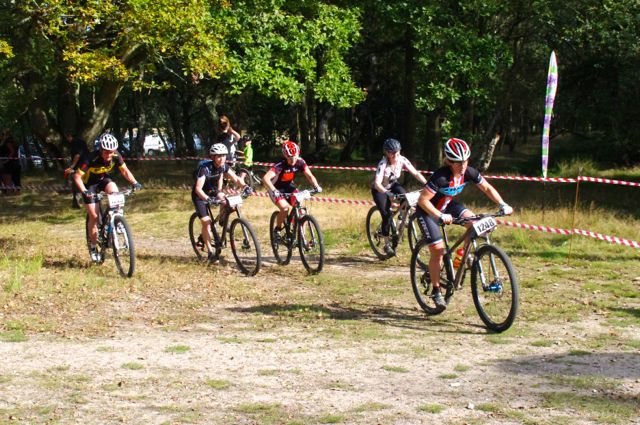 The start of the Ladies Masters Race - "On a scale of 1 to childbirth, that was an 8!!" Said Hannah Bussey after the race


In the Master Plus male category Kim Little was dominant and in the Veteran Plus category Roki Read looked set to give Owen Pattinson some serious trouble for the first lap or so but eventually had to settle for second, three minutes up on his 3rd placed team mate Paul Wellicome after a nearly off on lap 2 left him wishing for more padding in his cycling shorts.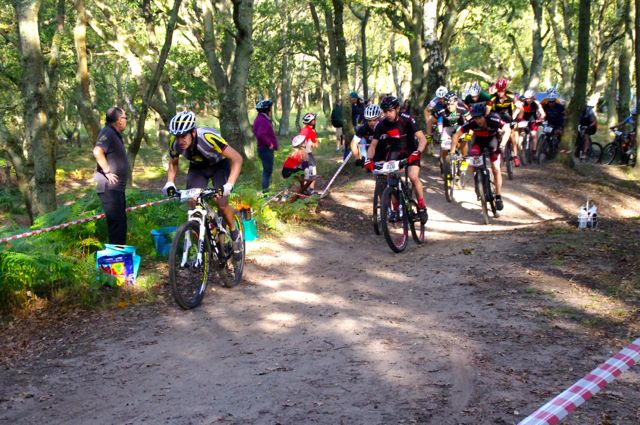 Owen Patterson takes an early lead in the Mens Veterans Plus Race

An excellent morning's racing in the sunshine. A great course although somewhat lively in places with gorse, brambles and nettles in full flourish and some really loose corners littered with pinecones and leaf fall. The tight twisty single track was great fun to ride although a few of the unmarked corners got me every lap. Looking forward to the next one at Crowthorn Woods already.

Many thanks to the Gorrick team for their hard work as always, Roki from Owens Cycles who handed me a bottle and all the racers who made it a great event.