---
GTI
Share on Facebook
Share on Twitter
Published: 19th March, 2012
Gosh it's been a while since I posted a blog. (This may be a long blog...) Not due to lack of activities, quite the opposite. A real mix of events in the last month, training hard and combined with house refurbishment and working overtime to pay for it. So far it has been a good grounded month, in racing terms, yet so early on in the year, I fear an early peak.
Rollapaluza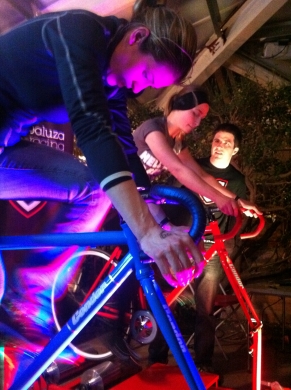 I was double the width of all the other women :-/
Since spotting Rollapaluza a couple of years ago, I have always wanted a go. Being genetically suited to sprinting, I was excited to see them coming to Birmingham for their "National Series". Only 4 miles from my house, it was the one of the most entertaining nights I have been too in a long while (nor do I go out much anyway..). Unfortunately, I was guilty of taking it quite seriously, I found it extremely nerve wracking, perhaps due to lack of control, and lack of warm up - There is no plan, no tweaking of equipment, no feedback or idea of how well you are doing until it's over... As usual in cycling events, there was a poor female turnout, though there was quality, with last year's Birmingham winner and 3rd overall in the London Finale. Somehow I managed to win the event (despite being double the age of my some of my competitors). The men's final was amazing to watch as it was so close throughout and was won by a skateboarder, apparently. I now face a dilemma of what to race over Easter - Exposure 12hr Solo or Rollapaluza Finale in London (or both :-/ )

A very good video: http://vimeo.com/37428702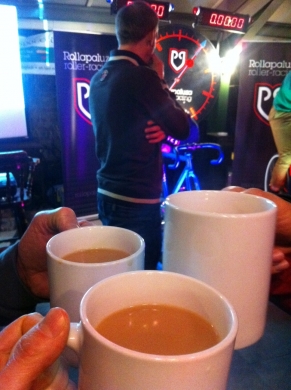 Energy drink of choice; it was outside on a work night in Feb = cold
Mawddach MTB Challenge

Very pleased with my number board :-)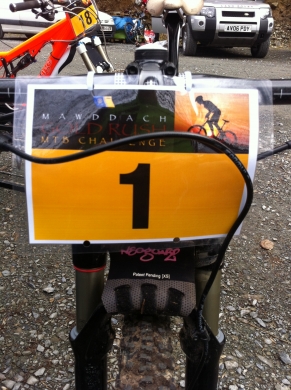 "Always such a pleasure to ride!" The Gold Rush, Coed Y Brenin, run by the Rotary Club, I love this event! it's a lovely atmosphere, generally very well organised, with cash prizes. 45km, 1450m climbing and rocky, pinball machine descents, it's brutal, my hands and arms hurt more than my legs. I knew I had a chance with a win, and I thought fate was on my side when I got my number board "No. 1"! Cheris Mills soon compressed my swelling head, as she led from the start, frustratingly a couple of minutes ahead all the way round, taking the win. Unfortunately this was the last year it will be run, if they do ever decide to run the event again, I would highly recommend this event, it is 5 star racing. It has everything you would want in an MTB event, long climbs, power climbs, tough descents, fast descents, weather proof and the benefits from the CyB visitors centre. The marshalls were superb, dressing up and always cheerful. Of course the point of it is to raise money: £2,400 raised this year towards their Adaptive Bike Appeal.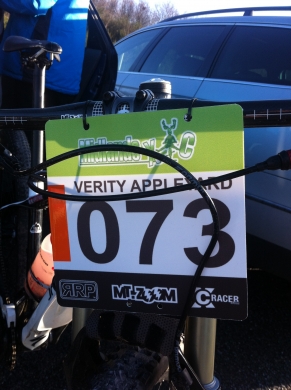 Back to classic XC. This year I have decided to race expert, don't see myself as elite (nor do I fancy that extra lap). At the midlands it's great that the women set off together and generally do the same number of laps. You end up with a good race and get a truthful gauge of your performance. On a course dominated by slippery mud and power climbs, conditions suited me. I was happy with my race, coming 3rd overall behind Katy Simcock and Bethany Crumpton (both of which disappeared from view) and 1st Expert. Loads of women have suddenly appeared at the regional events, good to see Nadine Spearing making a (laid back) comeback, and taking the Masters win, and some new faces from cyclocross challenging for mtb podiums with Di Lee and Becky Preece.

So next week starts the nationals, the dreaded Sherwood, I like downhills to hoon it down, recovering my legs and so don't do too well there... Hopefully this year will be different; I have been working with Garry Palmer at SportsTest. In power production terms, I would never describe myself as a diesel engine more like a Lupo GTI, hopefully progressing to a Golf GTI very soon. Proof is in the pudding and all that, hope it tastes good, I'll have custard with mine please.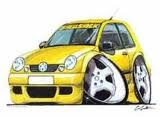 Blogger Info:
---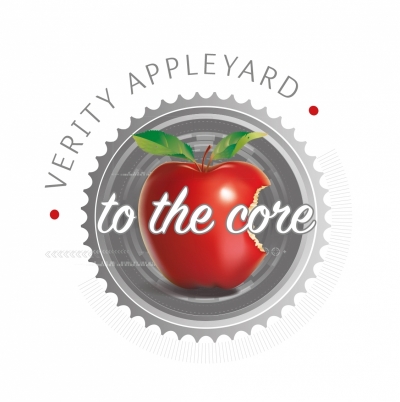 Verity Appleyard.
Riding for Brotherton Cycles
Physiotherapist

XC
Marathon
CX
Enduro

Read More By Verity
---
Disclaimer:
This blog post was written by a third party and their views do not necessarily reflect the views of XCRacer.com