---
Having a little word with yourself
Share on Facebook
Share on Twitter
Published: 23rd November, 2014
We've all been there. Race not going very well, not feeling 100%, niggles with your bike adjustment playing on your mind, really heavy going and terrible weather... All leading to thoughts of quitting. I was there today during the Brass Monkey R1 at Minley. I'm doing the 4hr series again, more to avoid getting spanked by Isaac and Phil in the 2hr than any real desire to ride in the cold for that long.

After my little chat with myself after 2 laps, this ended up being my first race and first win for the Pivot LES 27.5. I felt terrible at the start; partly due to wrong bike position - saddle too high and too far back (like I said, first race), partly because I did my waterproof shorts up too tightly and cut off the blood supply to my legs but mainly, if I'm honest, because things I enjoy more than riding around in rain and heavy, sloggy mud include setting fire to myself. It really was a mission. After 2 laps I had a little rest, got changed, adjusted the bike and decided to MTFU. I caught back up to Rich with about 1hr to go and got the win Good to have a Pivot 1-2-3 as well as Paul Flynn ended up 3rd. I really think that quitting becomes a state of mind once you've done it a few times. Things not 100%? Just give up and go home. Quitting has never been my mentality - even if things aren't going that well I just slog on and see what happens. Today is a fine are in point of the benefits of not giving up.

So... The bike. I went with the 27.5 wheel size as it's what I'm used to - I've been using them bodged into my Salsa Ti Ala Carte for the past 3 seasons. I find that the smaller wheel accelerates on the stop-start-sprint trails we get in XC courses these days a lot better than a 29er. Also, it's a lot more nimble round right corners, and as usual there were a lot of those at Minley this weekend! It's a remarkable blend of stiff at the BB shell when you give it the beans (although my 'new favourite game changer' of the Next SL cranks probably have something to do with that too...) and comfortable when you just sit down and pedal. The tubes look massive and so you expect some harshness, but there isn't any. It's brilliant. The flattened top tube and seat stays probably have something to do with it.

The other big thing I noticed was its refusal to slip sideways on a flat corner. The Minley trails are made of deep loam, which is super slippy in the wet and so are always a good test of a bike's cornering. This one just will not step out on a flat corner. It feels like you really sit 'in' in the bike; a low-ish BB, a long top tube and super short chainstays. Those short chainstays also make it feel like it turns on a sixpence. The bars also refuse to tuck under in a tight berm or an uphill switchback. The slackened head angle and shorter stem I'm running due to the longer top tube help here.

In short, the geometry really is absolutely nailed.

The new USE Seatpost is also rather good - no saddle rail slippage, no creaking and no ending up with the seat pointing up your bum when you land on the nose of the saddle. Win.

Hopefully the first of many successful weekends aboard a Pivot!
---
Click any of the images below for a larger view / slideshow
Blogger Info:
---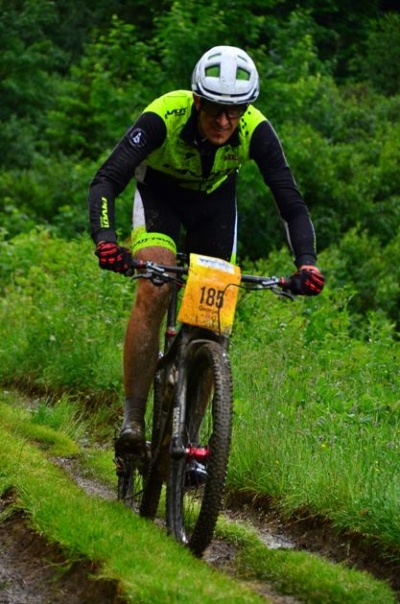 Marathon racer & Deputy Head. Usually found eating carrot cake in Peaslake.

Thanks to my sponsors: Pivot Cycles, Upgrade Bikes, Ison Distribution, USE, Exposure Lights, ODI, Gusset, Halo, MRP, Schwalbe, Absolute Black and Rotor
Read More By George
---
Disclaimer:
This blog post was written by a third party and their views do not necessarily reflect the views of XCRacer.com