---
Hopton 2012
Share on Facebook
Share on Twitter
Published: 27th May, 2012
Hopton Nationals
What a weekend. Thanks to Alex for my birthday present, Saturday morning began with a Lotus Exige experience around Silverstone. 5 laps x 2 under tuition and then scored with a breakdown of your performance. It was awesome, a hot sunny day, screaming a sports car around an international race track. Overtaking a Ferrari and an Aston Martin down the finishing straight were the particular highlights, especially as we ran out of track space and the tutor shouting "head for the gap in the cones!" I'm now waiting for the sponsorship deal phone call...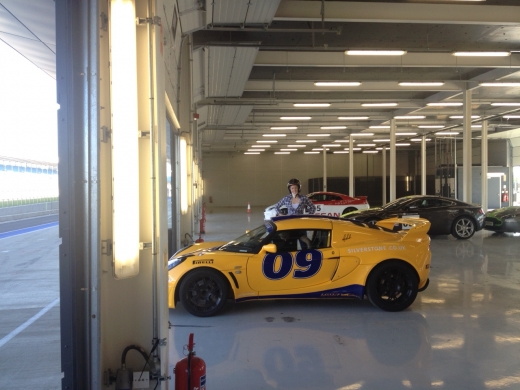 From Silverstone it was straight up to Hopton. Run under Pearce Cycles, renowned for their extremely popular DH series, as far as I'm aware it all went smoothly. It was lovely arriving, such a nice atmosphere, sunny skies, everyone was so laid back. I have only ever ridden here in my earlier years of DH mtb. I'm not much of a down hiller these days. With 80mm travel and 29inch wheels, and at 5ft 5in I find it difficult to throw the bike around much and you really do get out of the habit. Some of the uphill sections were bloody steep, and the rest of the climbing relentless. I thought it suited the purist climber, no technical climbing involved, just grinding out the pain. The downs, were weird really, not particularly technical but awkward due to the loose and soft surface. I fell off in practice like a big numpty, due in part to a silly choice of tyre (a Crow!) and a poor front brake, I found myself sliding down head first, attached to my bike for about 5 metres. Today, I just couldn't throw the bike around. I'm not sure whether I had an off day or whether it was a 29er thing but I just wasn't able to descend with an appropriate level of skill. Work to do here, I think a fun day on the "5" is due. I finished 14/21, target was to be inside the 15, so job done, but I want to do better. Some fabulous rides from all the Junior females today, other notables were Mel Alexander with a 4th on her first ride after a fractured collar bone, and Louise Robinson who continues to dominate in whatever race she decides to enter.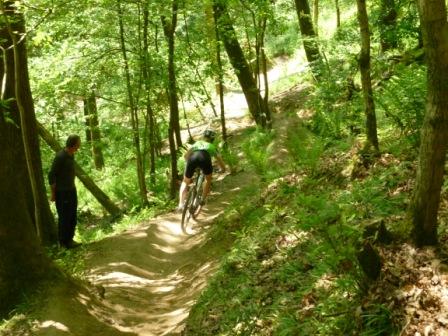 Final descent home
Though rather tortuous in the sun, and a long walk up, for me the best part of the day was in the feed zone at the top of the climb. Those poor Masters and Vets had it hard at that time of day, waiting around in the heat to ride in the hottest part of the day. It was all action here, we saw gurning, chains snapping, water being hurled, spectators being pulled down banks by their dogs, a mother chasing a son after missing a bottle change, stropps after missing bottle change, and guys wearing far too much clothing. I like to think we were soley responsible for keeping those guys going as we cheering on every rider.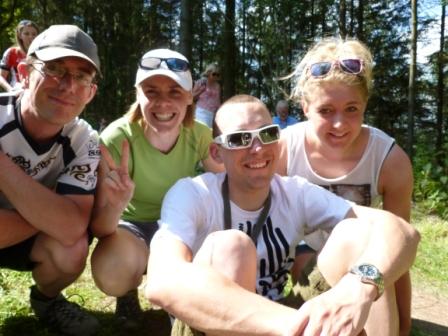 Feed zone Fun
After experiencing the hell of those climbs, we finished off the day to see a friend who's in Oswestry Hospital. It was at one of Pearce Cycles' DH events back in autumn that he suffered a very serious Spinal Cord injury. He's on the mend and has a long a journey ahead. A good reminder of how easy some of us have it, I'm not going to moan about steep climbs anymore.
Next stop is Bristol Bikefest for XCracers Team debut.
Blogger Info:
---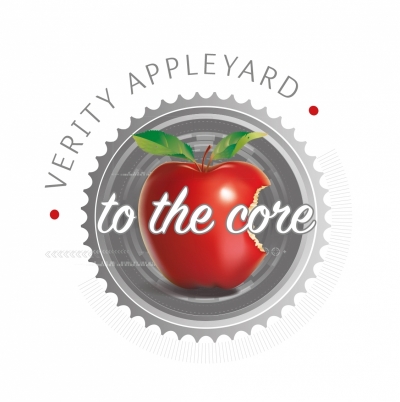 Verity Appleyard.
Riding for Brotherton Cycles
Physiotherapist

XC
Marathon
CX
Enduro

Read More By Verity
---
Disclaimer:
This blog post was written by a third party and their views do not necessarily reflect the views of XCRacer.com