---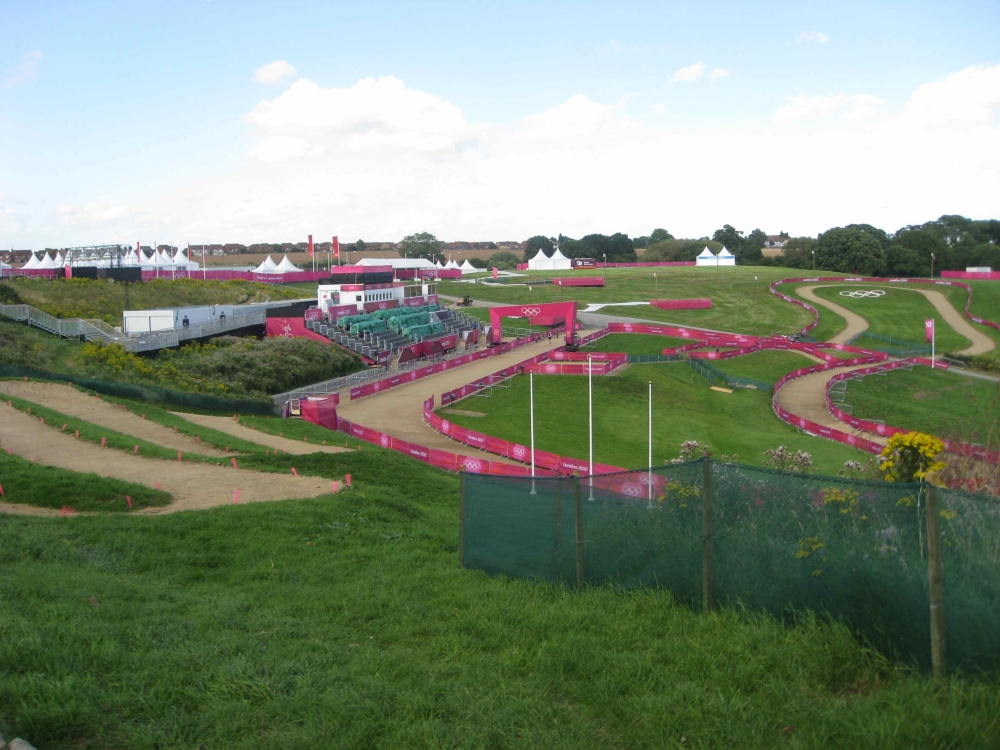 it all came crashing down at Hadleigh.
Share on Facebook
Share on Twitter
Published: 16th September, 2013
Hadleigh farm was by far one of the most anticipated rounds of the 2013 National mountain bike series. I imagine that just about every body competing had tuned in for the 2012 Olympic mountain bike race that was held at the same venue just 12 months before.
I was lucky enough to be given the opportunity to ride the course during the lead up to the games, the last time being just a few days before the big day. Returning to the course was a little odd and very disorienting since the Olympic village had all been cleared and the wash of purple banners and ribbons had all been cleared.
Saturday I hastily arrived at the venue and got kitted up for a lap. A couple of local friends had asked me to join me on a practice lap so I could show the lines and give any guidance if needs be and as a group we made several laps with out any issues. By the end of the rounds all of us had safely negotiated the A lines and were feeling extremely positive for the next day.
It quickly became apparent that the course was taking its toll on both riders and there bikes. On my second lap I came across a rider who had just came off as he headed back to the arena, it was clear he had broken his collarbone and he was not to be the last of the injuries for the weekend.
A good nights sleep and Sunday we were greeted with more good weather. Yep that's right with the exception of Sherwood its been a dry national series, Hurrah!
The women's and youth races were soon under way and with a little time before my own race, I sat at the top of triple trouble and watched riders skillfully descend down the two line choices. Thankfully I didn't see any crashes however by the sounds of things there was plenty else where on course.
It was quickly time for my race and after a successful ride at National champs I had moved up a few positions on the grid but nevertheless there was still stiff foreign competition and of course all of the main names from the UK. It's a shame I was racing as Grant Ferguson was gridded along side current under 23 world champion which meant it would have been a great race to watch.
We were quickly set off and the pace immediately rocketed. I held my position well along the starting loop and onto the course but as we hit the first technical section all hell broke loose. The group had remained very bunched and we had bottlenecked at the top of the section, most riders immediately jumped off to run the section as it seemed quicker to do so.
Back onto the bike and time to get going again however no sooner were we riding again we were back in traffic. We hit Deans drop where again riders were still bunched and now it was painfully slow as one by one riders began to make there way down. I made a mistake and stuck with the A-Line but it was clear we were going to slow and half way down just before I went to ride of a small drop the bunch had stopped once again. I was now mid air and had nowhere to go other than into the rider in front. I hit the ground and swerved to miss him and in doing so flew me over the bars and sent my bike spiraling into the air. Shocked and dazed I jumped back onto my bike although stupidly I hadn't taken a moment to check the bike and as I rejoined the course I jammed my chain in between my frame and cranks causing me to stop once again and pull it free. This meant I lost vital positions and by the time I was back on I was all but last.
Still slightly shaken I began to get going once again, at least now the track was clear however I was at the very back! I began to pick the odd riders off and made it back to roughly where I was before it had all gone so dreadfully wrong.
However there was little more I could do, I tried to push on and keep on making my way through the field however there was very little left in the legs. The efforts in the first few laps to get back up to speed had clearly taken their toll and I was left fighting to hold my position for the final laps. Thankfully there was just enough left to make it to the finish with out loosing to many more positions.
Battered and bruised I joined the long list of people who had been beaten by the brutal Olympic venue. This made even worst by the fact that me off all people knew the course so well.
Even though I had not came away with the result I wanted I had still had a fantastic time. It's not very often that you can follow the same course as soon many legends had just a year before.
Again I echo the comments of my last blog just before the Olympics, any body that says the course is easy or not technical enough is very wrong!
Richard Jones
Scimitar Sports
MTZoom
Accelerade.
XCRacer.com.
---
Click any of the images below for a larger view / slideshow
---
More on the BC National Cross Country MTB Series 2013 Round 5:
Event Calendar Listing
Blogger Info:
---
Read More By Richard
---
Disclaimer:
This blog post was written by a third party and their views do not necessarily reflect the views of XCRacer.com