---
Just racing wacky races
Share on Facebook
Share on Twitter
Published: 31st October, 2010
Been busy recently & not had much time for training, but managed to keep the racing going … got to keep feeding the habit.
Kielder 100 mile loop
You know the insects have you beaten when they start fornicating in front of you. At Kielder I fell asleep with the vision of midges engaging in a Roman orgy, of sorts. Next thing I knew it was about 40 minutes to the start of the race, due to commence at 6.30am … harsh.
The first half of the race was all wrong. I felt like I had half a lung to work with, and my seatpost was set too low … schoolboy error. After coming back in from very high temperatures in Nevada I didn't really need to drink much, so made up a little time by not stopping at feed stations. It was only at about halfway, around Newcastelton that I felt strong. I caught Rich Rothwell & Dave Powell and then Greig Brown and Paul Ashby.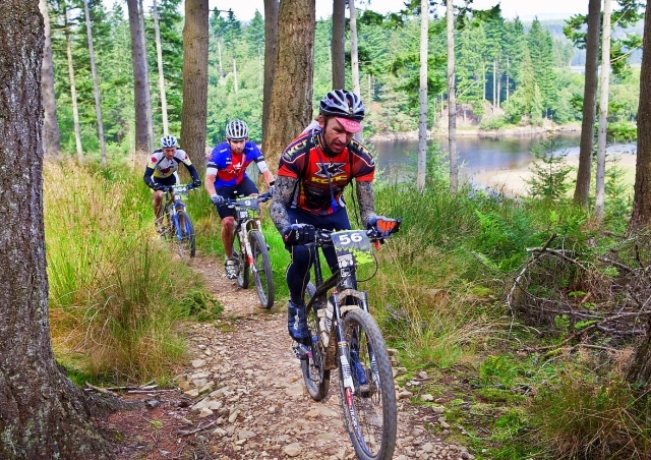 Oh the pain! (photo courtesy of Amanda D'Arcy)
On the final run in Craig Bowles was passed with what looked like a slow puncture, Greig had a massive blowout and Ashby slipped a few gears on some of the painfully bumpy Kielder trail centre stuff enabling me to get a gap and come in 8th. Happy with that.
Andrew Cockburn romped home in under 8 hours despite quite a nasty crash. Well done.
Ace event, looking forward to the 2011 one already.
Irish Mountain Bike Marathon Champs: 60km loop
The now annual trip to the old country coincided with the Irish Marathon champs and as it was only 35 miles away from where my uncles live. I thought it would be rude not to attend. I stumbled across the excellent Ballyhoura trail centre in country Cork the year before & had been eager to go back and ride all the trails. It really is right up there with the very best in the British Isles, loads of singletrack of course, superior views and particularly lethal (when wet) northshore. In the days leading up to the race I over indulged, culminating in a 5 hours (getting lost in the dark) session the Friday prior to the race. http://www.ballyhouramtb.com/
The field size in Irish events is usually quite small, but this event was well attended. It was bright, dry and spirits on the start line high. The start essential was a very very long fire road climb to top of the biggest hill. By the top I was in the top 8, I pushed up and eventually pulled away into 2nd place catching glimpses of Ryan Sherlock out in front. The course was a mixture of very rough loose jeep track, some bike swallowing watery bogs and the best trail centre singletrack.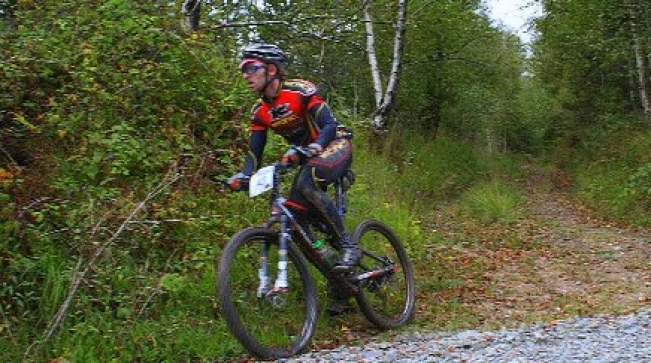 Bono?
About half way Ryan started heading back towards me. We were a bit lost. We went to the top again, back down meeting some more riders, back up again and down again until we figured out the right route. This was a bit annoying as again there was about 8 riders together now. Ryan zipped off fast, I pushed a high tempo trying to drop the others … ultimately there was just me & Aiden McDonald vying for second. I picked the wrong line in a boggy section and had a mini spill. This gave Aiden a gap, which stretched out further when I had my third crash of the day on the final descent … a handlebar twisting properly painful one. Ryan won, I was 3rd overall and 1st master. Ace.
Cait Elliot flew in from the Plymouth NPS the previous day to take the women's category
This was an outstanding race course, thoroughly recommended.
Dusk till Dawn 12hr
It never ceases to amaze me, we can fly to the moon & piece together genetic codes tracing our ancestry back to the primeval swamp ... so can someone just come up a disc brake that can handle a couple of muddy hours without seizing. Sort it out! Shredded pads and stuck pistons were flavour of the night for most as the rain came again to Thetford. It didn't seem to rain as hard as in 2008, but the course generated an insidiously stickier paste.

All male categories seemed to offer stiff competition. Adi Scott & I opted for pairs. We were in 5th place after lap 2, but doggedly plugged away at it until we were in 2nd half way through the night. The lead pairs, Steve James & Billy Jo Whenman, were having some issues mechanical & motivational … their two lap on strategy may not have been wise in these conditions as one lap was demoralising enough. They threw in the towel. I removed my pads totally as the pistons had siezed and the gloop meant I didn't need to brake. Apparently top Belgium cross riders train in ploughed farmer's fields ... positive thoughts of increased leg strength this kept me going to dawn and we held onto to the top position. This was Adi's last race before emigrating to Australia, ensuring the warm dry weather will be enjoyed just that little bit more.
Well done to Steve Webb who duked it out in the solo category, resorting to his trusty singlespeed in the end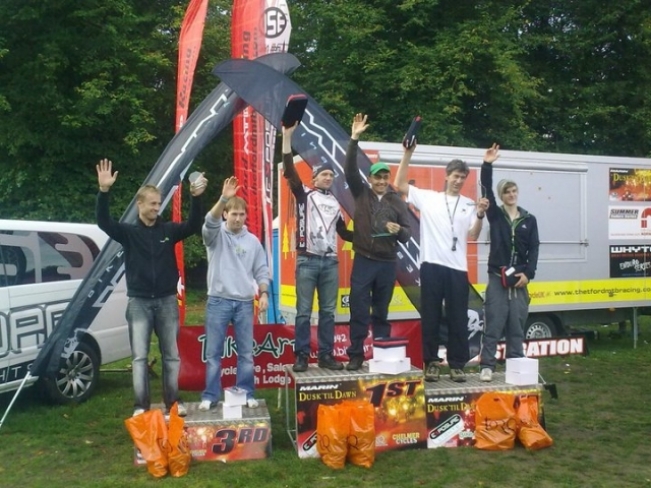 Bordon 4hr Enduro
The previous weekend was the Bristol Oktoberfest and saw my van & I make it as far as Northampton, where my accelerator fell off. Hence the Bordon Enduro, the next weekend, was where the race fix was to be had. I decided to experiment with a 29er "kickabout" bike.
I didn't get off to a good start at this one. I was caught napping at the start and had to work my way through the field and then took quite a bad wrong turn. I came through about 2 minutes down on the leaders after the first half hour lap. Then something remarkable happened, the course was super good and the 29er just flew, this was properly fun. I reeled in the leader, Tim Dunford, about half way and we rode together till the end where I was outsprinted. Forget garlic bread, 29ers rock.
Anyway, better get back to the base training miles … I'm struggling to fit in my jeans these days.
Blogger Info:
---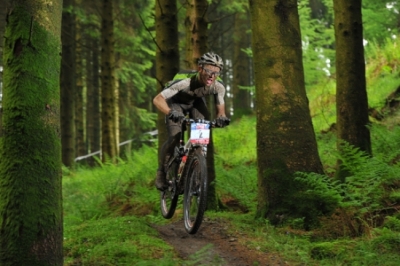 24 solo racer, world traveller and now the man behind the xcracer shop
Read More By Anthony
---
Disclaimer:
This blog post was written by a third party and their views do not necessarily reflect the views of XCRacer.com