---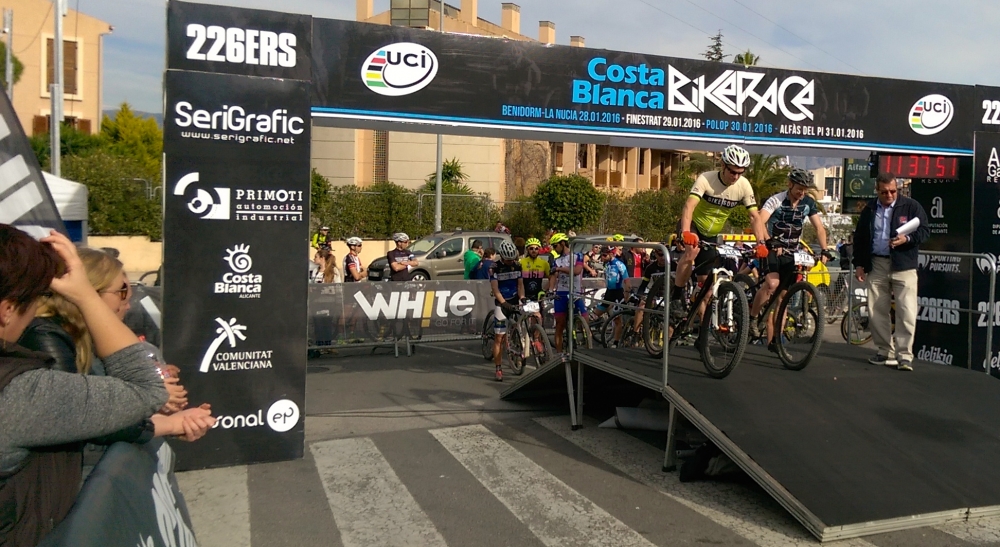 Lots of CX & the Costa Blanca Bike Race
Share on Facebook
Share on Twitter
Published: 5th February, 2016
Lots of CX
Having not done any winter Cycle Cross for a few years I decided to give it a whirl this season. it seemed like a time efficient way of keeping fit. I was lucky as there was a good local league, the Western league, centred around the Bristol area. I also did a sprinkling of races in other leagues, actually clocking up 16 races over the cross season, blimey!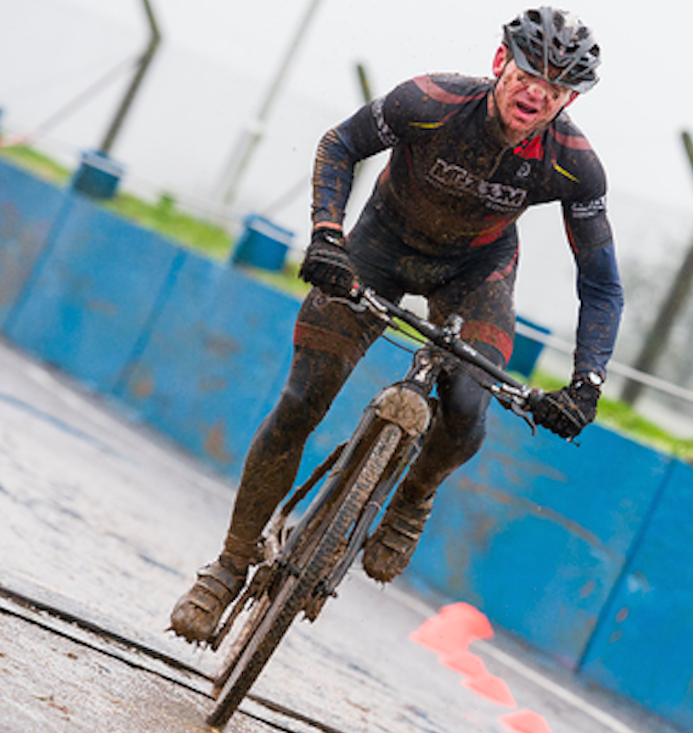 Things started well in the late autumn, having some residual fitness from the mountain bike season. I was going quite well in the opening races so targeted the overall Western league Vets title. As other riders sharpened up things became very competitive & tactical. Each race was won or lost by very small margins, four riders sharing the spoils & generally within sight of each other. It became quite addictive, reflecting on the races & figuring out how to improve. I tweaked my already tuned rigid 29ers slamming the stems, bought a more cross specific fork & tubular wheels & tyres.
I targeted the Southern area CX champs at the purpose built Middlemoor course in Somerset. I hit the intervals on the turbo trainer hard to the weeks running up to this event. It turned out to be a muddy day. Half was through I was jousting away in second & loving it. The tubular tyres were a revelation until I punctured the rear and it slid off, bugger ... you live by the sword & die by the sword.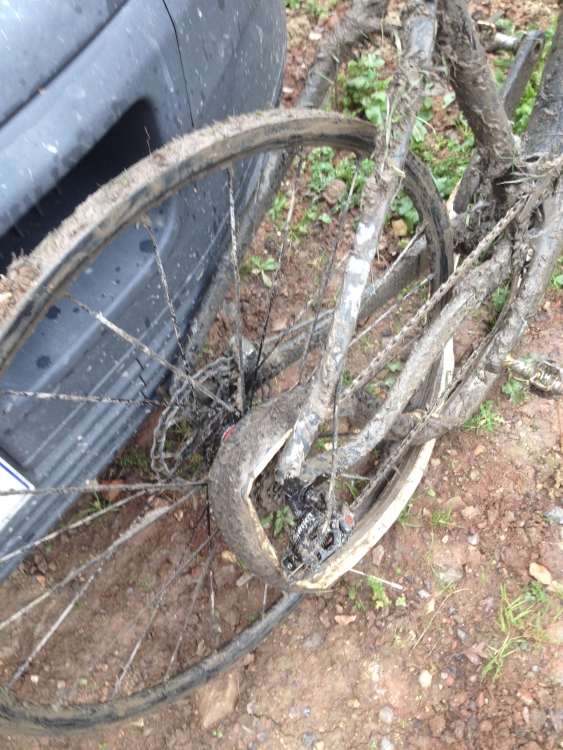 Races came & went and the Western league wrapped up last weekend. I managed to get 3rd overall. Looking forward to the summer league & next winter already. I think I'll try some tubular rear tyres for MTB cross country, the Dugasts are on the way.
Costa Blanca Bike Race.
In it's second year now the Costa Blanca Bike Race has established itself firmly on the European race calendar. It's a UCI points ranking pairs race, so there were plenty of fast Elite riders there. Mark Spratt & myself decided to get some early season sun by tackling the Masters 40 category. Mark had acquired some riding & partying injuries (separated posteria cruciate ligament) over the winter period so weren't sure how things would go.

Stage 1: Benidorm - La Nucia. 46km 1,422m climbing

We started next to the Benidorm beach side skyscrapers. In the Masters 40 category we were in the second from last grid pen. This was behind 300 – 400 riders, we sprinted through the Benidorm area to reach the first single track. It was chaotic & congested with intermitent holds ups on innocuous looking descents & sharp ups.

There was some pretty good singletrack, we made slow but steady progress through the field. Mark had a crash, which obviously hurt his already injured legs. We carried on but a split tyre derailed progress. With some composure this was fixed with a combination of Effetto inflation foam, CO2 & some waxy string plugs squeezed into the slit. I don't have much opportunity to fix punctures like this as it's rarity to have them, so it's good know it can be done without the more time consuming tube fitting.

As we neared the end of the race singletrack weaved in many directions. It was tough going spotting the right route. We followed some confident looking local riders, but there were quite a few racers hesitating unclear of the route. We finished quickly & it soon became clear we had probably taken the wrong (shorter) way, as had many riders. Many had come in ahead of the race leaders so ultimately the race was neutralized with everyone given the same time. The organisers said the course had been sabotaged

Stage 2: Finestrat 43km 1,431m climbing

With everyone given the same time from the previous day there was still no gridding on day 2. This was a problem, as although it was an uphill start, it narrowed very quickly into a steep gravel track. There was a significant amount of waiting. We figured there was a few Vets 40 teams that were pushing through, but we waited our turn.

The terrain was similar to the day before, rolling fast singletrack. We made our way through the field but it was slow progress. Right to the very end we were passing teams (mainly Masters 30) quite quickly. We ended up 9th Vets in a 38 team field in the category.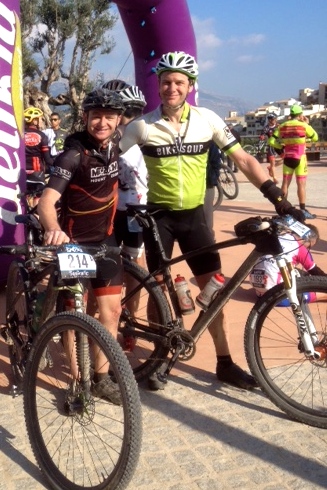 Stage 3: Polop 78km 2,776m
The Queen stage. Three relatively big climbs. Today we were gridded in the 2nd pen behind the Elite teams. The start was open and we found ourselves racing properly with the teams around us, neither gaining or losing too many positions. The first 2 climbs were tough, the 2nd descent was very full-on with steep switch back turns around rocky drops. Mark was good at this but I lost us some time taking a couple of tumbles. A dropper seatpost would've of been good.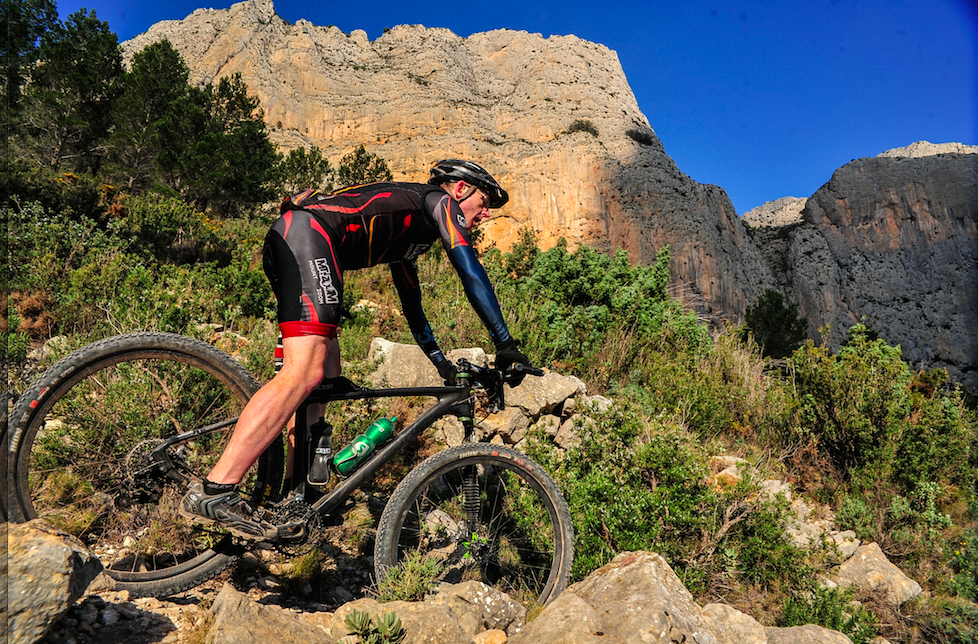 The final climb had a few false summits and the day had plenty of climbs were you had to concentrate on not spinning out. We had factored on a 4 ½ hour day but it drifted to nearly 5 hours in the end. Luckily a lot of the final run-in was on a hard surface as I was tottering on the edge of bonking. We picked up a few places in the last 10km to finish 6th in our category, now 8th overall in the Vets GC

Stage 4: Alfas De Pi 7km TT 525m climbing

We were only a minute down on 7th in overall time going into the final hill time trial stage. It was a 7km climb, the first 5km slightly up & fast with the final 2km kicking up over 30%. It was a hard surface and suited me well, Mark was suffering. We groveled up it, catch a few teams & again finishing in 6th … but we didn't make up enough time to move up to 7th for the race.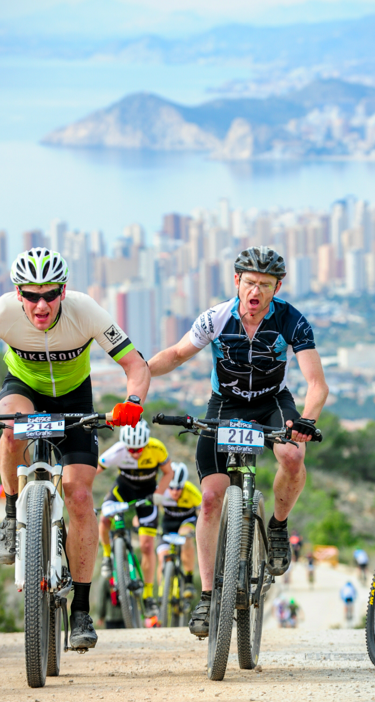 It was super fast at the top end of the Category with Bart Brentjens & partner winning overall, but not winning everyday.
I totally recommend this race for some early season sun & fun. It's a bit like the Andalucia bike race over less days. Day 3 was quite a test this early on the season. I think if they ran a time trial on day one to sort out the gridding that was make it perfect. The area exceeded expectations, away from Benidorm, & there were plenty of cyclists using it as a training camp location.
---
Click any of the images below for a larger view / slideshow
Blogger Info:
---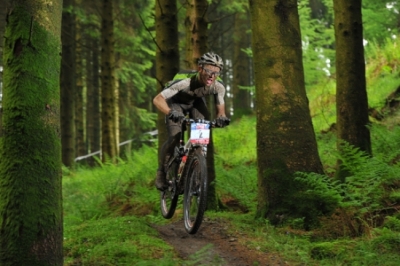 24 solo racer, world traveller and now the man behind the xcracer shop
Read More By Anthony
---
Disclaimer:
This blog post was written by a third party and their views do not necessarily reflect the views of XCRacer.com