---
Mayhem Solo 24
Share on Facebook
Share on Twitter
Published: 29th June, 2012
One of those conversations, that ends up with you doing something you didn't think you were going to do. Last week, thats how the idea of Mayhem came into fruition. This was at Kirroughtree, where running with your bike was a key skill. Something I'm not so good at. Despite getting my first top 10 finish, I was a disappointed as Kirroughtree was such a fun course with the climbing broken up and lots of fun Mtb sections. Needless to say the weather had a rather significant influence on the proceedings. Being too proud of my mountain bike skills was my error. As I dogmatically attempted to ride certain sections, running was clearly faster but I couldn't keep up the running pace. I lost my cool and began to get irritated. Expletives, were on full flow and I apologised to the various marshals and spectators. Really must stop that, bad habit...
Feeling myself going backwards, particularly when riding on my own, it was difficult to crank it up. Disappointing lap times. However, I did my first UCI point, 1 point! Bless...

After all that Kirroughtree was a great crack and hope to head up there again soon.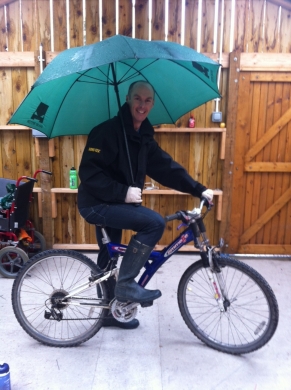 Kiroughtree Ready
So now I have to write about the experience that was Mayhem. I'm not sure I want to go back there, all those emotions.
I decided to give it a go after chatting to Mark Spratt and Mel Alexander, I couldn't believe the prize money was £1000 for 1st place and still a very respectable amount for the other podium places, unfortunately I was free on that weekend and Alex stupidly offered to bitch for me. I couldn't really say no.
It wasnt a totally naive decision, I have actually thought about 24 hr a fair bit, my mind is generally very willing with most stuff, but my fitness is often way behind, right now I'm in condition that I have never experienced before thanks to Garry at Sportstest. Dan Treby, a 24 hr soloist specialist ( and took 2nd!) is my shop mechanic at Brotherton Cycles, and I've read Mark Spratt's ( the winner!) race report from the 24hr Champs. Thats all I need surely? At some point I knew I would do one, but perhaps at least 3 months preparation would be wise, 4 days wasnt quite ideal.
I made my decision, and I was fully committed.
My training hours generally averages around 10-12 hrs/week. I never ride beyond 4hrs, the Marathon Champs was my longest ride at 4hr 50min. So with little idea of how mind and body would react, the plan: to plan as much as possible...Fail to prepare prepare to fail and all that.

I was spoilt with Alex as the pit bitch - he had EVERYTHING! From his days of downhill weekends, he had a big van, an E-Z up, a petrol jetwash, a huge leisure battery, even a compressor came with us! He had an xc bike that fitted me and identical lights to mine. Most importantly he had the will to stay up all night and do what was needed.
As anyone with a bit 24hr experience knows, having a good bitch is essential to any successful ride. Alex also had a bitch our friend Alistair Jolly, more used to the sidecar racing circuit.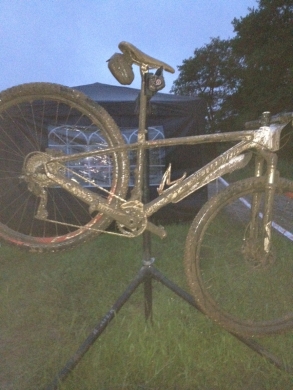 No more clog, nice shiney mud after the rain.
The conditions at Mayhem 2012 is common knowledge now. It still makes me shudder. My pre-ride on Friday evening; I only managed half a lap in 50mins, before it was getting too late. My estimates of 1hr-1hr 10min per lap were slightly skewed. The next morning we arrived (choosing not to camp), We were optimistic about how far we would get into the saturated field in the van, with some skilled grunt we did well to get into the middle, and a swift tow by our friendly solo single speeder Mark, we managed a track side spot.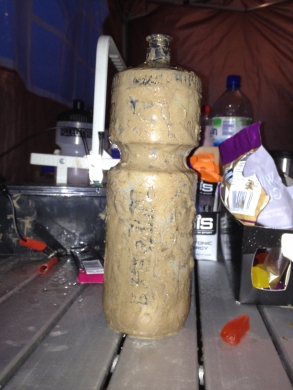 Tricky fuelling: getting a mouth full s***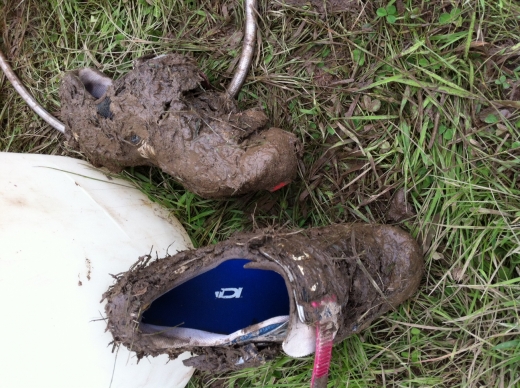 My shoes at only 2 laps in...

Because of the mud, it took longer than planned to set up and organise myself, it wasn't ideal, but we had all the basics sorted. So off I headed for the worst bit - the run! God it was further than I expected, it took me 10 minutes ( I was expecting 3!) my heart rate was booming. I didn't want to get stuck in all the traffic once we started on the bikes but I can only run so fast, so still I got stuck (literall stuck in the mud too), I knew I would feel the run in my legs.
2nd lap conditions worsened. I could have built a small semi with the amount and quality of the mud/debris that was attached to my bike. Panic set in when I couldn't ride, push or even lift my bike, it was so heavy and caked. I was conscious of over exherting so early on, all I could do was stop and scrape. Only to do it again 2 minutes later. Where were those mud tyres..
Thankfully, it rained, for next 2 or 3 laps, I felt more competitive again, I could ride much more of the course. Once into the night, I dressed appropriately. The hardest time for me was around 12:30-1am, I got cold as I stopped for longer than I had planned. Another change and a hot drink, I warmed up in the van. This was an error, I was disappointed, I didn't want to stop and all the advice I'd heard was not to stop. Hey ho. It meant I slipped back into 3rd place from 2nd.
Though, throughout the whole event it was difficult to know where on earth you stood. Conditions were tough for technology, but Timing and commentary was poor for such a massive event.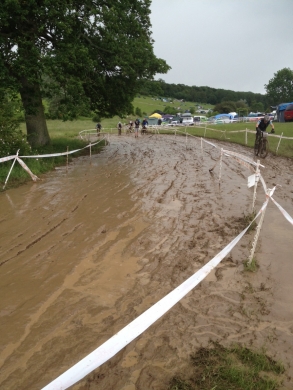 Silky mud. Surprising easy to ride through
Once into the early hours my running/walking/pushing muscles pretty much gave way to complete fatigue. It was so frustrating, they just were not conditioned. Where I expected to be sore/tired, like arms and quads, I really wasn't but my left soleus and hamstring were screaming at me up every hill and I just could not walk any faster. It became apparent how slow I was walking when I was lapped by the lead female Julia Hobson, she was marching up the longest climb of the course, whilst I crawled.
Julia went on take 1st place, there was something in her posture and demeanour that struck me, clearly fatigued but she was marching onwards in a zone that no other soloists seemed to have. A quick google of her name on Monday night revealed her story, my thoughts go out to her. Awesome ride.
Being lapped, was disapointing, eventually, I worked out I was in a solid 3rd, and here is where I finished.
What a bloody experience.:
I hadn't expected the support that spectators give for the soloists, that was fantatstic, lots of banter.
I jumped all the various man made jumps on every daylight lap
I pulled all the wheelies that were shouted for.
I high fived every child that requested one.
I swore a huge amount, cried a little bit.
I laughed at the macho guys with their amateur crashes and falls (after I asked if they were ok)
I was complemented on my motocross style riding (ha!), and thanked by various riders following me for picking out the easiest routes.
I was in awe of Mark Spratt overtaking me 3 times! Somehow recognising me with various water proof attire on, pushing my bike, always with a cheery hello.
I have learnt a lot.
Only one mechanical - a tubeless tyre going down, no probs after a quick CO2 blast. 1 x 10 on both bikes ran perfectly, especially with my awesome pit crew. Brake pads lasted fine - though thats due to having to pedal downhill at times instead of braking.

A huge thank you to Alex The bitch, xcracer, Accelarade fuelling. All the verbal support on the day. Thanks to all those folk who said I couldn't do it :p
And not forgetting my housemate Seb who very kindly worked til late on Friday night/Sat morning to make my steed race ready.
I hope you are all up for it again as there may be a round two.
Blogger Info:
---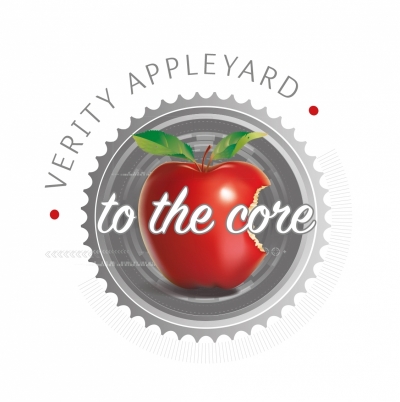 Verity Appleyard.
Riding for Brotherton Cycles
Physiotherapist

XC
Marathon
CX
Enduro

Read More By Verity
---
Disclaimer:
This blog post was written by a third party and their views do not necessarily reflect the views of XCRacer.com