---
Mountain Mayhem 2010 + lead out
Share on Facebook
Share on Twitter
Published: 22nd June, 2010
The lead out.
The Mountain Mayhem solo 24 hour has been an annual outing for me for the last 9 years. This year was going to be especially tough as it was only 4 weeks after an intense 24 hour battle at the Exposure 24 hour champs. In between it was difficult in get some quality training in, both in time and inclination. I decided that I would just hammer in the races at the weekend instead.
First up was the Set2Rise 12 hour. This was derailed by the carpark that is the M25 on a bank holiday weekend … I never made it in time.
Kona Bristolbikefest : truly random run

Next up was the Bristol bikefest and it's legendary prize fund. On the way to this on the Friday night I was passing by a FNSS XC race so had a fun hour of singletrack in some random town in the East Midlands. It would have been rude not to. Next day the positive vibe of Bristol Bikefest was ace. Saturday saw some team action with our motley team, In the hurt business (like psychopathic dentists), clawing our way to 3rd after some special crashes and a big puncture on lap 2. I felt quite quick on my laps and intended to the 6 hour on the Sunday but woke up feeling like I'd been in an altercation with a young Mike Tyson. It was the bumpiest Bristol ever and a McDonalds Sausage and Egg McMuffin was more appetising than another 6 hours.
Mens team podium Bristol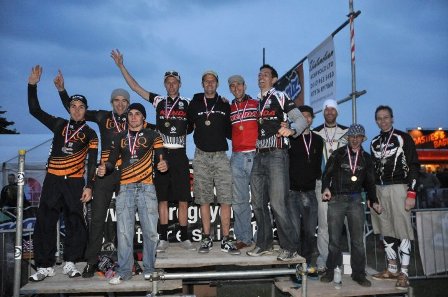 Making up for the non appearance at the Bristol 6 hour I thought a northern foray would be nice the following weekend following a similar cramming pattern. It didn't get off to a good start … within 400 metres of a Friday night XC race I felt quite bad, having nothing at all in my legs. In my lamest race attempt ever (lasting less than a minute) I saw my van and thought I'd better head north now as I had committed to do 12 hour pairs at the Dirty Dozen near Skipton the next day. This was a small but fun event around some nice purpose built singletrack in Guisburn woods. Rich Rothwell and myself had a really close fight with a team from Leisure Lakes and the Ragley Boys. In the end it was pretty close with us coming in 2nd, 6 minutes down. Both of the Ragley boys, Dave Powell and Jason Miles, were going very fast and were both going to compete at Mountain Mayhem solo … so that was something to think about. I was tired afterwards and resisted the urge to race the Nutcracker XC at the ace Dalby course on the Sunday.
The race
So that brings me to big one, Mountain Mayhem. Friday saw the Malvern's own micro climate generate an uncalled for amount of rain. Myself and Rob Dean prerode the course. It was tough and long. There seemed like there was more climbing than most years with a nasty sting in the tail towards the end. A new wood at the beginning of the course contained two sections that only a sadist would enjoy. I figured that if you were having a bad race you'd think twice about going out for more punishment every lap.
On Saturday morning the sun came out. Kids raced with conviction. Carl and Terri turned up to pit for myself and James Leavesley. Everything was brilliantly organised in the pits, which was nice.
Original Source Mountain Mayhem start ... elbows at the ready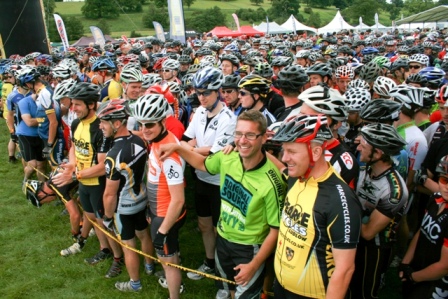 photo courtesy of: www.robcrayton.co.uk

I survived the run. My strategy was to go out at my own pace, but quite hard. I wanted to unload in the first half of the race. From the previous week's racing I knew I had little acceleration, so didn't want any close armed contact with any of the other soloists. On lap one I saw a rider way ahead in a Leisure Lakes kit which I thought was one of the other key soloists, Rob Dean. I put in an effort to catch him, it wasn't him. I came through lap 1 just behind the lead soloist, a single speeder (Dan Treby) mashing a really big gear. For the next few laps I felt strong. I did catch glimpses of Rob Dean behind riding his distinctive 29er Tallboy, but didn't see Dave Powell on his equally distinctive Ragley who I figured could also be a serious threat.
Always good, the final descent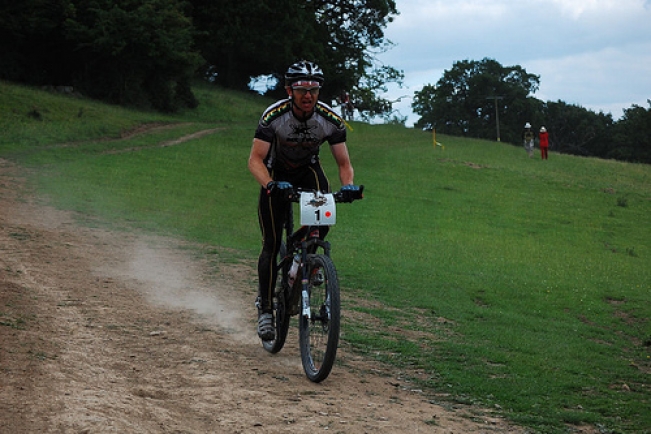 There was a great vibe out on the course, with lots of uplifting support. I had the number 1 board (no pressure then!) so kids and campers recognised me as I went round and round. I pushed on, but carefully as I had a twinge of cramp on lap 4. Around lap 5 word got to me that Rob Dean had crashed on one of the off camber singletrack sections at the back of the course, mangling bike and back and was out. I was now about 25 minutes up on Dave Powell who was in a tight battle with James Leavesley and Jason Miles. As night fell I was lucky enough to be trying out some prototype lights from Exposure. The 1800 Lumen "SixPack" and 900 Lumen Diablo Mk.2. I ran the Diablo on the mid setting pretty much all night and flicked between settings on the 6 pack depending on the terrain. It was a joy to ride and got me through to dawn in good spirits, something I usually use music to achieve but couldn't this year because of the BCF ipod ban. I'm not sure what the BCF view is of the danger of unicyclists on the course, incredibly skilled though they are.
Around this point I had a lap up on Dave Powell in 2nd. My slick pit stops saw just energy drink and a gel being consumed, but this wasn't really enough. I tried to force down some bananas and cola to settle my stomach. It was all about survival now. I gradually got slower. The pattern for most of the last 8 hours was fairly clear. A stronger Dave Powell would unlap himself, but then take a bit longer to compose and refuel in the pits. With a 3 laps to go it started to get pretty hot. I got overtaken by a unicyclist on the Kenda climb … yes the granny ring was seeing some serious action at the end.
Solo Podium, Me, Dave Powell, Jason Miles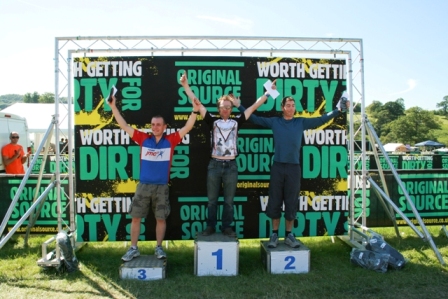 photo courtesy of: www.robcrayton.co.uk

After 24 hours I had completed 24 laps, I'm told that was around 220 miles and over 10,000 meters of climbing. In terms of vibe it was one of the best Mountain Mayhems yet and my 3rd solo win. Once a year I get to see red £50 notes, which is nice, as is the local cider. A pizza, KFC and McDs was consumed on the way home. Two days later I feel pretty battered, probably more so than after any of my previous 24s. I guess the recovery food and drink could have been better and I don't recommend doing 24 hour races too close together.
Thanks all the support & shouts on the course, to a brilliant pit crew (Squirt's Carl Hutchings and Terri Osborne), Exposure Lights and the KCNC & MT. ZOOM tricks bits which got the full suspension bike to 19.5lbs.
Yum!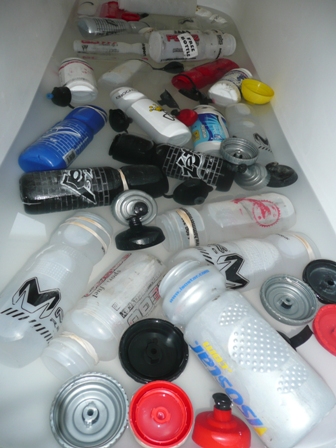 Blogger Info:
---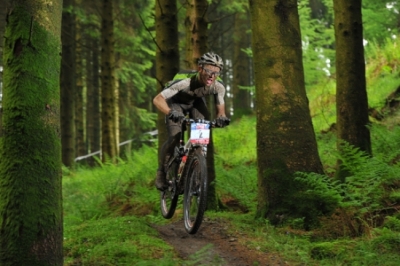 24 solo racer, world traveller and now the man behind the xcracer shop
Read More By Anthony
---
Disclaimer:
This blog post was written by a third party and their views do not necessarily reflect the views of XCRacer.com