---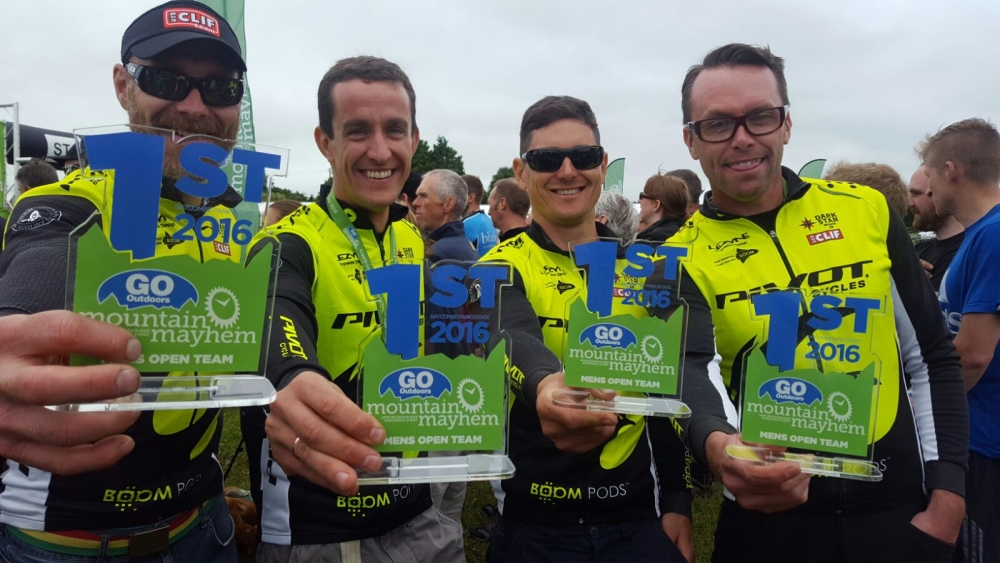 Mountain Mayhem 2016
Share on Facebook
Share on Twitter
Published: 19th June, 2016
Well that was another amazing weekend at Gatcombe with the Pivot Boompods team and friends. After the relief of finally winning last year, I was more chilled about the result this year in what was my 15th Mayhem. It's something of a pilgrimage each year. There isn't another event where you can catch up with almost everyone you know in cycling, hang out with friends and race a great, hard, course.

The weather was dry over the weekend but the heavy rain in the preceding week or so had left the course resembling plasticine in places. Mostly it was fine and fast, but some parts were tough going. There were 3 newly cut singletrack sections which were all brilliant, especially the new swoopy trail which joined onto the old red bull timed section. Superb fun. We also got to ride all of the Kenda Koffin descent as per the first year at Gatcombe. The last two years we've just done the bottom half so it was great to bomb down all of it again. A great 24hr course with a lot more added technicality this year.

We started inauspiciously, following a decent first lap where I came through in the lead our second rider out had just made a break and then snapped his chain. Usually he carries a spare chain link but it had fallen off. Nightmare! He lost 15 minutes until a friendly rider gave him one. We spent the next 5 hours playing catch up and moved into the lead at about 6pm. Overnight we paired up and rode 3 single laps on/off in each pair. We pulled out a lead which was then closed down when our second pair went out between midnight and 4am. With the gap down to 4 minutes at one point, Big Al and I set about building a lead and within 2 laps we were back out to 15 minutes ahead. Some stunning laps from 24hr virgins Rich and Stu and of course stalwart Big Al late on stretched this to 22 minutes and all I had to do was roll round and take the win. Despite the best efforts of some very, very tired backmarkers who didn't know their left from their right to force me into a tree and later into the lake I made it and we won. Superb! Princess Anne was on hand to give out the trophies and even the ice cream van was nice.

There were some amazing performances in the solo category from Rachel Sokal and Steve Day - both won convincingly and seemed fresh as daisies afterwards! Also massive respect to Rich Penning who finished second to Steve in his first ever 24 solo. That thousand yard stare might be seen more often now, eg Rich...? Matt Carr was also back in contention on his rigid singlespeed and got 5th in solo men. Fabulous to see Matt back racing again.

Team head honcho Rory was in his usual Mayhem team of Jo, Tim and Frazer. They rode a great race and got 2nd in sport men and 3rd in vet men. A truly phenomenal weekend for the Pivot Boompods riders and friends.

An amazing event with superb infrastructure - I've never seen so many portaloos and showers. It's good to see Mayhem still attracting new riders and also a bumper solo field this year. It's the 20th year next year - it'll be something special.
GB
---
Click any of the images below for a larger view / slideshow
---
More on the Mountain Mayhem 2016:
Event Calendar Listing
Blogger Info:
---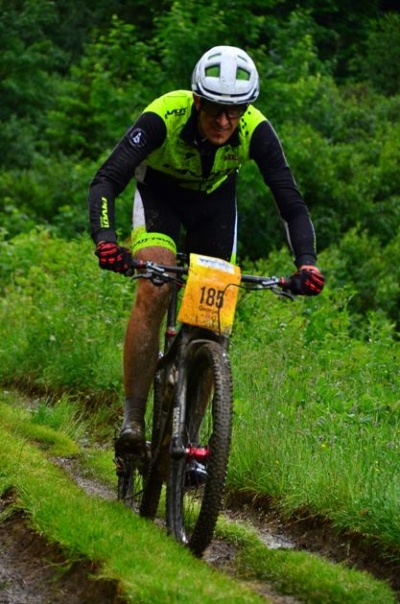 Marathon racer & Deputy Head. Usually found eating carrot cake in Peaslake.

Thanks to my sponsors: Pivot Cycles, Upgrade Bikes, Ison Distribution, USE, Exposure Lights, ODI, Gusset, Halo, MRP, Schwalbe, Absolute Black and Rotor
Read More By George
---
Disclaimer:
This blog post was written by a third party and their views do not necessarily reflect the views of XCRacer.com