---
Mountain Mayhem/AYTE/Midlands XC/Nationals!
Share on Facebook
Share on Twitter
Published: 19th July, 2011
4 more races!
Mountain Mayhem 19/20th June
This 24 hour race is now an annual pilgrimage and key target race. This was to be my 10th solo on the trot at Mountain Mayhem, blimey.
I hadn't had the best lead up to the event in terms of training miles, but figured I could still aim for the top spot. My pit crew was well drilled from the previous year. The game plan was to go off relatively hard, waste no time in the pits and grit my teeth to the end … my motivation was the knowledge that this was the last 24 race for the year. Three of them so far this year is more than enough.
The start run went on forever, well about a mile and a half … that was so long I started to laugh. Notorious for it's rain and mud the weather seriously threatened but ultimately behaved itself. It was slippy on lap one but started to dry out more or less as the race went on.
First solo out of the blocks was singlespeeder Dan Treby, whose fast run and leg strength saw him hold first place till the end of the second lap. I then eased ahead and settled into a steady rhythm. I didn't feel spritely on the hills at all and in truth I had put on a few pounds since the UK24 champs, however I was nailing the technical sections. I had a shock at 9 hours, I thought I was a good 10 minutes up on 2nd place Dave Powell, but he caught me on a hill and forged ahead. This wasn't good news. I remembered the jousting we had from the year before towards the end, except I was a lap up then. I had to dig in.
I tried harder. Harder on the climbs, slicker in the pits and bolder on the rutted downhills. Slowly throughout the night I edged away. Every pit stop was superfast. Carl and Terri (my well oiled pit crew) were especially focused, and concerned. I kept on hoping they would tell me the gap to Dave had dramatically gone up, but I had to wait until quite late in the race to get the news that I was over 20 minutes up, then over 30. Once I got this gap it was just a case of not doing anything stupid.
I came through 8 mins after 12am, in 21 laps (c 210miles) to win my 4th Mountain Mayhem. There was about 450m of climbing per lap and I felt it. I love this event, it's big, there's lots of support and there is a decent prize fund … I'm looking forward to next year's Mountain Mayhem already. I hope to be fresher and lighter.
2011 was the year of the comedy run, the plasticine wood and rutted downhill. Looked forward to a slight change in focus and some shorter races :)
De - Ja - Vu
Army CU - Are you tough enough 6hour (err 4 hour) 3rd July
I like this event just outside Aldershot. It's a nice fast swoopy twisty affair … the sun always shines and vibe is positive. In previous years I've either had mechanicals or been too tired from Mountain Mayhem to do that well. I felt ok this year though although it was just 2 weeks after Mountain Mayhem. My ipod was primed and I was looking forward to a fast 6 hours of fun. I don't recommend starting a race with only 2 chainring bolts though. In an especially senior moment I had forgotten to reinsert them from my training bike. A third of the way around the first lap I had snapped my middle ring, snapped the hanger and jammed the chain behind the cassette. My shoulder ached when I got back to the arena.
I had a rigid 29er in the van. So had 2 choices, race on it in the 4 hour race or do some riding in the Surrey hills. I plumbed for racing old skool style. The strategy was going to be: go off fast on the fireroad and then concentrate very hard in the rooty singletrack. I did. I was trailed closely for a lap and a half but then pulled away. This was fun. I had to really focus, flicking the front end around. I was properly in touch with mother earth.
The 4 hours whizzed by with a couple of bottle & banana stops breaking my rhythm. I stopped 5 or so minutes before the 4 hours was up thinking nobody was close enough to get through before time was called. As I got changed in the van someone flew through with seconds to spare. Bugger. I won the Vets category though.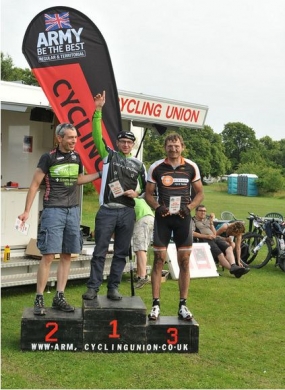 Midlands XC 3 Hanchurch 10th July
This was a bit of a sharpener for the National XC Champs the following week and gave me a chance to ride the excellent course set up by the Goldtec crew. I had a shorter stem on the Scalpel and had some new superlight wheels from Strada with new fangled tubulars to try. Everything felt brilliant on the practice lap. The bike fitted like a glove with the 90mm stem, the wheels were fast and the tyres gripped the wet and loose corners very well (and were super comfy).
Bang. All us Vets sprinted up the gravel road. There was just enough of it to move up into about 6th as we turned and entered the upwards pointing singletrack. Phil Blacker set a nice pace, then Dan Cook and Adrian Lawrence went steaming through on the steep upper gravel section. I knew these were now the wheels to follow and almost soiled my shorts to get on. I did and we nailed the flowing singletrack together for 2 laps. As we entered lap 3 I felt quite good. I got ahead and rode the singletrack hard to see if I could shake them. I couldn't. It was difficult to open a gap. Blimey this was cut & thrust.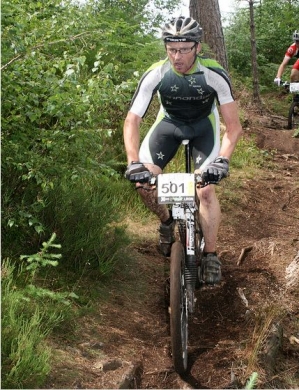 On the final lap I dug in hard on the climb. I figured I had 30 meters on Dan and Adrian. Right, ride it fast and smooth. I could hear them behind, way too close for comfort. I was climbing well and figured if I could get out of the final bomb hole with a few seconds spare I could pull this off. This was exciting, it's not often I'm at the front of these short races. With about a third of the final lap to go I was struggled to get past a back marker … tick tock, I didn't have many seconds to play with … she slowed and I got through taking a few ferns with me. I think Adrian got through, but Dan might have had a semi crash. I pressed on and didn't look back. Bingo, a very rare XC race win for me. Adrian was 11 seconds back with Dan another 20 seconds down. Forget garlic bread, maybe tubulars are the future. This capped a good week where I had achieved another target, obtaining a £5 Morrisons shopping voucher for spending shed loads on diesel.
National XC Champs - Aske, N Yorks 17th July
What excuse can I think of to slink off and go home? After arriving at midnight and being woken at 5am by rain on the roof of the van this is what I was thinking. It was already very wet, this was going to be bad. Maybe I had forgotten my cycling shoes , my helmet? Nop, no decent excuse found. Rich Rothwell, fellow endurance comrade, turned up at 8am and we gingerly went for a practice lap. I was all over the shop. This was way harder than I had expected and spot on for the National Champs. It was a big improvement on the Nutcracker 2 course route … well done. At national level I think you need a couple of heart stopping moments every lap. With the wet conditions this had it for sure.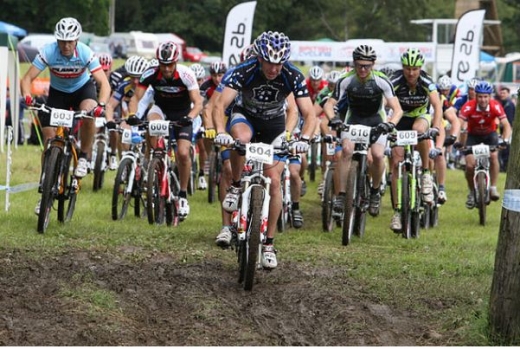 12.30 came around quickly. I was gridded 16th Vet and had a good start. I got to about about 7th at the top of the first climb. Paul Hopkins came past, seemingly quite effortlessly. On the comedy descent through the ferns (you know the one … set up for the You Tube video) the 2 riders immediately in front came off, so did I … looking back up the slope everyone was falling off. Carnage, but funny. The singletrack at the back of the course was tricky. I didn't get the lines right on lap one, but avoided any serious damage. On the sticky track back towards the start/finish I was with the group making up the places from 5th to 9th.
On lap 2 things got better for me & a bit dryer on the course. I opened up a little gap on the guys behind and caught my foe from the week before, Dan Cook. This was looking good, I could even see the 3rd place Vet Lewis King tantalisingly close.
I made mistake of letting Dan go into the final piece of singletrack ahead on lap 2. He seriously nailed it. I only semi nailed it and was spat out a good 30 seconds behind again. Bugger. I tried hard on lap 3 and 4 to close the gap but couldn't. I made time up on the hills, but they weren't long enough for me. I didn't fall off again and really enjoyed the challenge of riding the course.
It was all surprisingly close on the end. Only 5 minutes separated the top 6 positions. I came in 5th, very happy with that. Well done to the top 3, Paul Hopkins, Simon Willats & Lewis King. I'm looking forward to the XC champs next year already & will be planning some more speed work between now and then.
Thanks to:
Cannondale
MT ZOOM
Strada Wheels
KCNC
Skins
Blogger Info:
---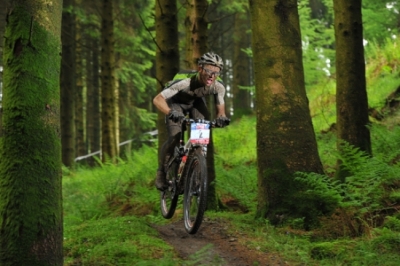 24 solo racer, world traveller and now the man behind the xcracer shop
Read More By Anthony
---
Disclaimer:
This blog post was written by a third party and their views do not necessarily reflect the views of XCRacer.com