---
No Fuss Duathlon
Share on Facebook
Share on Twitter
Published: 28th April, 2012
Unusually a report from the other side of the tape. I went as Pitman to support my biggest fan (not my dad) in the final round of the Nofuss Winter Duathlon series. A 5km trail run finishing on the end of the XC course, a 20km ride including some not too gnarly singletrack and then repeat the first run.

I set off at 6.30 am and rode my raleigh push bike along Loch Lomond to Crianlarich until Caroline caught me in the car. The sun was out, it was freezing, and an occasional snow shower came over. The West of Scotland is a beautiful place. We stopped to marvel at some 270 quid wellies and eat bacon at the green welly stop (what's wrong with cut off dunlops?). On the way up to Rannoch Moor some hard hairy Scot was stood airing his goolies and playing the Bagpipes facing the wilderness. He was still there 6 hours later on the drive home too! I hope he had some pants on under his kilt. The drive through Glen Coe was awesome again. There was more snow at the Ski hill than there had been all year. It's snowed since too and it's the Nofuss MacAvalanche today. Looking forward to hearing the stories about that one.
We pulled up to the race. The Midging Forecast was still looking good at this time of year. The British Motorbike Trials champs was the day after the duathlon. The Worlds DH track had opened today. The snow line was just above the mid station. You could have gone to Nevis Range and got out your Ski tourers, ice axes and crampons, Gasgas, DH bike, XC bike, 5" trail bike, running shoes, road bike.....and had a flippin' amazing day. There was probably a street luge competition going on. The Nofuss duathlon was even being filmed from above by a wingsuit base jumper (I made that bit up). Fort William rocks.
The race was well organised. There were the usual No-fuss athletes. Folk that were fit looking and caning it, and folk that took it on for the personal challenge. The fastest guys and girls rode CX bikes but most chose an XC bike. One guy rode it on a Bullit. Effort. The race kicked off and then I had to learn how to entertain myself from the pits.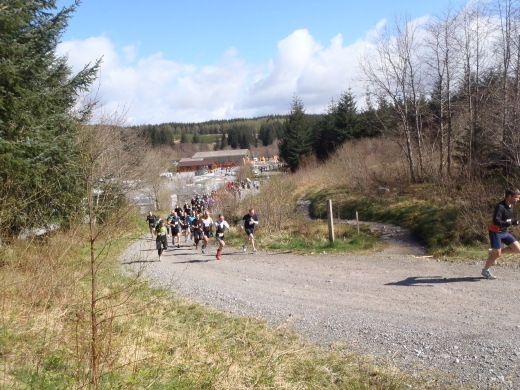 It was easy. The first run was soon over. I caught some gas gas action and then I tried to force feed Caroline from the pits going onto the bike. Then I helped a guy who'd made the amatuerish mistake of putting a new tyre on and not checking it was seated properly. I sympathise with his stupidity............I have after all been shot in the face with Stans milk and deafened by a tyre from point blank range. I went a little walk in the sun, watched the Dudes of Hazard pull cutties in the car park, took some photos, had a couple of brews and some cake and then it was done.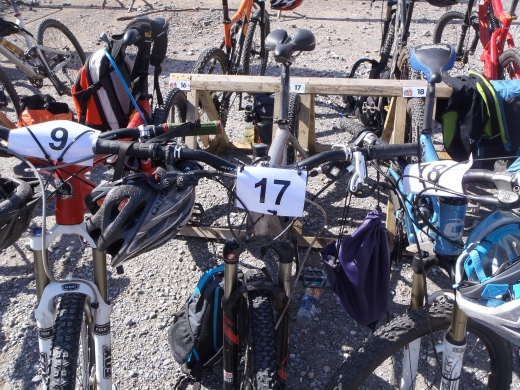 The first guy won by a long way. The womens race was a close call. So close it was tied for 1st. We got excited 'cos Caroline was third and got to podium. Even better that she was given 2nd place for coming in behind joint first. Good rule that! Brilliant. She wasn't getting foggy vision though and ENJOYED it? The biggest cheer went to Team "Mum of 6" who came in a long way back with arms raised and biggest grin of the day. Well done to you!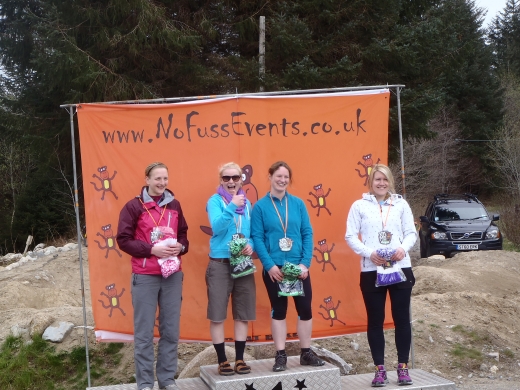 Nofuss will be running some ace events through the summer including 10 Under the Ben, a 6 hour DH race, a river race, sportives, monstrous off road triathlons and more.
Next up - I'll tell you about Dalby. Its the SXC 2 tomorrow so I'll tell you about that too.
If you missed Dalby, check this out for an idea of what happened.
http://www.youtube.com/watch?v=TUhEJ9lUPYE
It amused me. Not sure we can blame King John for the mud. Maybe we should blame the coalition.
Blogger Info:
--- Read More By Robert
---
Disclaimer:
This blog post was written by a third party and their views do not necessarily reflect the views of XCRacer.com