Steel rim cactus (photo courtesy of Steph Vogel)
It was one of those races where I had to seriously question my sanity. Freezing rain, 40 to 50 mph winds and darkness, and I wasn't even in the UK. Yep, The Kona 24 hours in the Old Pueblo 2011 will go down as the year it was cold, rainy & windy … or perhaps something catchier.
I was over to defend my solo victory from 2010.
I talked myself into it, although it was going to blow quite a hole in my training for the important early summer races. It's an ace event though I couldn't resist, and it did give me an excuse to get over to the South West USA, one of the most beautiful parts of the world.
2011 was probably the biggest Old Pueblo yet with 1850 riders. The start had the usual comedy run. I took it relatively easy, protecting my dodgy ankle on the loose dirt. From the previous year I knew the wind would be a major drag, so I had dressed in quite tight compression gear (like a time trialist). I felt this working in my favour on the first lap as I made up time lost on the run.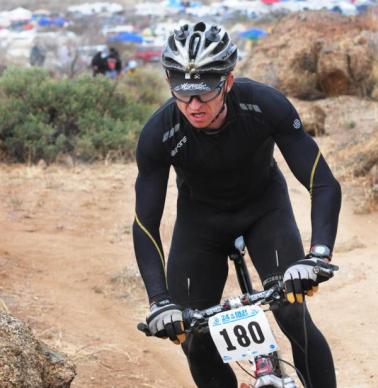 Giving it some (photo courtesy of Dave McElwaine)
The first few laps were uneventful. It was announced that Cory Wallace was to be racing. He's a seriously fast Canadian who was 2nd at the 2010 24 hour "World Champs" in Australia … so I assumed I was chasing him. Going out for lap 4 I was told he wasn't racing & I was in the lead. I liked that news. On this lap I was working well with a team rider. We respectively nailed it through the singletrack. I had set my tyres up with pretty low pressure … just above squirm level, but still wasn't happy with the front pattern as it was still sliding out in the dirt. And so it proved. Just as I was thinking it was worth asking what tyres the rider was using I washed out in the "brain" section of the lap. As I dusted myself off, untangled my bars I felt a numb pain in my little finger. It brought back memories of waking up after falling off a bar stool in Leeds in my 20s, Tequila induced. Yep it felt like I had broken it, it wasn't too painful though & I rather gingerly carried on.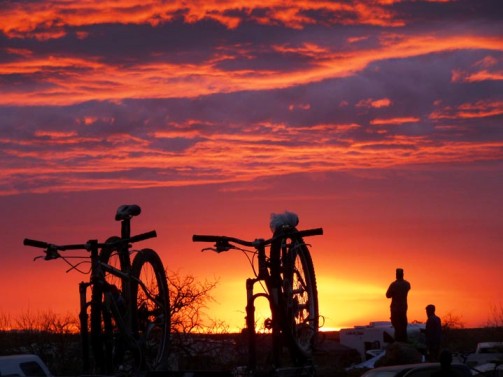 Calm before the storm (photo courtesy of Matt Blair)
On lap 6 it got dark. The ominous looking cloud in the distance seemed to have changed direction and was rolling toward the event. The storm that was causing major snowfalls in the South West over the President's day weekend wasn't going to miss Tucson after all. Bugger. The wind picked up & the dessert seemed to transform into Scottish moorland scene, in winter, ouch. I never had side winds bend my wheel so much that the discs rubbed. That was until now. When I got back to the pits the Easy-Up was in a bad way, the sides were down, the top ripped & most contents wet. The spirits were also seriously dampened in pits as well, my trusty Pit Princess Steph was not a happy bunny. From previous experience I knew I had to keep energy & morale up by keeping warm. I had just about enough warm clothes in a reserve bag, and added them over the next few laps. I was told I was about 15 minutes up in the early part of the night & it seemed I was gaining 2-3 mins per lap.
The weather abated in the early hours. Every cloud has a silver lining and after the brake pad grinding puddles soaked back into the ground it became super fast. This combined with less people on the course and a can of full-fat coke saw me rip around in 1.16 mins in the early hours. My 1800 lumen Exposure 6 pack with remote switch & Diablo light also helped!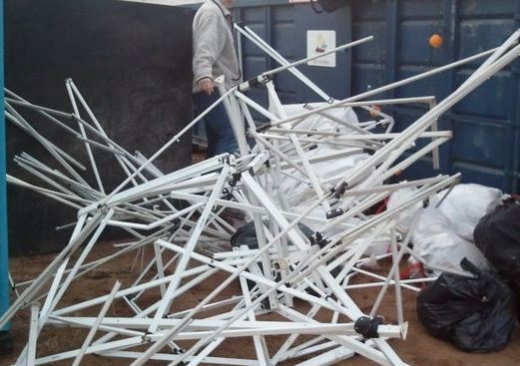 Easy ups (downs) start to pile up (photo courtesy of Keevin Blue)
The sun comes up late at Old Pueblo, about 7am, so once you get to this point you have really cracked it. I was hoping that the sun would warm things up, but the biting wind saw it didn't. On lap 16 I felt quite exuberant, the homeward run … a whole lap of brightness … yay! I set off fast. This didn't last as I my pedal smashed a rock in the section after leaving the timing tent. My 3rd summersault of the event ensued … this time I had folded over the rear hanger. I wasn't quite sure what to do? Go back and get my spare bike or nurse things around, for 15 miles? I decided on the later, folding the hanger back straight & used a small range of gears for that lap. I was annoyed that I didn't have an emergency/spare hanger on me.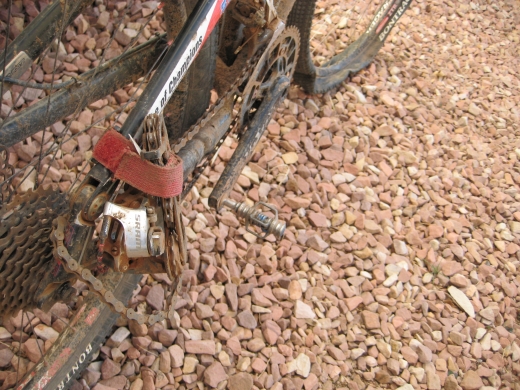 Battered ... time for a new rocket ship?
I jumped yet again on my rickety spare bike for the final 2 laps. Steph joined me on my final lap, which was nice.
Congratulations to the rest of the solo podiumists, particularly Jonathon Davies & Kip Biese who finished 2nd and 3rd. And the solo women of course, particularly the winner Lindy Lee, our pit neighbour.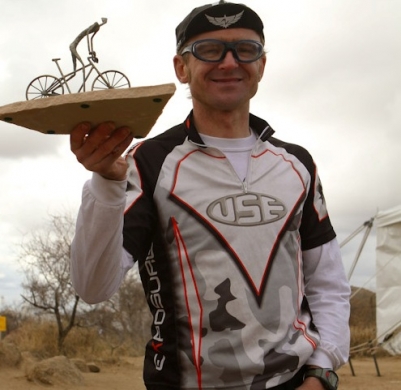 Nice trohpy (photo courtesy of Steph Vogel)
So another Old Pueblo done … 18 laps, about 290 miles. I think 20 laps is almost doable in the right conditions, but I must stop thinking like that. Still feel a bit battered weeks later. Little finger looks like a hook … just good for gripping a handlebar … so that alright then.
Got some serious recovery and training to get sharp for the early summer races.
Thanks to Steph for putting up with the weather and me being a bit grumpy.
Note to self … stop crashing.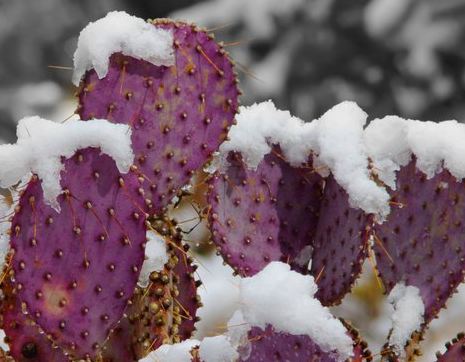 A metaphor (photo courtesy of CJ @ Way out West B&B)