---
Out of the frying pan onto the Fire XC's ??
Share on Facebook
Share on Twitter
Published: 11th February, 2011
A few days before the first cross country race of the year and im feeling mixed emotions, its been really amazing riding my mountain bike again after a long break to have my two boys Dylan nearly three and Olly fifteen months, but it feels really strange preparing to start another race season mid Feb. I have been pottering on a Giant Anthem for the last few years but nothing serious, being the owner of Gateway Cycles definately has its advantages when it comes to choosing a bike. Last year in July, i was lucky enough to get the opportunity to go to Switzerland to look at the 2011 Scott bikes, with my husband and business partner Rich, for a free trip it worked out quite expensive as we came away having ordered two Scott Addict CX and a Scott Scale RC. They were a bit sneaky as we had the chance to test ride a few of the bikes in the local woods,with mtb legend Nick Craig and some pretty quick Swiss Scott employees, too much temptation for a bike junkee. The three test bikes were the Scott Scale 899, Genius LT and a Scale 29er , i didnt get to ride the other 2 as i hogged the Scale 899 all day. It was a revalation riding the Scale 899 and i fell in love with mountain biking again that day.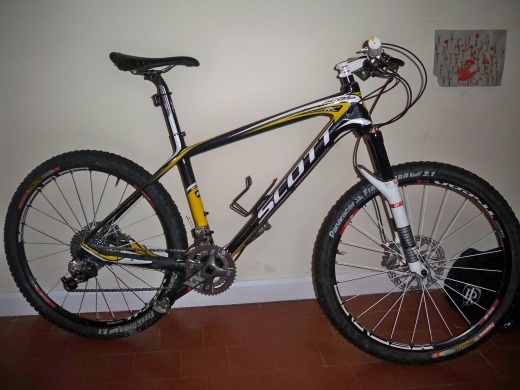 Since then i have tried to get out on the mountain bike as much as possible, i have also taken delivery of a Giant Anthem 29er as a shop demo bike, that just so happens to be in my size. I had it a few weeks before my Scale and after a few rides i was wondering wether i had made the right descision as it was so much fun to ride really easy pedalling and enables you to keep pedalling over bumpy ground at speed. Just when i was getting used to that my Scale RC was delivered and caused a bit of a stir in the shop, it looks amazing and is light, weighing only 19lbs. First job though, fit Fizik Gobi saddle and DT Tricon wheels, then ready to roll.
First ride out and i remembered why i fell in love with it, it is so responsive and explosive when you step on the pedals it just wants to go, it feels like riding on rails.
So to the race on Sunday and feels a bit like a baptism of fire as i wasnt expecting to race this early but thanks to George Rose www.cyclecoachingwales.com, it appeared at the end of my weeks training, so here goes and wish me luck.
Thanks to
www.xcracer.com (For having me for 2011)
Accelerade
And of course www.gatewaycycles.co.uk for my fab bikes and spot on servicing from Rich and Steve
Special thanks to Paul Davis for hooking us all up, Neil from Giant for being a star, Nicki from Scott for understanding and lastly Andy from Madison for the Garmin Edge 500 ( uploads soon ) and DT Tricon wheels.
Blogger Info:
--- XCRacer.com Team rider, mum of two (boys under 3), owner of Gateway Cycles and a bike junkie
Read More By Claire
---
Disclaimer:
This blog post was written by a third party and their views do not necessarily reflect the views of XCRacer.com