---
Peaks and troughs
Share on Facebook
Share on Twitter
Published: 31st August, 2011
This is my third season racing for a professional team - but my first season racing full-time - and I am only just coming to accept that although there are many highs involved in racing, there are also inevitable lows. More to the point, the highs can take you to such a great height that when you fall, you fall so much further! It's all part of racing and almost all of us go through it at some point for a variety of reasons.
After the World Marathon Championships in June, which was my 'A' goal of the season, I was tired and October - the end of the season - seemed so far away. It was time to start training again, re-focus and set some new goals. Traveling to the National XC Championships, breaking my forks in a crash during practice, and driving home again made the re-focusing phase a little more difficult! My attention turned to the three remaining marathons of the UCI series: Grand Raid, Adamello Bike Marathon, and Extreme Sur Loue. I had two weeks at home before my next race so I was able to train hard, something that I was desperate to do after having been in long period of tapering and racing. My training involved a 5-day cycle that looked something like this:
Day 1: Intervals (3mins, 1mins and 15 second intervals OR 10mins and 30 second intervals)
Day 2: 3 hours @ Zone 3 (heart rate 142-154 bpm)
Day 3: 6 hours @ Zone 2 (heart rate 127 - 141 bpm)
Day 4: 6 hours @ Zone 2
Day 5: Recovery spin, core exercises, yoga
Repeat.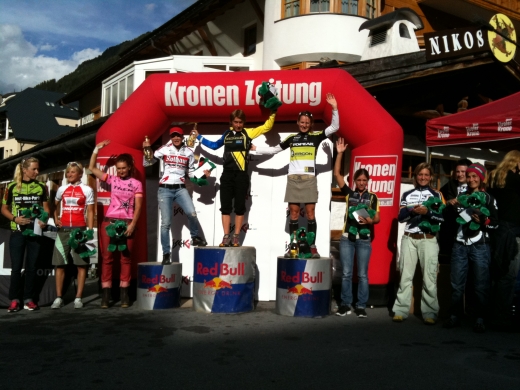 Ischgl Ironbike: 1st Erikca Dicht (Sui); 2nd Sally Bigham; 3rd Bianca Purath (Germany)
Psychologically I felt great; physically I was tired, but this is the point: I needed to train hard so that, after a period of recovery, I would be in good shape for the Grand Raid. Training in this way often means that some races have to be used as training races; it's not possible to fully taper and recover for them all. Ischgl Ironbike (Austria) was tagged on to the end of my training block, after which I would then have two weeks of lower-load training (keeping the intensity but reducing the volume) before the Grand raid two weeks later.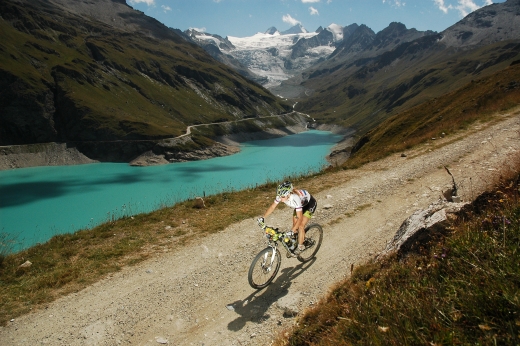 Grand Raid (Switzerland): 1st Sally Bigham; 2nd Jane Nuessli (Sui); 3rd Elena Giacoumzzi (Italy)
This pattern of training worked well and I felt great at the Grand Raid. I was able to ride at a very comfortable pace throughout the race and gradually extend my lead over Jane Nuessli who finished in 2nd place. This was perfect because it meant that I was fully recovered and ready for a fast 3-hour race at the Birkebeiner (Norway) the following weekend.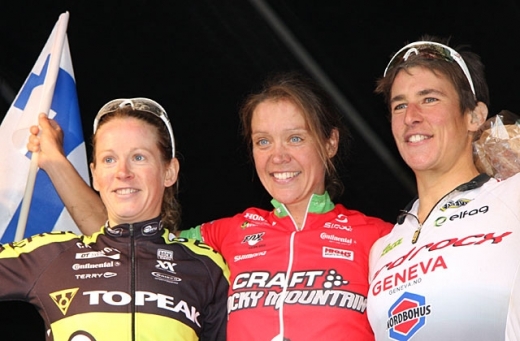 Birkebeiner (Norway): 1st Pia Sundstedt (Finland); 2nd Sally Bigham; 3rd Nina Gaessler (Germany)
Race reports for Ischgl, Grand Raid and Birkebeiner can be found on my blog. Now I have a few weeks to train in preparation for the 3rd race of the UCI marathon series: Adamello Bike Marathon (Italy) on September 18th. A couple of weeks at home is a welcome break after a hectic August!
Happy training, racing and recovery!
Sal
Many thanks as always to all of my sponsors: Topeak-Ergon; xcracer.com; Torq nutrition; Elete water; Compressport; Purple extreme; Fine-ADC; and RideBike.co.uk
Blogger Info:
---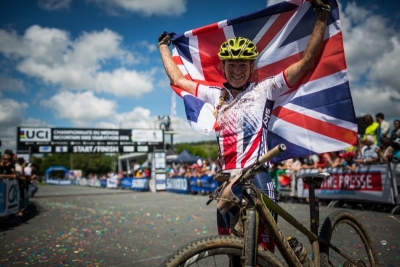 Topeak Ergon Racing Team Rider. European Champion (2016) and 2 x Silver World Championship medals (2016, 2013).
http://topeak-ergon.blogspot.com/
Read More By Sally
---
Disclaimer:
This blog post was written by a third party and their views do not necessarily reflect the views of XCRacer.com