---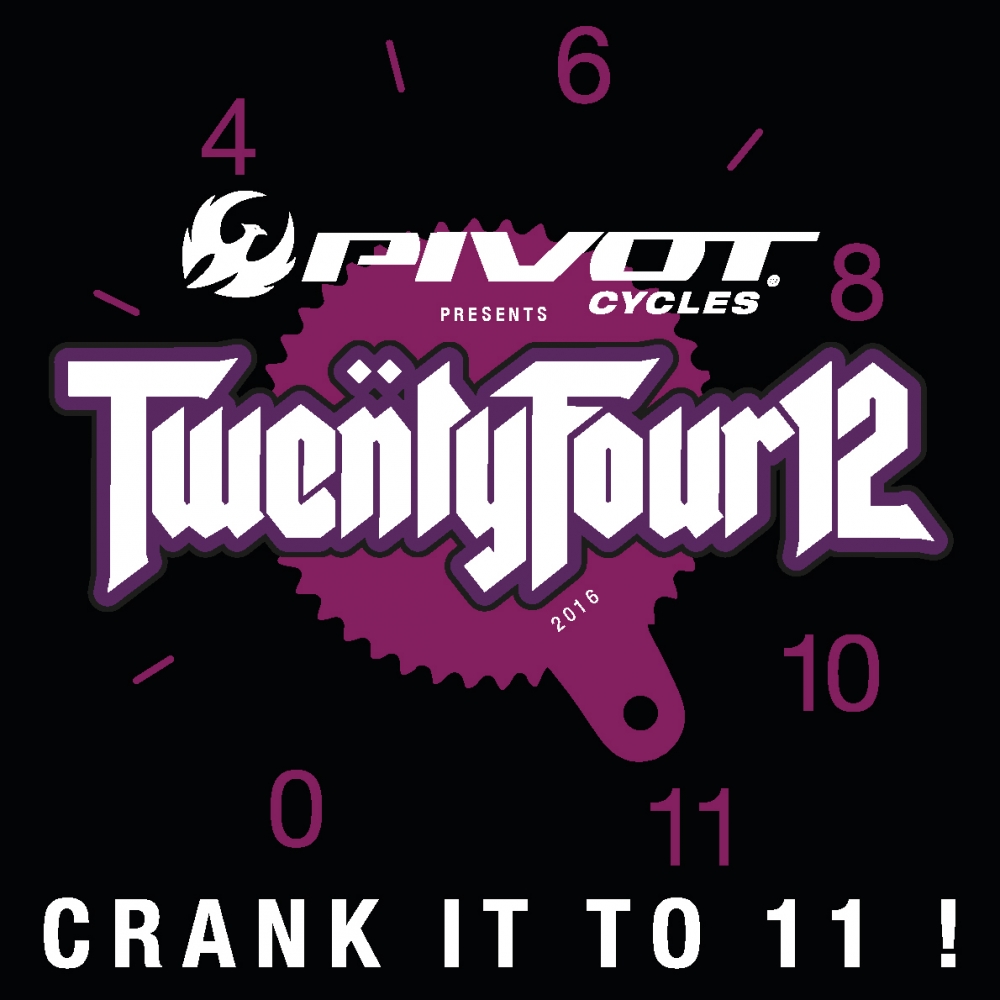 Pivot Twentyfour12
Share on Facebook
Share on Twitter
Published: 6th July, 2016
TwentyFour12 hooks up with Pivot Cycles
As MTB events go, the iconic TwentyFour12 is perhaps one of the most loved and fun endurance events on the calendar.
Now in its eleventh year, TwentyFour12 returns even bigger and better than ever on 23-24th July alongside a brand new title sponsor, Pivot Cycles.
Born in the same year as TwentyFour12's first ever running, 2016 marks the fifth year that Pivot has been involved with the event and it will see the US brand taking centre stage as the title sponsor for the first time.
As well as enjoying the world-class trails of the much loved Newnham Park course, riders will be treated to all the top class entertainment synonymous with TwentyFour12 as well as the latest bikes from the Pivot range to drool over and take for a spin. The full Pivot demo fleet will be available to try out including the brand new Pivot Switchblade, the ultra-fast Mach4 cross country race bike and the iconic Pivot LES hardtail.
"We are very excited to title sponsor this amazing long-running event" says Rory Hitchens, Marketing Manager for Pivot's UK distributor, Upgrade Bikes Ltd.
"TwentyFour12 holds a magic place in the mountain bike calendar and the varied terrain of Newnham Park is ideally suited to our bikes so make sure you come along and try them out"
"If you want to compare times between one of our bikes and your own ride, we will even let you take one out for a lap of the race. We look forward to seeing you at Pivot TwentyFour12" He concludes.
As well as demoing the latest and greatest from Pivot, riders and visitors will be truly spoiled with one of the best TwentyFour12 line-ups ever.
New for 2016 is a large outdoor movie screen that will be showing a variety of films across the weekend and, joining the wide range of onsite caterers, there will be a fresh pizza vendor to keep your tastebuds satisfied and live music to while away the evening to.
Camping at TwentyFour12 has long been free and a central part of the fun of the event. As introduced in 2015, not only are you able to camp trackside in the 2km length of free course side camping but the camping packages have been extended so you can now spend the whole week at the venue.
Newnham Park is also a safe and enclosed environment for children to play and ride their bikes so they can have fun with all the new friends they are likely to make with other children from across the country whilst you relax or ride.
There is a wide range of race categories to choose from depending on your age and how long you or your team wants to ride. In addition to the marathon 24-hour race, there are two 12-hour options – one that starts at midday and the Torchbearer kicking off at midnight. Within each race there is a choice of solo, pair or team entry as well as the 'Just for Fun' relay option for teams of up to 8 people. Entries close on July 13th and, at time of writing, places are selling extremely quickly in all categories with all Solo categories now full.
More information and links to registration can be found at www.twentyfour12.com You can follow all the news as it happens on the event Twitter @twenteefour12 and Facebook https://www.facebook.com/twenteefour12/
To find out more about the Pivot range you can visit www.pivotcycles.com or Facebook www.facebook.com/PivotCycles , Instagram www.instagram.com/pivot_cyclesusa/ and Twitter www.twitter.com/Pivot_CyclesUSA #YourNextBike
---
More on the TwentyFour12 #11:
Event Calendar Listing
Blogger Info:
--- Site starter and lover of the sport.
Read More By martyn
---
Disclaimer:
This blog post was written by a third party and their views do not necessarily reflect the views of XCRacer.com