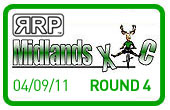 RRP Midlands XC 2011 - Round 4
4th September 2011 | Eastridge
Organised by:
Browse upcoming and previous events by Midlands XC
---
Series: Midland XC Series 2011
---
---
Eastridge – Back to the old skool! The series finale heads to a venue steeped in the history of mtb racing in the UK. Short and sharp, the lap promises to be a perch on the saddle tip climb up, saddle in your stomach back down affair!
Location:
Eastridge
, nr Minsterley, , SY5 0HS
View Eastridge on a larger map »
Event Organiser:
Midlands XC
---