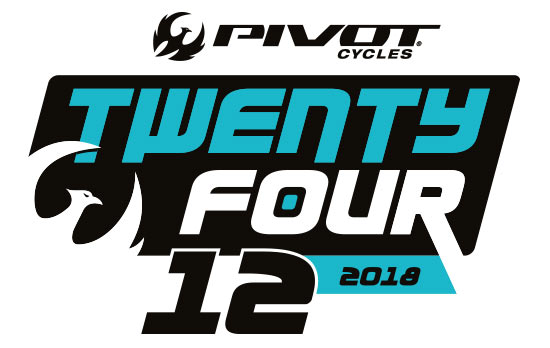 Pivot Twentyfour12 Year 14
27th - 28th July 2019 | Newnham Park
Organised by:
Browse upcoming and previous events by Run and Ride
---
---
A 4 day off-road cycling festival built around a 12 / 24 hour endurance event. TwentyFour12 is biggest mountain bike endurance event in the UK with 4 days of exciting events for all ages and all the family.

Twentyfour12 is an endurance Mountain Bike Race around a course of approximately 12km, entirely off road, with a family friendly festival vibe.

Whilst the main part of the event is the 24 / 12hr event we also have so much more happening such as the 10km Trail Run on Thursday evening. On Friday we have an Mini Enduro MTB event using famed sections around the world renowned venue of Newnham Park. Over Friday and Saturday we hold a 3 stage Kids event which includes a time trial, eliminator and XC race. On top of all that we've got bike demos, live music, trade stands, social rides, FREE Camping and much much more.

Exposure Lights TwentyFour12 25th / 28th July Saturday / Sunday

As the name suggests there are multiple races taking place at the same time on the same course a 24hour race, a 12hour race starting at 11am and another 12hr race starting at 8pm called the Torchbearer12. The venue offers space and facilities for camping (FREE by the way), all on site. The venue is perhaps England's finest with beautiful scenery, a flat arena/camping area complimented by a course that has been host to five rounds of the Cross Country World Cup in the 1990s and continues to have a superb reputation for variety and fun riding and is able to withstand some horrible weather and still be rideable.

So which race do you choose? - Well ask a few questions of yourself first

Have you raced your Mountain Bike off road before? Do you have people who will be able to keep you and your bike moving? Do you have high quality lights with a long 'burn time' (how long they will last before needed recharging). Can you perform well with little or no sleep? What preparation will you do? Will it freak you out being alone in the dark woods at night...

There are lots of other questions but this event is meant to be endurable and enjoyable so if you have lots of No answers to those questions then you should really be thinking about getting some like minded souls together to form a team or a pair, this will make the weekend more sociable and will aid your ability to proove that you spent the weekend taking part in a 24 hour mountain bike race when you go back to work on the Monday.

Location:
Newnham Park
Plympton, Plymouth, Devon, PL7 5BN
View Newnham Park on a larger map »
---
Official Event Website:
www.racespace.com/matt-williams/pivot-twentyfour12-2?fbclid=IwAR0iK7aDp88OyIpGutxa43d3zSYIl-ZZJ4FCVK3H6iIZBTkcL-LDdhGNysU
---
Event Organiser:
Run and Ride
---