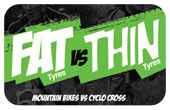 B&DCC Fat Vs Thin (tyres)
25th September 2011 | Birch Hall
Organised by:
Browse upcoming and previous events by Bolsover and District Cycling Club
---
---
Birch Hall is a private estate and was home to round 3 of last years Midlands XC Series. Our race will run on a shortened condensed version of that course (sacrificing some of the more extreme downhill technical sections) to give a fast, flowing multi lap event that will pit Mountain Bikers against Cyclo Crossers in the same race.

This fun event will finally decide who is best !!...perhaps


Race Format:
As always a variety of Categories will be catered for
12:30 Under 12's 15minute race on a fun short course
1:00 Youth & Novice 20 minute race on a shortened version of the main course
2:00 Senior/Junior Approx 1 hours racing for the seniors, 30 minutes for the Juniors
Entry fees will be
Free for under 12's
£5 for Youth & Novice riders
£5 for Juniors
£8 for Seniors in advance , £10 Entry on the line
Advance entry can be undertaken through British Cyclings website saving yourself a couple of quid in the process - see below
The Course:
Course details are currently being finalised, keep checking back , but a good portion of the Midlands XC circuit will be incorporated , however due to the "Go-MTB" status of the event and it being open to cross bikes too , some of the more techinical (read buttock clenching) sections will be omitted. We are even negotiating the chance to ride the course in advance and get in some practice !!
Prizes:
Cash prizes will be provided across the categories, with the total driven by the level of entries we receive. Prizes will be awarded for the fastest MTB'ers and Cross racers, with bonuses for the overall placings.
We currently have sponsors to increase the prize pot as much as is possible and have both JE James and Polaris Bikewear on board to support the event, thanks guys.
FAQ:
What bike can i use?
The senior/Junior race is open to both MTB & Cross bikes , just please make sure that your bike is in safe working order, and is not an embarrasing shade of flourescant pink !
How do i enter?
we will always accept entries on the line for those of you too scared of rain to take a risk..for the rest of you we would be eternally grateful if you could enter in advance through the new British cycling website, this saves us faffing around with 150kg of pound coins on the day..
Ive never raced before.....
Then just enter the Novice race , a 20 minute trip around the course that you can ride at your own pace...just dont expect anything more than a pat on the back and a round of applause for your efforts
A Golf course ?
Birch Hall is not just any Golf Course..notorious amongst the Chesterfield MTB Massive (?) the surrounding woods offer some great mountain biking , and who else would let you race alongside the tees while the corduroy boys tee off !
Location:
Birch Hall
Birch Hall Golf Course, Unstone, Chesterfield, S18 4DB
View Birch Hall on a larger map »
---
Official Event Website:
www.bolsoveranddistrictcyclingclub.org.uk/fatvthinrace.htm
---
Event Organiser:
Bolsover and District Cycling Club
---