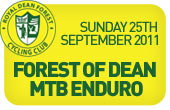 Forest of Dean MTB Enduro
25th September 2011 | The Forest of Dean
Organised by:
Browse upcoming and previous events by RDFCC
---
---
Our experienced Forestry Commission course builder has devised a new 10-mile Multi-Terrain-Bike circuit in the heart of the Forest of Dean woodland. The MTB enduro route will challenge the expert riders while providing an enjoyable experience for the fun riders.

From the standing start near the Bike Hire Centre at Cannop, a long climb up a wide forest track will then send the riders downhill into a snaking single track section


The Enduro Categories
1 lap - 10 miles - £18
2 laps - 20 miles - £23
4 laps - 40 miles - £28
On Sept 16th all entry fees increased by £3
Team Relay - teams comprise 4 riders, each rider to complete 1 lap of the course, £16 per rider.
Entries and Registration
The entry is limited to 500 riders.
Entries will close at noon on 23rd September 2011.
Late Entries will NOT be accepted
Competitors will be sent an e-mail with details of registration and car parking.
Prizes
Some of the prizes for the Forest of Dean Enduro are listed on this web site. Other prizes will be announced nearer to the date of the event.
Location:
The Forest of Dean
Pedalbikeaway Cycle Centre, Cannop Valley, Nr Coleford, Glos., GL16 7EH
View The Forest of Dean on a larger map »
---
Official Event Website:
www.fodmbe.org.uk/
---
Event Organiser:
RDFCC
---