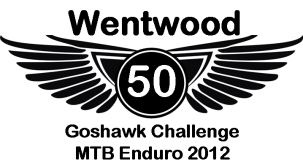 Wentwood Forest 50km Goshawk Challenge
11th March 2012 | Wentwood Forest
Organised by:
Browse upcoming and previous events by Wentwood 50
---
---
Looking for a challenging pre-season mountain bike ride to test or kick-start your training? Ever finished a ride that your body said was twice the distance? Want to explore some great singletrack? Well then, welcome to the Wentwood Forest 50km Goshawk Challenge.

Regarded by most as a tough ride, unforgiving and technically challenging in parts, the Wentwood 50km Goshawk Challenge is an early season mountain bike XC endurance event that will test you to the limits in every area of your mountain biking skills and fitness ….and its all for local charity!

We've put together two great routes - 25km and 50km - for you to enjoy, most of which is all natural singletrack with a mix of fireroad, and some tarmac at the start to help sort out the line-up before hitting the singletrack, and finish. There's a natural split on the 50km route at 25km for those who are looking for something a little less daunting, but please note that there will be a cut-off time for those who register for the 50km and do not reach the split by the cut-off time.

For those unfamiliar with Wentwood Forest, it is the largest ancient forest in Wales with over 1000 acres of continuous broad leaf and coniferous woodland. Both the 50km and 25km routes make use of the varied terrain and are largely weatherproof. With over 1600m of climbing and none of it gained easily, the Wentwood 50km Goshawk Challenge is the perfect pre-season starter. But it's not all uphill and there are some great downhill sections which will leave you smiling ear to ear!


Start: 10:30am

Car Parking: at the start venue next to Penylan House, Pike Road, Llanvaches, South Wales, NP26 3BE. Car Park Opens Sunday 11th March 07:30am. Basic breakfast fare will also be available.

Camping: We're not really geared up for happy campers, but if you're in a pinch we can provide some limited spaces – just not the camping facilities such as water, etc., Hence any camping is by prior arrangement only

Registration: Opens Sunday 11th March 08:00am – 10:00am
Pre-registration strongly advised (the event is limited to 400 entries)

Entry Fee: £18.00 per rider registered before 31st December 2011
£23.00 per rider registered 1st January 2012 to 29th February 2012
£28.00 per rider on-the-day registration

Please note: all profits donated to local charities

…and yes we want to give riders a T-Shirt to commemorate the achievement, but it's costly and eats into the charitable donation so we've come up with a different approach. Have a read by clicking on the t-shirt link above.
Location:
Wentwood Forest
, Llanvaches, South Wales, NP26 3BE
View Wentwood Forest on a larger map »
---
Official Event Website:
www.wentwood50.co.uk
---
Event Organiser:
Wentwood 50
---