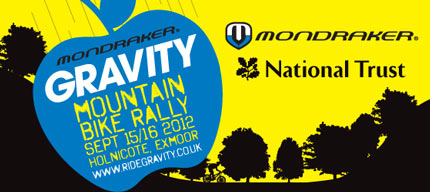 Mondraker Gravity Mountain Bike Rally
15th - 16th September 2012 | Holnicote Estate
Organised by:
Browse upcoming and previous events by Spike PR
---
---
Get ready to finish a summer of mountain biking in style. The Mondraker Gravity Mountain Bike Rally combines everything that is great in mountain biking and takes it to one of the best riding spots in the British Isles, Exmoor. Stunning views meet fast flowing trails to offer something for every type of mountain bike rider, timed downhill sections will help us find a fastest rider but everyone will feel like a winner after a great weekend of riding.

The event kicks off from lunchtime on Saturday 15th September with qualification hot laps on a section of the Gravity loop trail. As we move towards the evening there will be riding and non-riding based entertainment, plenty of space for camping, music, a bar and a great chance to unwind and relax in the beautiful surroundings of the National Trust's Holnicote Estate.

Sunday is all about the riding, the 30km gravity loop is stunning, three timed sections, long winding downhills complimented by climbs that reward you with a great view (and some refreshments en-route). If you are uber-keen then multiple laps of the gravity loop are permitted but for most one will definitely be enough!

Entry Fee: £35 until the end of June. £40 during July, £45 there-after. Enter using the link above.

What you get for your money!
2 days of the best riding in the UK with stunning downhills (chip timed) and climbs that aren't too bad either (no timing there), all woven together with some natural trails
A free set of RWD brake pads for all entrants (to be collected at registration)
Free camping
Evening entertainment, DJ's and maybe even a band if we can find a good one.
Free glass of Exmoor Ale for all finishers
Prizes and spot prizes from Urge, Fox Suspension, Nitelights and Mondraker Bikes.
Tech back up from the guys at RWD and Mojo
Refreshment zone provided by Accelerade.
Location:
Holnicote Estate
nr Minehead, , Somerset, TA24 8TJ
View Holnicote Estate on a larger map »
---
Official Event Website:
www.ridegravity.co.uk
---
Event Organiser:
Spike PR
---