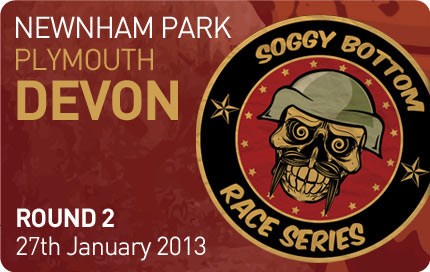 Soggy Bottom 2012-13 - Round 2
27th January 2013 | Newnham Park
Organised by:
Browse upcoming and previous events by In Event
---
Series: Soggy Bottom Series 2012-13
---
---
Due to adverse weather conditions this event has been postponed until the 27th Jan 2013 - Sorry for any inconvenience
This Winter there are 2 Soggy Bottom races so get your entries in quick to get your Winter racing fix.
This will be the 10th year of the Soggy Bottoms and they continue to provide a unique race experience. Excellent facilities include hardstanding carparking, flushing loos, water, cafe, electronic timing and commentary! Racing for male/female in all categories with prizes for all on the podium.
Entry on the day may be available but will subject to an additional £5 entry fee.
The course will be around 5k with a fun mix of climbs, descents, singletrack, technical sections and Newnham niceness. Lap amounts will be decided on the day but will range from 2 for the juvenile race through to 5 or 6 for the elites.
Please Note, Soggy Bottom Round 2 has been postponed until Jan 27....due to Snow.
Schedule
0900 Registration Open
0900 - 1000 Course Open for Practice
1000 - 1200 Race 1 - Juvenile/Youth/Fun/Grand Vet
1200 - 1215 Presentations Race 1
1200 - 1230 Course Open for practice
1300 - 1500 Race 2 - Masters/Vets/Sport/Elite
1500 - 1515 Presentations Race 2
So enter, pick up your number board at registration and come get a Soggy Bottom.
A British Cycling licence is not needed to take part.
Location:
Newnham Park
Plympton, Plympton, Devon, PL7 5BN
View Newnham Park on a larger map »
Event Organiser:
In Event
---