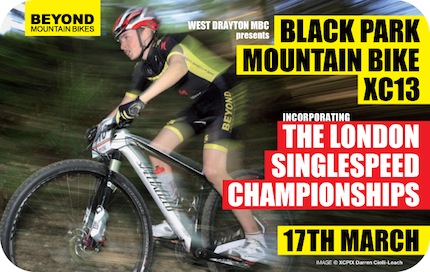 Black Park XC13
17th March 2013 | Race HQ-Black Park Country Park
Organised by:
Browse upcoming and previous events by West Drayton MBC
---
---
West Drayton MBC is proud to announce that its annual XC race will once again be held in historic Black Park. Forming part of the backlot to Pinewood studios, this park, which has been used in countless films from Bond to Harry Potter, provides a mixture of twisty singletrack, technical features and fast flowing trails which once again promises to produce a Blockbuster.

After some recent deforestation within the park we've been able to come up with some new tracks which when combined with the some of the old favourites and the odd surprise thrown in as well, should give an all-weather lap of about 3.5 miles.

Club Chairman and Race Organiser Chris Denman says "The circuit is comprised of trails that the club members have discovered and regularly ride for fun, it's great that the park wardens allow us to open this fantastic venue up to the wider racing fraternity so they can also enjoy this splendid location."

Often seen as an opener to the spring/summer XC season, the Black Park XC attracts some of the top racers, however there are categories for all ages and abilities to make for a fun and enjoyable event.

As a beginner or fun rider this makes an excellent first event as everything can be rolled and there are no major climbs. For the more skilful riders the ability to keep the pressure on and fight off the completion whilst skipping over treacherous roots and technical features requires excellent bike handling skill, strength and stamina.

For the under 10's and under 12's a shorter circuit is used, for the stars of tomorrow to shine before the main event.


Once again the event will also incorporate the London Single Speed Championship with the Bucks Off-Road Sportive offering a £100 prize for the first male single speed rider resident within the M25.


Generous sponsorship is from Beyond Mountain Bikes, The Feed Station, Bucks Off Road Sportive and Go Ape and will see prizes given out in all categories, all races will have trophies and medals for the first three finishers, beginners and fun categories prizes will however be given out as spot prizes.



Prizes-1st 3 male and female riders subject to 6 riders in each category except for Fun/Beginner which will be given out as spot prizes.



All prizes will be presented on the day - no prizes will be sent on. 



Signing on and course inspection will be open from 9 a.m.



Pre entry will close at Midnight on the 13th March, entry on the day will be available at a £3 surcharge for all classes.



Race HQ-Black Park Country Park has a hard standing car park, proper toilets and cafe on site.



Although this event is run under the banner of British Cycling, no licence or club membership is required.
Location:
Race HQ-Black Park Country Park
Black Park Road, Wexham, Buckinghamshire, SL3 6DS
View Race HQ-Black Park Country Park on a larger map »
---
Official Event Website:
www.blackparkraces.co.uk/blackparkraces.html
---
Event Organiser:
West Drayton MBC
---