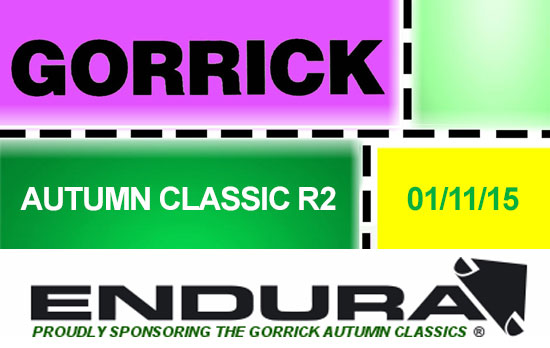 Gorrick Endura Autumn XC Classics 2015 Round 2
1st November 2015 | Crowthorne Wood
Organised by:
Browse upcoming and previous events by Gorrick
---
Series: Gorrick Endura Autumn XC Classics 2015
---
---
The Gorrick Endura Autumn Classics are a great way to finish your season with a buzz on two of their superb race courses. The first event is at Frith Hill, Deepcut, Surrey with the second at Gorrick's home venue Crowthorne Wood, Crowthorne, Berks.

These friendly, well organised events always attract a huge turnout, so get your pre-entry in early. If you haven't raced before and would like to give it a go, then you can enter either the Beginner (1 lap of the 4-5 mile course) or Fun (2 laps) categories which are specially for you and a superb introduction to mountain bike cross country racing.

Endura are once again be the headline sponsor. They are the award winning producers of cycle clothing that focuses on function and longevity without cutting corners on material and construction and looks great too and they will be putting up some superb winner's prizes plus plenty of spot prizes too.


| Race | Category | Age | Start | Laps | Cost |
| --- | --- | --- | --- | --- | --- |
| Race 1 | Youth Male | 15-16 | 8.50am | 2 | £10.00 |
| Race 2 | Juvenile Male | 13-14 | 8.51am | 2 | £10.00 |
| Race 3 | Youth Female | 15-16 | 8.52am | 1 | £8.00 |
| Race 4 | Juvenile Female | 13-14 | 8.52am | 1 | £8.00 |
| Race 5 | Under 13 Male & Female | 11-12 | 8.54am | 3/4 | £5.00 |
| Race 6 | Under 11 Male & Female | 8-10 | 8.55am | 3/4 | £5.00 |
| Race 7 | Fun Male | 12+ | 9.15am | 2 | £21.00 |
| Race 8 | Beginner Male & Female | 12+ | 9.15am | 1 | £15 |
| Race 9 | Expert Male | 19+ | 10.00am | 5 | £27.00 |
| Race 10 | Master Plus Male | 30-39 | 10.01am | 4 | £23.00 |
| Race 11 | Veteran Plus Male | 40 | 10.02am | 4 | £23.00 |
| Race 12 | Sport Male | 19-39 | 10.05am | 4 | £23.00 |
| Race 13 | Junior Male | 17-18 | 10.06am | 4 | £23.00 |
| Race 14 | Expert Female | 19+ | 10.07am | 4 | £25.00 |
| Race 15 | Sport Female | 19-39 | 10.07am | 3 | £22.00 |
| Race 17 | Master Male | 30-39 | 11.30am | 3 | £22.00 |
| Race 17 | Master Male | 30-39 | 11.30am | 3 | £22.00 |
| Race 18 | Veteran Male | 40-49 | 11.31am | 3 | £22.00 |
| Race 19 | Grand Veteran Male | 50-59 | 11.34am | 3 | £22.00 |
| Race 20 | Super Veteran Male | 60+ | 11.35am | 2 | £21.00 |
| Race 21 | Master Female | 30-39 | 11.37am | 2 | £21.00 |
| Race 22 | Veteran Female | 40-49 | 11.37am | 2 | £21.00 |
| Race 23 | Grand Veteran Female | 50+ | 11.37am | 2 | £22.00 |
| Race 24 | Open Male | 19+ | 12.30pm | 3 | £22.00 |
| Race 25 | Open Female | 19+ | 12.33pm | 2 | £21.00 |
Location:
Crowthorne Wood
Bracknell Road, Crowthorne, Berkshire, RG45 6AR
View Crowthorne Wood on a larger map »
---
Official Event Website:
www.gorrick.com
---
Event Organiser:
Gorrick
---