---
Scottish Cyclocross.
Share on Facebook
Share on Twitter
Published: 25th October, 2012
It's stopped raining and the midges have gone. Better get my shades out. We are the wrong side of the equinox but better late than never I suppose.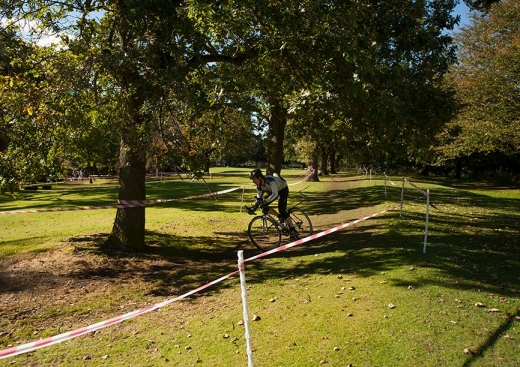 Warming up and unusually actually getting warm.
Scottish Cyclo-cross last year was a big old bog. I suppose it's supposed to be. Still, I felt jealous of the vids of Yanks ragging around in sand in their shorts in Vegas and the Eastern European's reaching warpspeed and getting airborn on frozen tracks. None of that for us. However, Scottish folk are well ard, and there were massive turnouts at all of last years races.
This years series has 6 rounds: Callendar Park - Falkirk, Auchentoshan - Clydebank, Knockburn Loch - Banchory, Fox Lake - Dunbar, Irvine Beach - Irvine, Cross at the (Glengorm) Castle - Isle of Mull. Then there's the Scottish Champs at Strathclyde Park. Plus 2 non-series events at Glennifer Braes - Paisley and the Halo-Cross at Craigmillar Castle Edinburgh. Both these non-ranking events hosted XC races this summer. Finally there's the pinnacle of all CX racers calendar. The world Santa champs at Mull the day after the ranking event.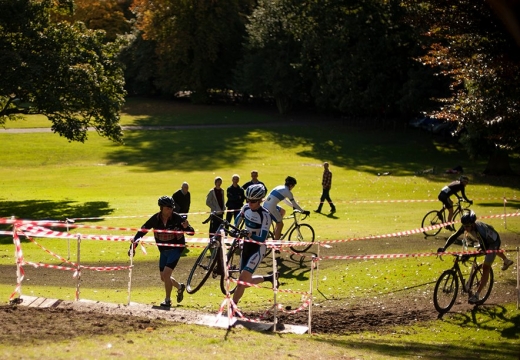 Rab and Davey dishing it out. Falkirk.
The series is to be the best 5 of 6 results. We are amazingly already halfway through. However we've not started on any of the non-ranking events yet so there's still plenty to have a stab at.
To put this season into context: the weather's been unseasonally good, the attendences at races have been excellent, Vets and womens races have had huge entries, spectators have been loud, cowbells worn out, commentary (which is an acquired taste I've grown to love) and the series is even being filmed. Check out Dave Hammil and Jon McComisky "Dig In" internet films.
Round 1. Callendar Park, Falkirk.
Not long back from Pakistan and frankly feeling pretty run down after a week of hiding from Islamic Extremists and eating a huge breakfast and 2 curries a day. I wasn't sure what would happen. The weather was warm, the course 90% fast with tiny sections of mud. Brilliant. It started fast. I made the break with Davey Lines and Rab Wardell. Rab pulled through and was obviously going better on curry than me. I soon started to crack and Davey and Rab stretched the elastic. It snapped. Dave Henderson was showing me his gums and getting closer each lap until he punctured. Phew. Colin May held my pace though on his singlespeed and I couldn't relax until the death. That hurt. Race one, third place. Not too shabby. Davey described Rab's pace as "a bit grippy" and was forced into an error. Rab opened a small gap and then pressed on for a pretty convincing win.
Dig In 1: http://www.youtube.com/watch?v=M9mjDRU-aUM&feature=youtu.be
Round 2. Auchentoshan, Clydebank.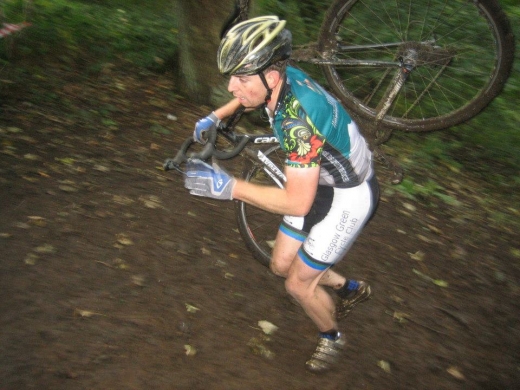 On the "Bank" at Clydebank.
Last years champs course and renowned for being boggy. Lots of running. Not my fave. The weather hadn't been too bad though and although it rained the day before the course was as rideable as possible for this course. It has a huge 45 degree bank out of a river. You couldn't ride that in the dry. There were a couple of other little run ups, some singletrack, a huge and just rideable grass bank. Fast and boggy field sections. Oh, and thankfully there were a couple of hurdles which made it for me. Andy Wardman started really fast. I got his wheel and by the end of lap one he was tiring. He let go and suddenly I found myself with a gap. There was no point in waiting so I just pressed on. I think this was the kind of the course where riding smoothly, picking good lines and not getting involved in scraps helped a lot. I dragged the lead out to about a mintue. Then we started lapping the tailend, and the bikes started to get trashed. I kept tapping out a tempo and visualising myself riding smoothly. "Rob, 'you are Nick Craig'". I maintained the lead for the win. Davey was 2nd again. Colin May 3rd place. Colin has gone one gear bigger this year and is flying. Why not go one more?!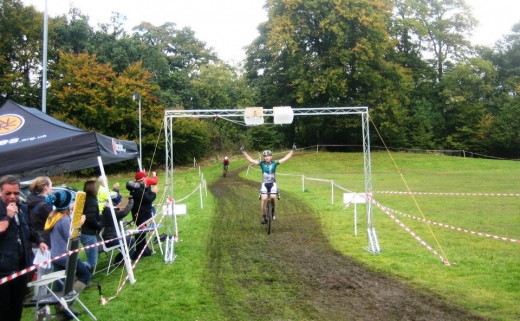 Dig In Episode 2 - http://www.youtube.com/watch?v=O7eh6zVgUnQ&feature=youtu.be
Round 3. Knockburn Loch, Banchory.
I won here in a non-ranking event last year. I'd won 2 races last weekend (Round 2 and the Hairy Coo) and was quietly confident today. Dan Whitehead was back though and Junior MTB Champ Tom Evans who'd been riding past me all summer going up steep hills lined up too. Again, the sun shone but the course was wet. The most beautiful setting for a CX race. A great course lapping a loch, climbing some steep grass banks, a slippy descent, sand and some flowing and off-camber singletrack. Some hurdles. There was one rock I pinged on practice and thought, 'watch out for that, you could flat'.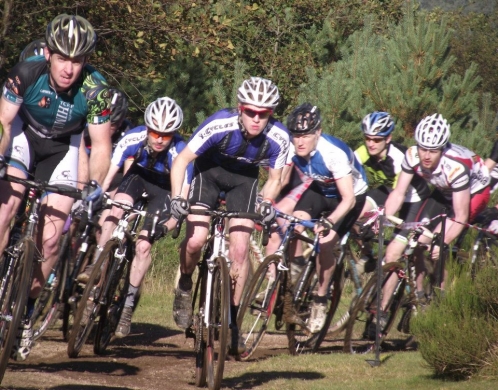 Davey got the holeshot. Then on the long wet section I used my landrover grunt to grind past Davey's turbo and again pressed on. I kept getting a second here and there. I felt good. Rob, you are Nick Craig. Davey let go again and I gradually opened a lead. I was getting tired though and 3 laps to go heard a ping, shhhhhshhshshhhshhsh. That rock! Lucky for me there was a pit with double entries and I had my mtb just in case. I jumped on the 29er and pressed on. A slug through the mud but actually good at the rest of the course, I slowed only about 10s a lap and got win number 2. Davey though was 2nd again, Colin 3rd. Half way, and it's not going to be over until we go down the pub in Tobermory to get ready for Santa's world champs.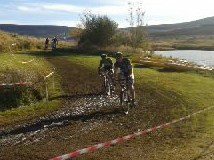 Video:
http://www.youtube.com/watch?v=33FSx-awhzs&feature=share
Blogger Info:
--- Read More By Robert
---
Disclaimer:
This blog post was written by a third party and their views do not necessarily reflect the views of XCRacer.com