Alligator Mini I-Link Compression less gear cable sets are the world's lightest gear cable sets, look great and make very tight bends
Premium 4mm Sealed Compression less Alloy Gear Cable System. 70% lighter than conventional cable housings, Just like the standard I-Link cables, but now with an even smaller and lighter housing (5mm versus 4mm) so they can make even tighter bends.
Gear: https://www.youtube.com/watch?v=Wwu-D_ANweE&t=24s
Another gear one: https://www.youtube.com/watch?v=4O7snM-UlOY
Available here in
black
Weight comparison (outer & inner liner):
- Mini I-Links 15g/meter
- Standard I-Links 27g/meter
- Shimano shift 33g/meter
- Nokon 38g/meter
Compatible with all, Shimano, Sram, Campagnolo & ACCURA Shifters. Ace for road and mountain bike use.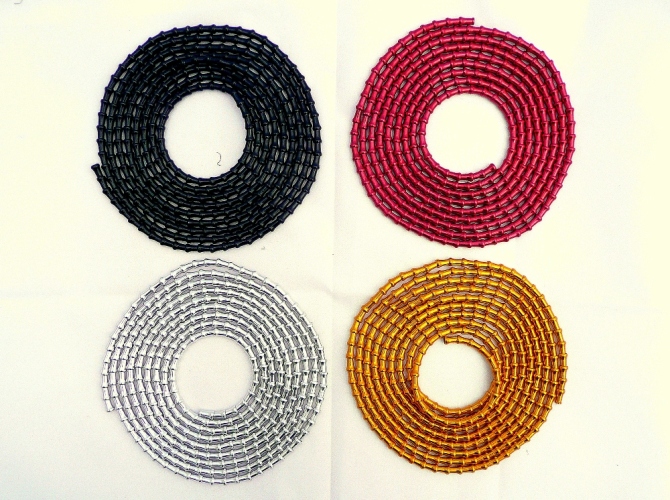 70 percent lighter than conventional cable housings

.

INTERLINK alloy housing technology for precision.

ULTRAGLIDE predex P.T.F.E. coated cables for linear response.

Polymer liner for friction-free performance.

P.T.F.E. Pre-stretched slick cable

Enhance smooth shifting & braking by reducing friction

Self-lubrication & all weatherproofing

Set includes:

Housing: 180cm x 1pc (22.5g)

Liner: 160cm x 1pc, 230cm x 1pc

(11.9g)

Cables: 150cm x 1pc, 220cm x1pc (25.2g)

Hardware: 10g

TOTAL weight for the kit uncut: 69.6 grams
Shift sets only made for mini I-links, but we are selling I-link brake sets for those of you on non-disc brakes.
I-Link Mini compression less control system is only suitable for gear systems. They use a standard 1.1mm gear cable, and can be used with Powercordz 1.2mm gear cordz.
The kit includes enough outer and inner liner for front and rear cables, slick PTFE coated inners, all the necessary ferrules and stops, and two neat rubber tubes to prevent cable rub around the head tube. The system also includes a weather proof polyethylene liner that completely covers the entire inner cable from shifter to mech.