MT ZOOM Ultimate Race Bottles x 2 with Gel Clamps
Uses the classic "big mouth" design where you can suck or squeeze a large amount of fluid out in one go - that leaves you more puff for pedaling.
There's also a "specially designed gel clamping band" - so you can stick a gel under it for extra energy.
The big lid enables full-on access to the internals, so you can keep it nice & clean.
It's in black so it looks good and the scuffs don't show up so much.
2 sizes
650ml
750ml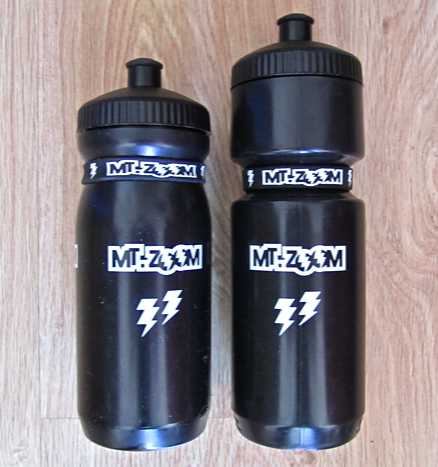 Sold in pairs, pick from 2 of each size or one of each.
MT ZOOM (MOUNT ZOOM) IS A BRAND FOCUSED ON PROVIDING PRODUCTS THAT WILL HELP YOU ZOOM UP HILLS, FAST ... ULTRA LIGHT BUT DURABLE STUFF.
More info here: www.mtzoom.com