Bender Fender XL - the daddy of Bender Fenders.
The Bender Fender XL is thicker than the "Lite" one we have listed and bigger ... it offer more front cover. Weighs 32g.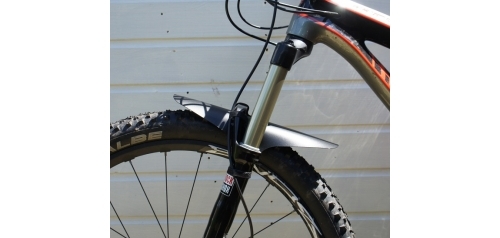 As with the original BF; it can be used up front on the fork or at the rear to protect the rear suspension and front mech.
Available here in
BLACK
Here's a reminder of the Bender Fender's plus points: -
It stops any muck, horse, cow and dog s*** from being flung into your face.
It is fitted as close as possible to the knobbly bits for optimum 'muck' catching.
It can be used on your 26in or 29er
It protects your fork stanchions and brace from getting caked, reducing the need for cleaning and servicing.
Discretion is its middle name. It's small but effective.
Uses hook and loop straps to attach to the brace and stanchions, so it's easy to fit and take off.
It's compatible with all forward and double sus brace designs.
It can be used as a combined rear shock and front mech guard on some full sus arrangements.
When off, it's easy to clean as it's flexible and opens flat. Simply wipe it and you're done!!