VELOTOZE MTB WATERPROOF OVERSHOES - LONG LENGTH IN BLACK
More durable than the standard version, better for MTB. Nor exclusively for MTB though, these can be used on the road of course and are still lightweight & aero. Good for most wet chilly conditions, except deep freezing winter.
We stock the larger 2 of the 3 sizes (medium and large) and recommend going larger than your normal shoe size.
Medium: (EU 40.5-42.5) / UK 6.5 - 8
Large: (EU 43-46) / UK 8 - 12 - discontinued
Available in black
We are also selling the short MTB ones & long standard ones on other listings in the shop.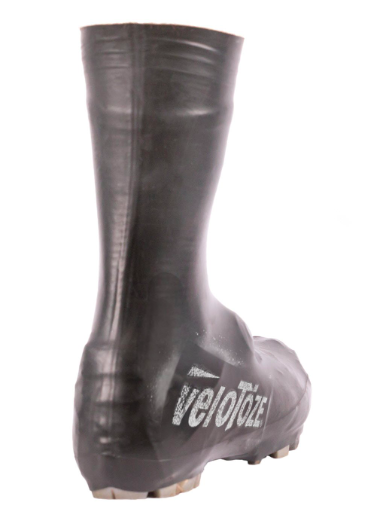 Important fitting instruction:
1: Put on sock
2: Pull shoe cover on over sock
3: Put foot through large cleat hole, and pull shoe cover up around ankle
4: Put on mountain bike shoe
5: Pull shoe cover down over heel of shoe FIRST, then toe
6: Adjust around ankle, cleats and heel pad. Ensure no part of shoe covers/overshoe are over cleats or heel pad.
Note: Pull top of shoe cover over sock or under leg warmers. The top of the shoe cover needs to be against your skin or water may enter the shoe cover.
Warning: Shoe cover may tear if you do not FIRST put on shoe cover, then shoe.
Brand info:
veloToze Short Shoe Covers - MTB are designed to protect your mountain bike shoes from rain, cold and mud. They are made with our signature waterproof material which we've reinforced for use on dirt and gravel trails. They are designed to accommodate bulkier mountain bike shoes and the cleat holes are cut specifically for mountain bike cleats. Whether you are racing, commuting, or just heading out for a ride, veloToze Long Shoe Covers - MTB will keep your feet dry, warm and comfortable.
- Water-resistant: designed to fully cover your shoe with a water-proof material that keeps fog, mist and road splash off your mountain bike shoes
- Windproof: windproof materials keep your feet warm, even on cool mornings (10C/50F to 18C/65F)
Reinforced: added protection across the bottom and toe of the shoe cover
- Lightweight: made of a flexible, lightweight material that doesn't retain water when wet
- No zippers or velcro straps : innovative overshoe design has no vulnerability points, like zippers or velcro
- Aerodynamic: smooth, flexible material creates a form-fitting design
- Compact: easily fits in jersey pocket or saddle bag