MT ZOOM Centrelock Boost Thru Axle Hub Adapter / Kit for Boost Spaced Frame / Forks
Use standard axle/hub spaced centrelock / splined hub wheels in a boost frame / fork with these adaptors. The wheel is then mounted and secured with your boost axle.
Compatibility:
Converts Shimano / DT Swiss centrelock hub wheels for boost frames/forks.
Not suitable for standard (non centrelock hubs) - we have adaptors for standard hubs on another listing.
Front includes: 2 x 5mm RED spacers, centrelock adapter for 6 bolt brake disc rotor - has front +5mm spacing.
Rear includes: 2 x 3mm RED spacers, centrelock adapter for 6 bolt brake disc - has rear +3mm spacing.
- Lightweight: front 33g, rear 28g
- Material: Lightweight CNC alloy 6061
- Red spacers
Installation instructions.
1. Note: You will need a standard 6 hole rotor (we sell great lightweight ones) & a Shimano hollowtech II tool (Park tool number: BBT-9) or C Spanner - see photo.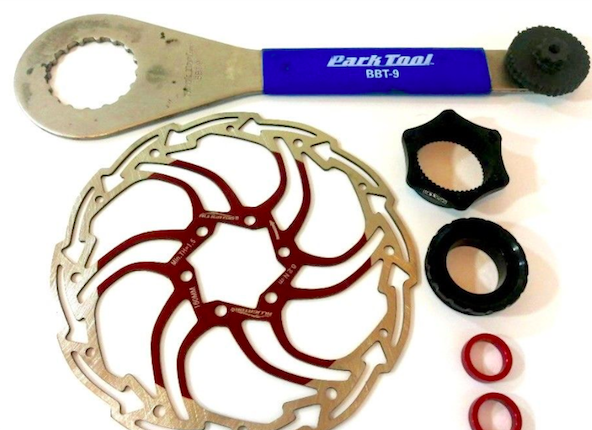 2. Tightly lock a 6 bolt rotor onto the hub with the 2 pieces of the adaptor with a hollowtech II BB tool or C Spanner
3. Place the red spacer either side of the hub on the boost thru axle
4. Fit your wheel as per normal. Periodically check to make sure the adaptor/disc is tight.
MT ZOOM (Mount Zoom) is a new brand which is focused on products that will help you zoom up hills, fast! - ultra light, but durable stuff
For more product information, racing and other good stuff check out the MT ZOOM website