---
Silver at the European Marathon Championships
Share on Facebook
Share on Twitter
Published: 15th June, 2011
A podium at the Euros was one of my season goals and I'm really happy to have achieved it!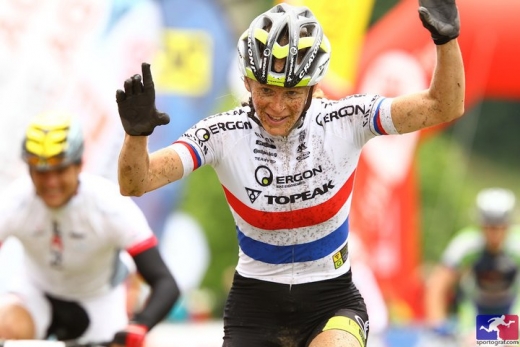 I had 7 days after the Trans Germany (TG) to taper and recover for the Euros, which possibly wasn't long enough. The day after the TG we travelled to Kleinzell (AUT) so I took a complete rest day. Over the following 6 days I spent time pre-riding the marathon course at an easy Zone 1 pace for between 1 to 3 hours per day. Four days before the race I had a Zone 6 (anaerobic) interval session scheduled, but I still felt too tired after the TG to complete the session.
The course was really challenging with lots of steep climbs and fast forest single trail descents - I really liked it J The course was dry and fast during the week, but rain before and during the race made it slippery and muddy. I decided to use Conti 2.2 X Kings (with sealant) on the front (19 psi) and the back (20 psi). This turned out to be a good decision because a number of riders crashed on the slippery descents and corners.
It was important to enter the early single trail sections at the front of the bunch, so a fast start was necessary. I rode at the front with Pia Sundstedt, Jane Nussli and Milena Landtwing; however on the first climb Pia and I were able to build up a 40 second lead. We rode together for the next 30kms and I was able to respond to Pia's attacks on the climbs, but eventually I had to let her go. My legs felt heavy and my breathing became laboured, I'm not sure why - perhaps because I wasn't fully recovered from the TG or perhaps because I was digging so deep???
Over the next 30km I lost approximately 2 minutes to Pia, but I had a 6 ½ minute lead over 3rd position. I knew that I'd have to have really bad luck or do something silly to lose my lead over 3rd. There were still several really steep, loose climbs to go and some really fun forest single trails. I started to take the descents a little more cautiously because I didn't want to make any mistakes at this point. Crossing the finish line in 2nd position was a really great feeling :D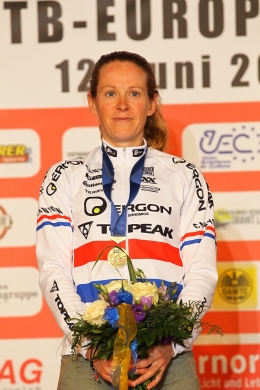 During the 4 hour race I had approximately 2.5 litres of Torq energy mixed at 6% (150grams of carbs) and 6 Torq gels (150grams of carbs) - a total of 75grams per hour. This worked perfectly and I felt fully fuelled and hydrated during the race. Recent research suggests that irrespective of bodyweight, you can take on and use 60-90g of carbohydrate if it's 2:1 maltodextrin:fructose.
Results:
1. SUNSTEDT Pia (FIN) National Team Finland 4:04:11.3
2. BIGHAM Sally (GBR) Topeak Ergon Racing Team 4:08:46.5
3. GIACOMUZZI Elena (ITA) CAPRIVESI 4:16:53.6
4. NUSSLI Jane (GBR) Fischer BMC 4:19:14.1
5. LANDTWING Milena (SUI) Team Centurion/Vaude 4:20:21.3
Full results can be found here
Many thanks to XCRacer.com for their ongoing support and sponsorship.
Blogger Info:
---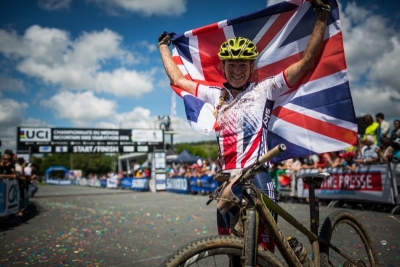 Topeak Ergon Racing Team Rider. European Champion (2016) and 2 x Silver World Championship medals (2016, 2013).
http://topeak-ergon.blogspot.com/
Read More By Sally
---
Disclaimer:
This blog post was written by a third party and their views do not necessarily reflect the views of XCRacer.com