---
Sizzling - hot trip, hot races.
Share on Facebook
Share on Twitter
Published: 1st September, 2010
It's a long time since Mountain Mayhem 24hr. I wasn't quite right afterwards. Some wounds were taking a while to heal. I went to the Docs & the subsequent blood test revealed low mild anaemia & low red blood counts. I guess I had pushed a bit hard in the first half of the season. Anyway next race up was the Are You Tough Enough, the blood test results had left me three days to eat healthy stuff with iron in, Guinness & watercress shakes anyone?
The 6 hour Are You Tough Enough race saw me feeling strong for the first -3 laps and then seemingly bouncing from one root to the next for the final 4 hours feeling quite weak. A change of bike to my full suss half way through helped a bit. A flying Gerald Tudor took tops honours, with Adi Scott nearly reeling him in on the final lap. I was pretty happy to pull in dead on 6 hours, get 3rd and enjoy the rays. My blue lips at end showed I still needed to take a breather & rebuild.
I headed off to see my better half in Nevada. It was so hot there it was just plain scary. A mini heatwave when I arrived pushed temperatures to 115 in the shade. If your leg touched the top tube it burnt. Rides consisted of trying to make it to the next petrol station to fill up on liquid before the skin In my throat cracked. I became unnaturally obsessed with how many water bottles I could fit on a bike. Quite a lot …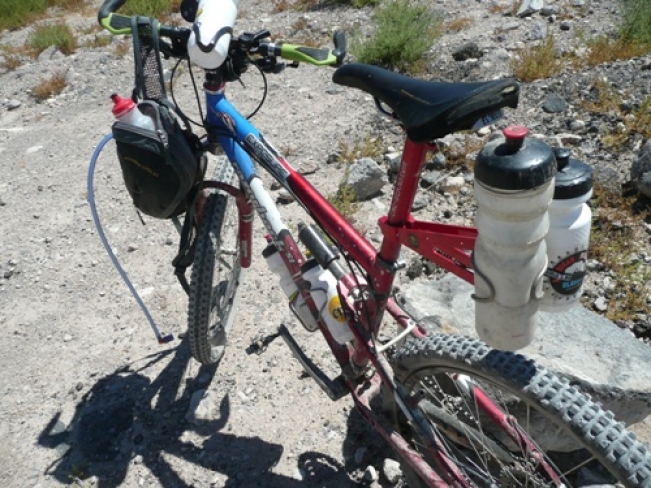 We decided to go to Arizona to escape the heat, a phrase you don't often hear. I needed a race fix & there was a low key 12 hour night race in Prescott, imaginatively named 12 Hours at Night. I thought it would be a suitable workout to do it in mixed pairs, which was a smart move as there was a couple of fast guys in the solo category. When we arrived the venue wasn't that encouraging, just twisty scrub. At night though, at speed it was quite fun. Half way through we had lapped the 2nd place pair. Free All America pancakes at dawn were darn welcome.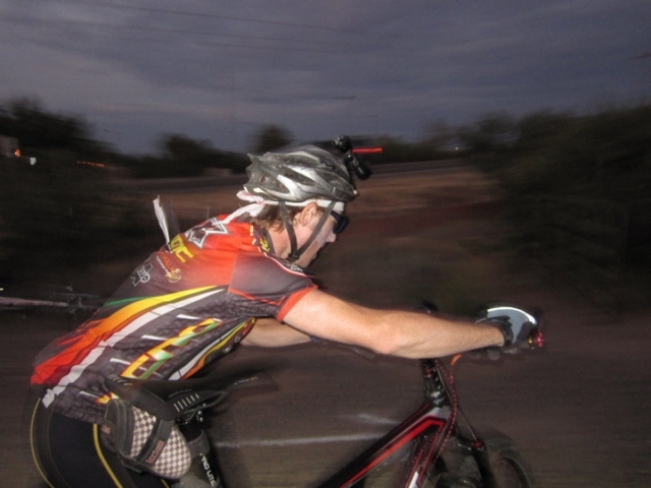 Popping into Walmart for supplies we saw some strange people.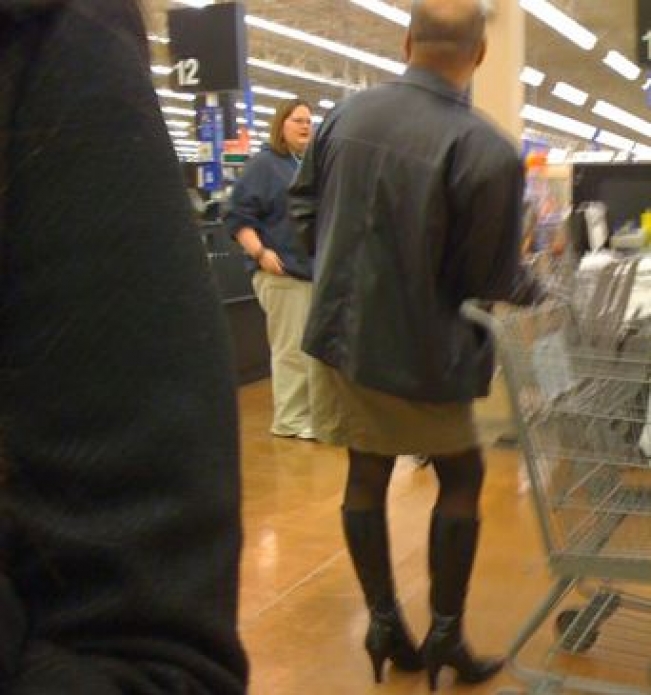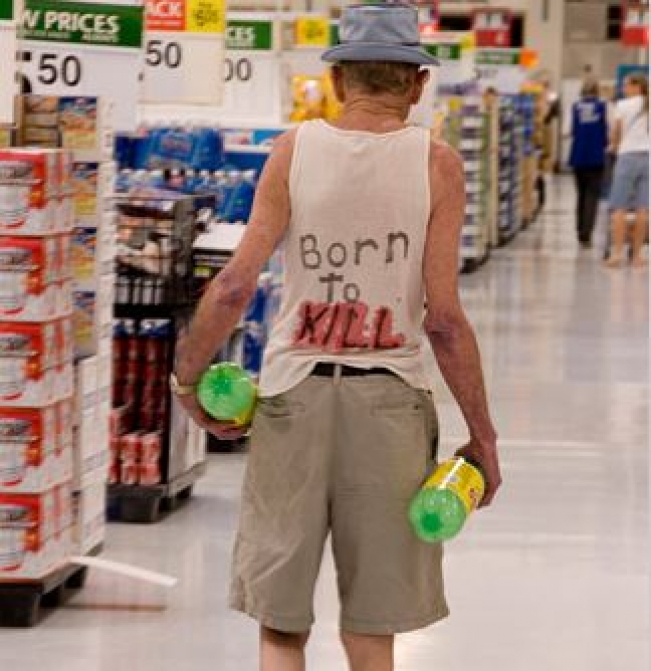 A mini road trip followed to the Sierra mountains in California. Notable highlights involved climbing Mt Whitney, I couldn't walk properly for days afterwards. That's not a euphemism for taking loads of coke and being incapacitated … it's one of the highest mountain the US at 4400m+ and took us 14 hours to trek up and down . A biking trip to Mammoth followed. There was a whole mountain dedicated to mountain biking at altitude on singletrack. Loads of riders were there, you had to buy a trail pass. And there was no official way to get to the top of the mountain without quite an expensive lift pass. Something we discovered after cycling against the flow to the top.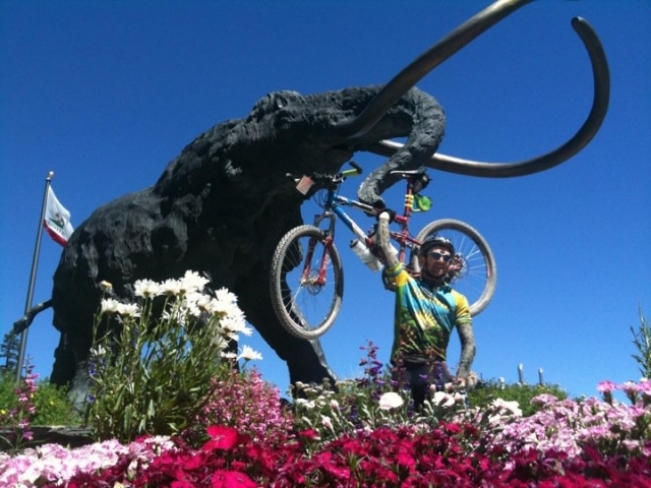 I like a) flowers, b) mountain biking, c) big hairy things, d) all of the above
Back in Las Vegas there was a 4 hour night race (The Night Owl) near Red Rock canyon, from 8pm to 12pm. It was still hot and in the 90s an hour before the start. I didn't know the course so my strategy was to sit in for a while to get my bearings. I was 9 miles of ace relatively flat fast following singletrack, weaving between Joshua trees. After a mini run we climbed a little, and a group of 4 formed. The pace wasn't concussive which was good as the dry hot desert air was pretty hard going. I sucked my camel back dry pretty quickly. After 2 laps it was down to just me and a pairs team. On lap 3 I pushed a bit harder on the hill and got away. I had the new Exposure 6 pack light and the new Diablo mk2 headlamp so it was easy to pick the lines. I was up against it to squeeze in a 5th lap in the 4 hour limit and just did it. It hurt a bit to do, I was parched … the beer at the end tasted mighty fine.
Back in the UK Josh Ibbot and I decided to do pairs at the 12 hour Torq in Your Sleep rather than solo ahead of the Kielder 100 the following week. The event was big, the course excellent and the competition fierce. While the Torq riders (James Lister & Tim Dunford) duelled for 1st with Dave Collins and Craig Bowles we were in 4th trying to edge closer to the Evans/Phil Corley riders (Jamie Newall (?) and Matt). I figured if we could keep the gap close, Josh and I, being endurance guys could come on strong at the 4 hours of darkness at end of the race … especially as we had some seriously good lighting. This indeed was the case with a flying Josh overhauling the competition in the 11th hour.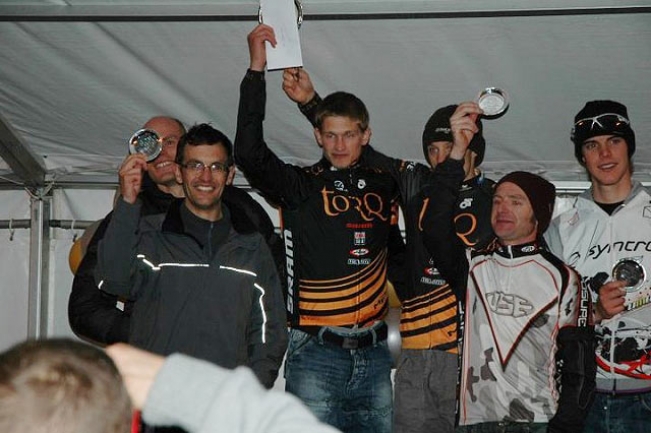 Getting more Smurf-like by the day
It was a very tough fought 3rd, perhaps a little too tough for me … I hope I can recover for the Kielder 100 miler.
Blogger Info:
---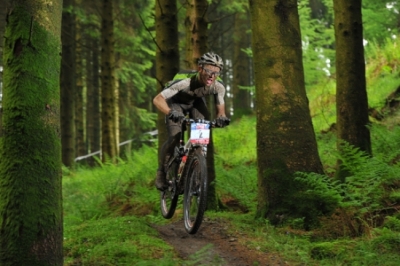 24 solo racer, world traveller and now the man behind the xcracer shop
Read More By Anthony
---
Disclaimer:
This blog post was written by a third party and their views do not necessarily reflect the views of XCRacer.com