---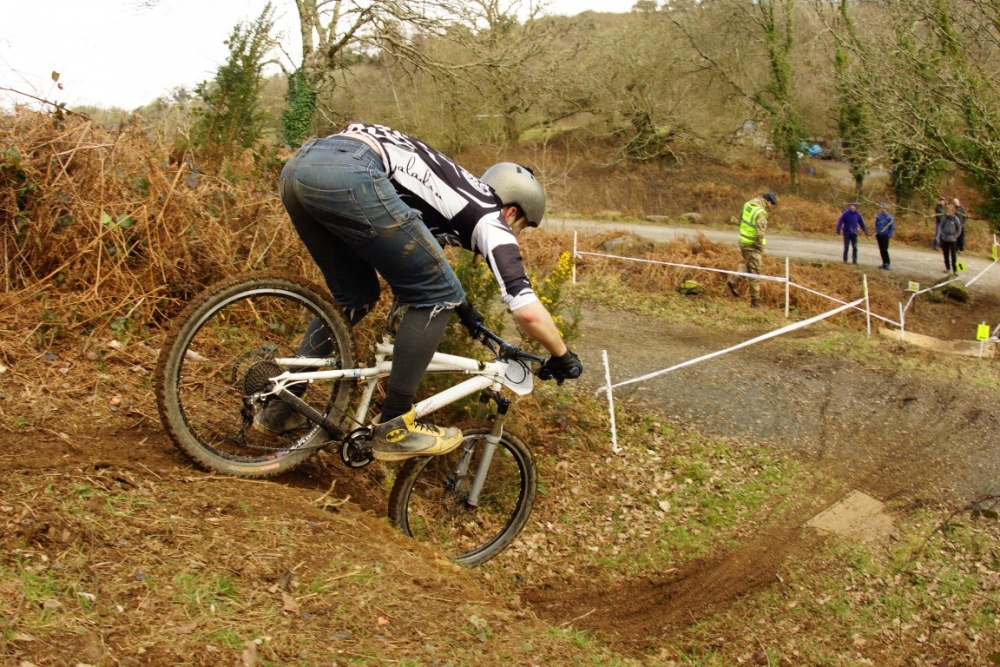 SOGGY BOTTOM ROUND TWO. OUR ISLAND IN THE SUN.
Share on Facebook
Share on Twitter
Published: 3rd March, 2016
I know it is hard to believe when only 5 km away all the trails resembled porridge, but round 2 of the Soggy Bottom series was greeted by the kind of conditions that makes a race organiser sing with joy. Blue skies, light winds and that tacky kind of plasticene mud that rolls quickly and offers max traction. It meant that we could chuck in a few of the crowd pleasing technical features that we can't go anywhere near in the wet. Wonderful.


When we bought the rights to the Soggy Bottom series two years ago from event maestro Martyn Salt, we had this niggling doubt in the back of our minds that maybe Salty had forseen the death of XC racing and had gotten out while the going was good. If that was the case, then he must have bought his tarot cards from Aldi as round 2 had a record entry under our tenure, but I reckon Salty in reality was just sick of spending the winter wet through to his pants and was happy to watch us muppets do it instead.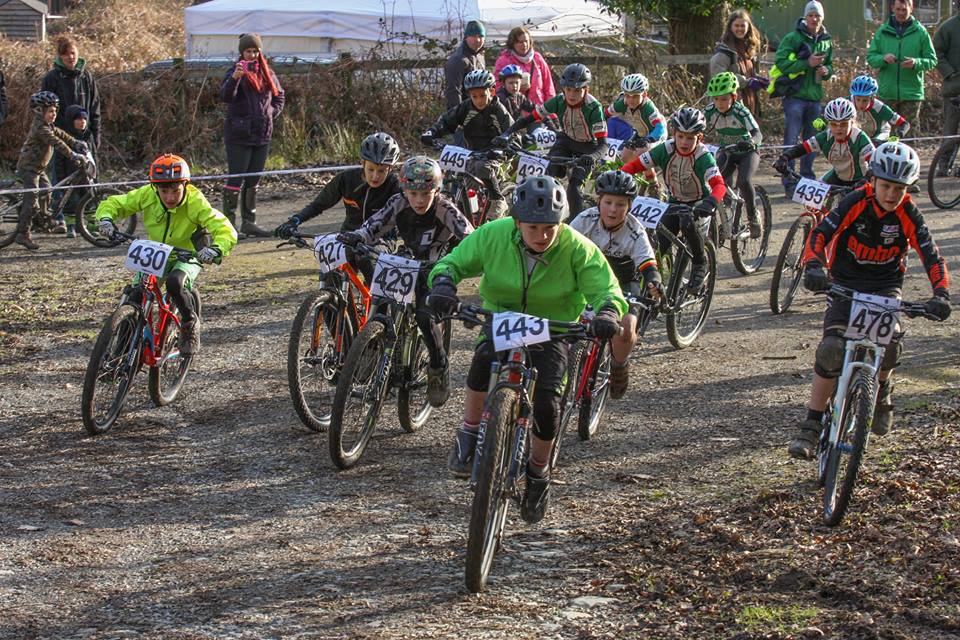 The under 8s, 10s and 12s kicked the day off in grand style, with the 10s and 12s finding themselves faced with increasingly technical courses and a gradually increasing race length, all in the name of preparing them for the rigours of juvenile racing. As it was, the leading under 12s did six times up the Clif Climb and six plummets down Derriford Drop (the 'B' line that is, we're not that reckless), something that would kill half the senior field. The future of XC racing is safe in their hands. It didn't stop them spending the rest of the day flying round on their bikes like a pack of wheeled Jack Russells however so we might make them do the full course next time.

As you hopefully know by now, we are ardent fair weather supporters of British Cycling. We are members, race licence holders, Go Ride club members and coaches, B.C. event organisers and more than happy to give them a hearty 'BRAVO!' for all the good work they do. That leaves us free to give them a hefty poke with a stick when they do something stupid. In the case of Soggy 2, we endured a week of B.C. snotagrams telling us that the mass start format we run at the Soggies is illegal, unconstitutional and anti-Christian, despite being included in their regulations as perfectly acceptable. We run the mass start firstly because we can. We have a mahoosive field at Newnham that could host the next World War, riders who want to get among it come to the front, the rest linger at the back, it all sorts itself out in the first hundred metres and everyone ends up racing against folk of the same SPEED rather than just the same AGE. We don't have categories crashing into the back of each other, we haven't had any of the usual start line pile-ups that we always used to have and the virtues of a fast start are easy to see. Anyway, in the end common sense and the fact that we are a long way from Manchester prevailed and the mass start was used as usual. In the morning race, the rider order through the finish line for the first 3 laps were as follows – Youth Male, Junior Male, Sport Male, Juvenile Male, and then the first Expert Male. No solo time trials for any riders and a great race experience for our crop of talented youngsters.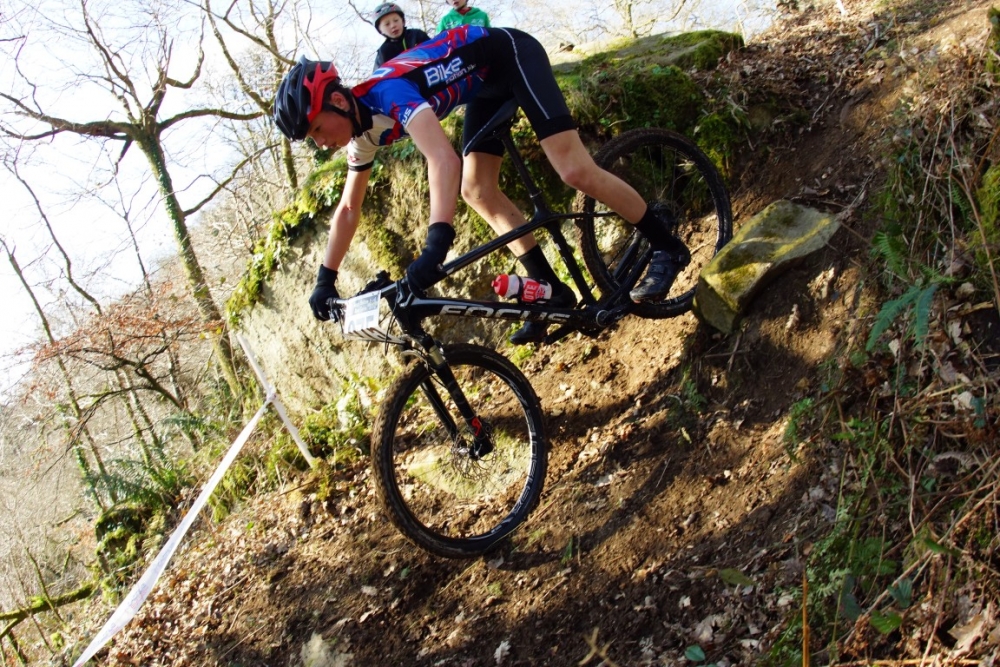 In the stunning conditions we were able to dust off Derriford Drop and Cottage Carnage from last year's National XC. One of the multitude of ball-ache moments from last year was the insistence of one of the commissaires that Derriford Drop would have to be taken out of the course as someone was going to die, rivers would turn to flame, dogs would lie down with cats etc etc yawn. It seems that they had seen a similar feature 'back in the day' when chicken tasted like chicken and we all raced cantilever braked bikes. Being told that your course would have to change the day before the race is a stressful moment and not received very gracefully on my part. It stayed in, no-one got in the least bit hurt, and no apology was ever forthcoming. Watching riders stream down the 'A' line in the Soggy demonstrated how the sport has moved on, and how much better riders have got, and how certain officials either have no idea what they are doing, or just love to do a bit of dick swinging. Riders hit drops worse than that on their weekend rides, on bikes that are designed to take some serious punishment. It might be time to recruit some new young commissaires with the stipulation that they actually ride mountain bikes.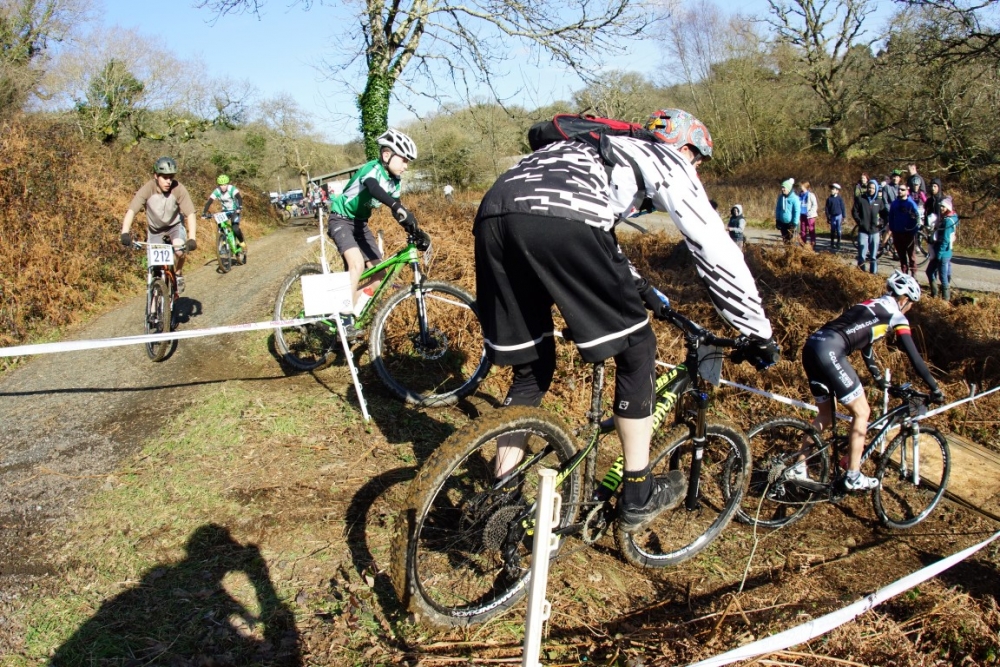 Soggy 3 is only three weeks away, and with a fair wind we aim to unveil some more sections that are likely to make the final cut for the Nationals course in April. Thank you to the Soggy faithful – you're the best crash test dummies we could wish for!

Thank yous to Snapper Chick for the photos, Gary and Jon for being commissaires with common sense and initiative and the Dawes family for making us look like we know what we are doing.
---
More on the Soggy Bottom 2016 R2:
Event Calendar Listing
Blogger Info:
---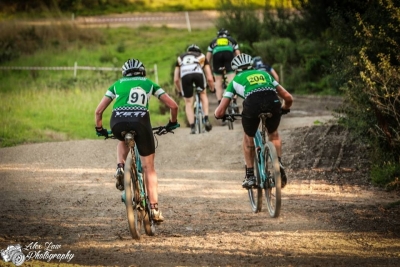 Fully Sussed is run by husband and wife duo Jay and Maddie Horton.
Mountain bike enthusiasts, used-to-be racers and voluntary coaches, now scratching a living as event crew / lifters and shifters.
Read More By Maddie
---
Disclaimer:
This blog post was written by a third party and their views do not necessarily reflect the views of XCRacer.com