---
South West Youth squad go West
Share on Facebook
Share on Twitter
Published: 3rd February, 2013
On the weekend of February 1
st
-3
rd
, the SW youth MTB squad headed off to Cornwall for one of their regular weekend training sessions.
What follows is a report from day 1 of the weekend - the first half written by the girls, second half by the boys. You'd hardly think that it was about the same weekend!
South West Youth Squad goes to Cornwall - the Chicks' Version.
Travelling to Portreath, the South West team settled in to a cosy bunkhouse with a long drive perfect for running up and down. We prepared for our long weekend ahead full of food, Ping-Pong and most importantly… CYCLING!
Waking up nice and early at 6:45am, we headed to 'The Track' ready for our crash course on BMX skills. Yet before any riding, we were straight into the foam pit practicing our Tom Daley moves, forgetting to remove the over-mat, getting a few people slightly soaked.
Eventually we got onto our bikes and met our coach for the day, Steve Tomkin, the well-known maker of the track. Dropping our saddles to get into the BMX spirit, we started off with some time-trials so that we could see if we had improved at the end of the day. We were shown how bad we were by Tomkin giving a demonstration to show how stiff we were on the bikes, but we soon relaxed later on, and mastered the art.
Patsy showed us how manuals are done, which resulted in her winning the official South West weekend crown. Well done! P.S. Jay and Maddie, the over-sized hat is an awesome prize!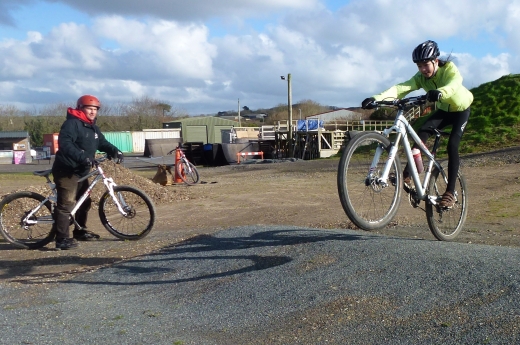 After a hilly ride back and a wearing day, we realised the circuits were still to come. Having a quick feast, we then got whistled at by Charles for some lovely triceps dips, shuttle runs and burpees, etc. Fun stuff!
First day done and dusted, time to save what's left of us for tomorrow!
By Patsy, Ruby, Evie and Lucy.
Cornwall away weekend - the LADS version
The weekend started for the lads at 01:55am when we were woken by Charles laughing about an unknown subject. Following numerous other untimely wake ups, we finally rose from our slumber at 7:15. Next we left our igloo…I mean bedroom and headed down for a hearty breakfast of coco pops and cheerio's. Pumped up and wholegrain and fibre, we headed to 'The Track' in Portreath, it is the most amazingly awesome wicked cool banterous place in the world!!! If you haven't ridden there, you must do it now!!!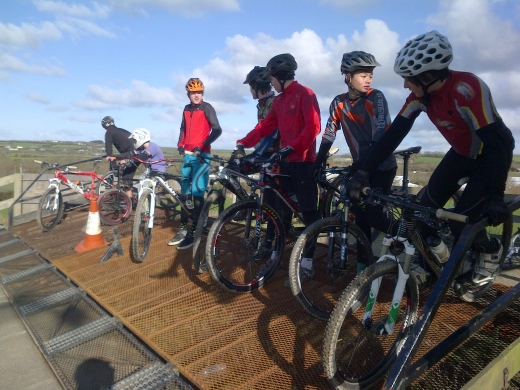 Promptly upon arrival we were off sessioning some of the 'smaller' jumps with thoughts drifting away from our xc bikes and to our noble dirt jump or downhill bikes back home making the quote of the day "if I had my other bike". Charles and Fin promptly put this quote to the back of their mind hitting some of the doubles, closely followed by Jack hitting one of the big hips. Kris and Harry also followed suit on the double line on their superlight carbon 26ers…it's a miracle they didn't float away in the wind. Soon everyone was gaining confidence and we trained a huge set of table tops with Jack and Fin adding some amazing style and Charles doing a great impression of someone with not a lot of sense, if I had a pound for every dodgy landing he had, I could buy a full carbon demo 8, but who can blame him, he's just out of hospital.
Après more general shredding and banter, we headed over to the BMX track for some top quality coaching with Steve. He was a great coach and catered for the needs of everyone on the trip amazingly. If anyone wants to learn some skills, he is the man to do it with. The first order was a timed run of the BMX track with only four seconds separating the lads group Fin with the only sub 40 second time. Steve 'god of the mountain bike' next gave the lads a lesson on how to pump like a pump saint. Within minutes everyone was pumping like a paramedic with a fat person on a steep hill. However, soon a lummox on a BMX who obviously owned a flat cap and had a soft spot for doughnuts and chips took a tumble and had to be seen to by Steve who took him to an ambulance, which transported him to the closest morgue.
So the lads decided to session the jumps again, with acquired wisdom from Steve, they were letting it hang out like a fat bird in a bikini! Steve eventually returned and taught us some more about jumping which was amazing and turned us into mini versions of Sam Reynolds…or so we thought! Soon however the dreaded moment came and it was time to leave the heaven of jumping, pumping and fun that is 'The Track'. Upon returning to the youth hostel we had a brief period of down time which we filled with eating general crap….except for Charles, who saw another opportunity to leak gas from every orifice in his body. Ping pong was also swiftly added to our schedule which included hitting the ball as hard as we could from opposite ends of the room.
Soon however, a dark cloud drifted in front of the sun and we were called into the courtyard for circuit training, which to the general public is pain, pain and more pain. The lap of suffering included the 6 deadly stations for 45 seconds each…. for 5 laps! As we said, PAIN! After this we were allowed to shower and eat more crap before a team of highly trained professional cooks (three lads and a chick with no cooking experience) made lots of pasta, the cyclist's energy source. So far the weekend has been awesome and I'm sure tomorrow won't disappoint. We're going to go now and eat more cake!
Lad point tally: Jack-5 (because he wrote most of this), Fin-4.7(chief cook), Charles-4.5 (for getting out of hospital), Kris-3.141592654(because he likes pi!), Harry-4.1(he owns an ex-Atherton bike)
Blogger Info:
---
Event organiser - Fully Sussed
Read More By Jay
---
Disclaimer:
This blog post was written by a third party and their views do not necessarily reflect the views of XCRacer.com