---
SXC update
Share on Facebook
Share on Twitter
Published: 21st July, 2012
Finally an update on behalf of the SXC, ironically on another pilgrimage to the South of England. Lucky for me the folks are on route and I got the chance to see Le Heron pretty much seal the deal. Awesome. I'm getting a bit nervous now about tomorrow....really hoping the yellow jersey is gonna lead out the rainbow stripes on the Champs Elysees. I'll be missing that though riding around Wasing.
Back to the SXC. Since last blog we've done the Scottish Champs, and round 4. Two vastly different courses.
Aberfoyle
- Scottish Champs. Well what can you say. The course made me think. I thought 'what the heck do they put in the water around Stirling?' Or more to the point 'what did they put in the water around Stirling 20 years ago?'
Hanging around racing types and rock climbers you meet a lot of folk that are having it. Most of them are young. Occasionally a veteran slips the net and continues having it. I first got the chance to ride with a Stirling Vet in Les Gets. We'll call him Figs. If he dsecribes a route as "a bit trialsy", he means you'll be scaling a slope so steep there's a rope down it and a skull and crossbone sign at the top warning risk of death. His usual 'warm down' is a 12km climb that he rides at threshold. But Figs isn't alone. There's a Nimmo. I first met Nimmo on the "Ride of the Frozen Foot". Nimmo is an active trail builder at Aberfoyle and last year was cutting a tricky off camber into the side of a loamy hill. I remember this being a "bit awkward". A year older, and he's a year madder. Down at the car park, he was heard describing his new trail. "It's not hard....it's just awkward"
Half of Nimmos statement was spot on. It certainly was awkward. I would contest though that the course wasn't hard. It was steep. It was steep but easy(ish) down a felled area of forset. Then it was steep into a rutted left hand loamy corner. Then it was even steeper with a blind log drop half way down an even steeper chute, into another off camber loamy corner, this time with roots across it. It was followed with a few hundred metres of tricky off camber roots with tight hairpins. The race was carnage. If you got down there ok, you were back to the old Aberfoyle tracks....steep, rooty, off camber and tricky. Then you rode back up the hill. Guess what. It was steep. So steep, I consistently used granny. Nowhere else have I ever done that, exept when I raced at 4200m in Pakistan.
This course had its advantages. It was amazing fun. It was hard (and awkward). It sorted out the men from the boys (actually, the boys beat most of the men). However, was this too hard for a regional? I loved it. Got 5th behind Grant Ferguson, Dave Henderson, Rab Wardell, Gareth Montgomerie. Not to shabby a field to be beaten by.
However, if this was your first season of racing, unless you drink the water from Stirling, you might have gone home and started uploading pics of your XC bike to ebay.
Personally, I love courses like that. If there were more of them, we'd be copying Rob Warner and sticking a Gravity Dropper on our XC bike.
Round 4 - Forfar.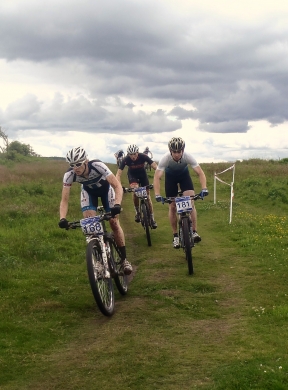 This track was kind of reminded me of tracks that get used in Leicestershire in the Friday Night Summer Series events. It was old school. It was so old School it saw the return to racing of James Fraser-Moodie. Jazz Fraz is back in a quest to get fit for the 3 peaks CX. Watch out. Forfar was really wet. A lot of grass, a fair bit of climbing and some well ridden bomb holes. Not particularly hard to ride around, but as usual, hard to race around. We also rode along a dry stone wall, that's a first for me in a race.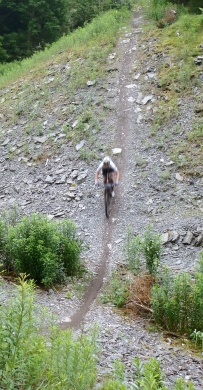 Rab Wadell won, claiming I had pushed him hard. I must have pushed him really hard, because despite crashing his brains out, he still rode nearly 2 minutes ahead. The juniors set off with us too, and Tom Evans and Iain Paton were flying as usual. Tom loves a fast start, but didn't end up contesting the win after his crank fell off. I suppose an error like that is best learnt at an SXC rather than a World Cup. Remeber Tom, every time you line up to race, you gain something, even if its only a lesson to check your bolts. Trust me, I know.
The SXC heads to Perth and then Drumlanrig for its conclusion in September. I will hopefully be there, but might miss the last round. Off to race Tour of the Himalayas again. Epic.
Blogger Info:
--- Read More By Robert
---
Disclaimer:
This blog post was written by a third party and their views do not necessarily reflect the views of XCRacer.com