---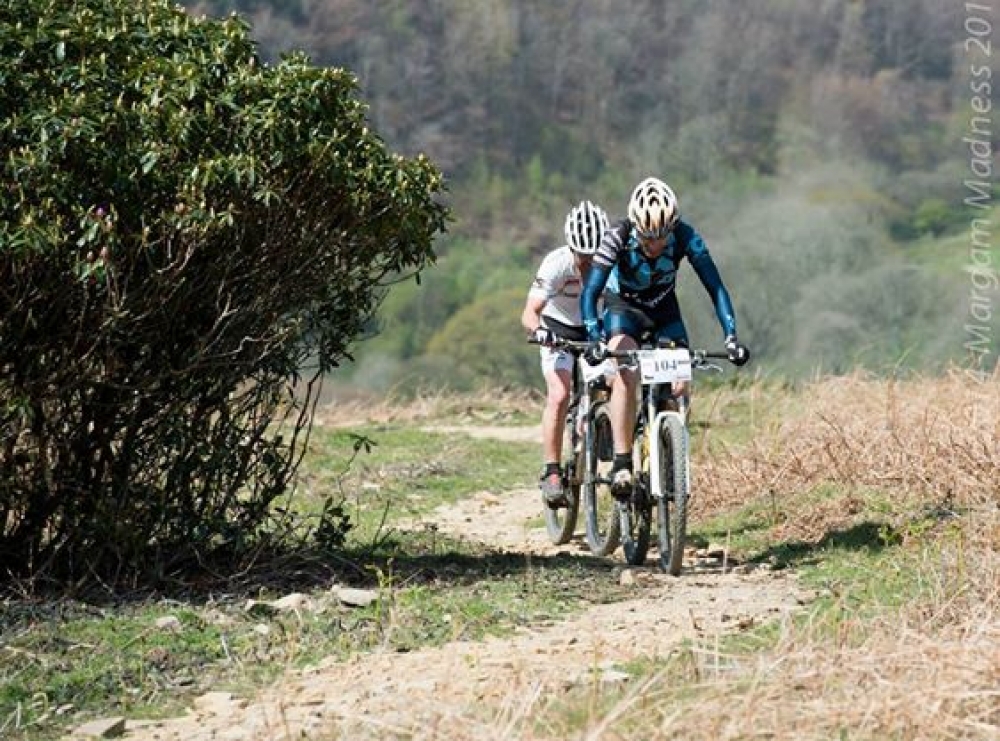 Tan-Lines (Good). Line Choices (Bad)
Share on Facebook
Share on Twitter
Published: 24th April, 2014
Margam Madness has moved to a new home. Not a new venue, changing from Margam Park would make the name look a little silly, but a new date; this year it was held on the Easter Bank Holiday weekend. This was Wales, where it always rains. This was also a bank holiday, when it always rains. However, as anyone with a basic grasp of maths knows the product of two negatives is a positive, and the race was held on dry dusty trails under a most un-Welsh bright blue sky.
79 riders gathered on the start line at 1030, I was on the second row, just behind one team-mate, Phil Morris, and alongside another, Ant White. The race has been growing in statue since it's inception three years ago and now attracts some big names, such as reigning and former European 24hr Champions, Iwona Szmyd and Huw Thomas respectively.
Rich Samuel right behind me
My first lap didn't go awfully well, I fluffed the start a little, taking longer than necessary to get my right foot clipped in and was about 20th as we left the arena and headed out onto the course. I got a few places back on the run down to the first singletrack section. A group had broken away at the front but half a dozen of us formed ourselves into a chasing pack and set off in pursuit. I swapped places with Huw a few times, which wasn't expected, I was quite pleased to be keeping up with him. The first climb was the loose gravely one which people either love or hate, I'm actually one of the few who love it, followed by a descent down through the rhododendrons, with an interesting drop at the end. There was another climb, familiar to me from various National XC races over the years but this then deviated from the usual route with a new trail-centre type descent, all berms and drop-offs down to the river crossing.
The second river crossing was preceded by the long grassy climb and the traverse descent. Coming out of the river crossing I got a large stick through my drivetrain. This resulted in a lot of noise and a sudden decrease in forward momentum. It was removed, but then I had the problem getting clipped in again, by which time about five riders had come passed me. I survived the following drop off with one foot waving about and set off up the climb.
Winner George Budd. This is about as much as anyone saw of him all day.
The black-run descent should not have been difficult. I rode it without any difficulty about three weeks before the event when having a look at the course with race organiser Gareth Hayes. However, I had come off twice in practice the day before the race.
The first practice crash was a silly error, there was a tight left hand hairpin about half way down, but I took the wrong line and went too wide, my front wheel hit a rock and pitched me over the front. It was one of those crashes where everything happens in slow motion, where your brain actually seems able to keep up with events. I remember rolling over and over with arms and legs flailing around, my eyes shut tight. I came to a halt and in that moment when the brain is able to process information thought "Oh good, I've stopped." I could feel pressure on the top of my head and realised I was actually upside down, and had merely paused rather than stopped completely and so over I went again, landing in a seated position with my legs either side of a small tree. Had anyone been watching it must have a looked a bit like I was break-dancing, albeit with a cartwheeling bike in the background.
I went back up to the top of the descent for another go, thinking that I should be able to ride it properly. However, the crash had shaken me a little and my concentration wasn't what it should have been, I got the line wrong almost immediately and flew sideways off the bike and into the undergrowth right at the top.
In the race itself I sailed straight over these two sections without any problems at all, keeping my weight over the back of the bike, keeping the speed under control with the front brake and sliding the rear around the tight hairpin before taking the line too far to the left and ending up in heap next to the rock steps a bit further down, blood coming from my left shin.
Fortunately that was my only crash of the race and it wasn't a serious one. On the following lap the person I was chasing elected not to tackle that and headed off down the alternative route. I followed him, deciding not to risk shedding more skin on the tricky section. Rich Samuel was right on my wheel as I headed down there, but he turned right and took the conventional route. The trails merged again at the bottom and I just got ahead of Rich heading into the next climb, the two routes were exactly the same length, perfect planning by the organisers.
Rich still right behind me. He followed me around for ages
(he did beat me in the end though)
The battle with Rich continued for the next few laps, I have no idea how many times we overtook each other. There were two other guys there as well, but I don't know who they were, it made for a good little fight though, it was a lot of fun. Every time I came through the pits Jay, who was doing a great job with the commentary, would announce me 4th 5th or 6th, the places were changing all the time.
I dropped back a bit after about 6 hours, the climbs were starting to get to me a little and I was struggling to keep the pace up, Jay called me at 7th at the end of that lap. Rich seemed to have got his head into gear on the techie descent and had opened a bit of gap there over the previous couple of laps so I decided to be brave and head down that route again. I just took it steady and there was no further break-dancing nor loss of blood.
Enough grass to hide a bike, but is it 26" or 29" tall?
Stuart was roped in to help with bottles and suchlike, keeping me well supplied with Accelerade during the race and also providing just the right amount of heckling to keep me motivated, helped by Ian and Corby amongst others. The heckling obviously worked, either that or the Accelerade really is as good as I thought, and at the start of what would be my final lap I was back in 5th, which is where I eventually finished, crossing the line in 7hr56m36s, just over 3 minutes inside the cut-off, perfect timing.

Overall I thoroughly enjoyed the event. It is deceptively tough, despite my incompetence on the main descent there is nothing too scary on the course but it just relentless, there is nowhere to get your breath. My GPS device had recorded my nine laps as having a total climb of 11,780ft, but when I uploaded the data onto Strava later on it only registered 7,662ft, which is a huge difference. From the figures others were reporting I think the former is more accurate, it certainly felt like it as far as my legs were concerned!

I would like to say a big thank-you to Stuart for looking after me mid-race and to Kevin Thomas for the photographs, but especially to Gareth and co for another great event.
---
More on the Margam Madness 2014:
Event Calendar Listing
Blogger Info:
---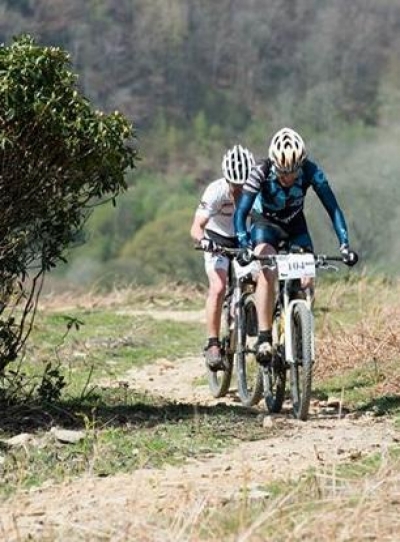 Age: 33
Location: Scottish Borders. A big improvement, topographically if not meteologically, over my home of South Lincolnshire.
XCRacer/Scimitar team member
Racing since 1999, racing 24hrs since 2010

Read More By Andrew
---
Disclaimer:
This blog post was written by a third party and their views do not necessarily reflect the views of XCRacer.com