---
Tapering and Racing, Tapering and Racing.......
Share on Facebook
Share on Twitter
Published: 11th July, 2011
The day after the European Championships we drove directly to Montebelluna, Italy to prepare for the World Marathon Championships. The accumulation of hard training at home, the Trans Germany and the Euros hit me hard and I was feeling tired. I spoke to my coach (Matt Hart, Torq), reduced my training and started to listen to my body. Even after 10 hours sleep each night I was still waking up feeling completely drained with heavy legs.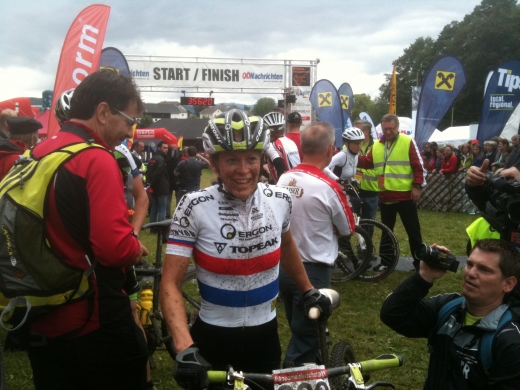 Photo: European Marathon Championships, Kleinzell (AUT)
After a day off and another very easy day, I went out for 3 hours staying in Zone 2 (130-142 bpm). I was feeling OK, but not great. The following day I completed several 1 to 3 minute Zone 6 intervals (>168bpm) during a mixed pace off-road ride. When I'm tired, physically and mentally, I prefer to do spontaneous intervals off -road rather than structured intervals with specific durations and recovery times. This worked well, so two days later I did a few longer intervals (5 to 10 minutes) followed by 30 second sprints (x8). I finished the week off with a 4 hour Zone 2 ride and a nice meal with Dave and my team mates Alban Lakata and Robert Mennen in a great Pizzeria.
A week before the Worlds I was still feeling heavy legged and unusually tired. I started to worry! I had a very easy week planned, but I was unsure whether I would bounce back and peak in time for the race. On Monday and Tuesday I went for 1-2 hour easy spins; Wednesday was an unstructured Zone 6 interval session; and on Thursday and Friday I went for easy 1-2 hour spins. I was finally starting to feel strong. The day before the race I went for another easy 1 hour spin with a few 30 second to 1 minute intervals and I was feeling even stronger J
I'd peaked perfectly and the day of the race I felt really good. I rode at the front for 70kms until a second puncture caused me to lose the lead group again, but this time I wasn't able to make it back to them and 6th position was the best that I could do. I've never punctured in a race before and it seems that bad luck came all at once for me that day. It took a couple of weeks for me to truly focus on the positives of that race and to stop dwelling on the 'what ifs' - though I do still wonder! I seem to have been jinxed at the Worlds for the last couple of years, but I believe that all of my good luck is being saved for one special day - the world Champs in 2012 ;)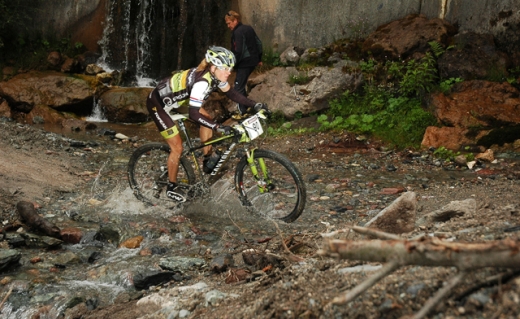 Photo: Kitzalp Bike Marathon
The day after the Worlds we drove straight to Kirchberg, Austria for the first race of the 2011/2012 UCI World Marathon Series. Once again I was feeling tired and I needed another easy week to prepare me for the tough Kitzalp Bike Marathon (95 km/4400 metres of climbing). I had one day off and then a very easy spin for an hour through the valley. The next day I rode the first climb and the first descent of the marathon course, it was really beautiful and I felt very happy to be in the mountains J Three days before the race I completed maximal effort sprints (10 x 30 second sprints and 12 x 15 second sprints). I've never done this session before and I thought it'd be easy; it wasn't! The following day we took a cable car up to the top of a mountain and rode down a really fun, technical trail with lots of rocks, drops and mud :D As usual, I went for an easy spin with a couple of short intervals the day before the race.
During the race I felt really strong for the first hour, but the remaining 4 hours and 48 minutes were tough and I suffered! It was a real battle to keep ahead of Swiss rider Jane Nussli and when I crossed the finish line with a lead of just 2 minutes I was very relieved and happy to have finished; winning was a bonus!
I was due to travel to Villabassa, Italy the following day to prepare for the Dolomiti Superbike; however after 5 weeks of travelling and racing I decided that it was time to go home and to start training again. Over the last 5 weeks I've tapered and raced, tapered and raced, and now it's time to build up my base training again in preparation for the remaining marathons of the UCI Series. Over the next three weeks I'll be clocking up the miles before heading off to the Ischgl Iron Bike in Austria on August 6th.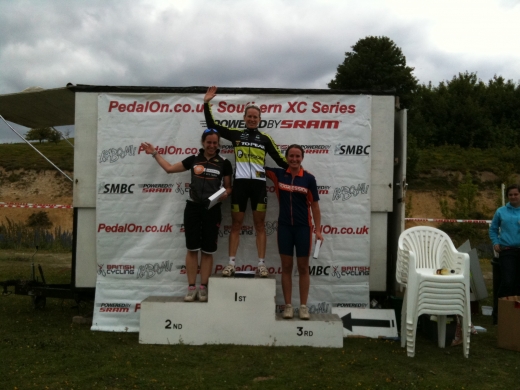 Photo: Southern XC podium with Jo Munden and Natasha Barry
Last weekend I decided to ditch my Zone 5 interval session and instead head off to the Southern XC at Perham Down. It was so nice to race locally: no hotels, no flights or long drives, and lots of friendly, familiar faces from the UK race scene. I've raced two Southern XCs now and both were absolutely brilliant with great organisation and excellent courses. I look forward to the next one J
Happy training and racing,
Sal
Blogger Info:
---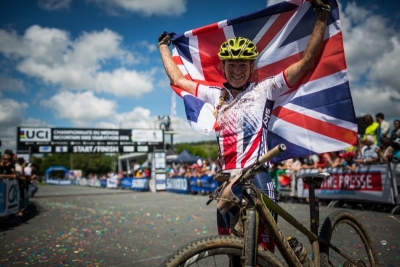 Topeak Ergon Racing Team Rider. European Champion (2016) and 2 x Silver World Championship medals (2016, 2013).
http://topeak-ergon.blogspot.com/
Read More By Sally
---
Disclaimer:
This blog post was written by a third party and their views do not necessarily reflect the views of XCRacer.com