---
Team XCracer at 24/12
Share on Facebook
Share on Twitter
Published: 16th July, 2012
Well, here I am again writing about another 24hr race, thanking my muffins it was a mixed team event. The line up was Phil Morris, Niall Frost, Rob Friel, myself and ???! We had no-one else initally, so my friend Alex Slater made the difficult decision to swap his solo 12hr to make a guest appearance for XCracer.
Entered into the 24hr mixed, we knew we had a good chance for a podium finish, I was looking forward to another Certini/XCracer battle. But the backbone of the Certini Mixed team, and course designers, the Hortons, took the easier route of 24hr Pairs! Crackers...as if you would do that. Instead we were against Fruit for London and EliteVelo as the other Mixed podium contenders.
Myself and Alex arrived on Friday afternoon, having driven through the various storms en route from Birmingham. It was horrendous, but arriving at Newnham, it wasn't too bad at all. We took in a practice lap - the course appeared to have held up, set up the camp, watched the tour on bean bags in the lounge area, ate cheese & drank a bit of beer. So glad I made the decision to stay at my friend's house in Exeter, we drove off at 8pm, and I was treated to a double bed. After a restful night and relaxing breakfast at my friend David's, we arrived back at Newnham, at a lazy 10am. Meeting the Morris family, it was clear by the grey and gaunt looks on their faces ( and deshevelled E-Z up) that their night wasnt as peaceful as ours... A traumatic night - see Donna Morris blog.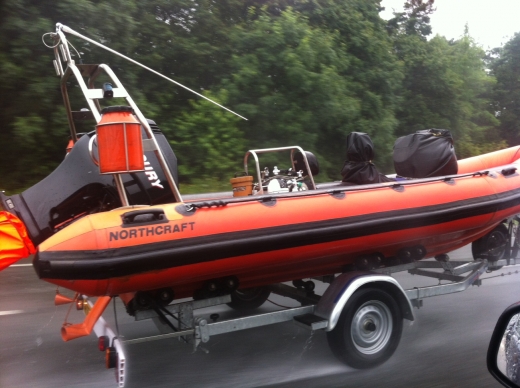 Martyn had the Marshalls prepared. Sod the quad bikes...
Once we had organised our pits area it was time to be more social, I love these events for their more social side of riding/racing. I met Michelle and Matt for the first time, the behind-the-scenes-people of xcracer. Michelle was very jolly considering what she was about to endure...24 hr solo - see Michelle's blog. It always made me smile when I came around the corner and there she was, still going! Her blog made me cry - I think my Mayhem memories were still rather fresh. A few catch ups with the usual xc faces, and the dutiful comments about the weather. I even spotted some friends of friends from Birmingham, who appear to have taken up mountain biking. I have pretty much given up trying to convince my usual friends to come biking so it was great to see some new converts, especially female. I think they have done brilliant, entering 2 of the toughest events to date - a very muddy Mayhem and came back for more two weeks later!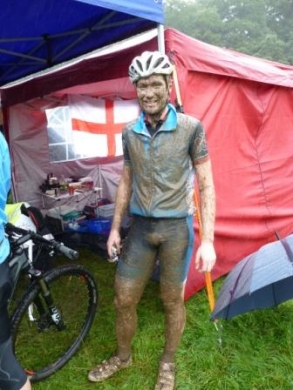 Niall, dirty. Check out that flag behind him too
The 12:00 noon hooter sounded and Phil "the animal" was off, chasing Ben Thomas. Our race order was sorted, I had a big time gap to wait, so off I went to pick up Rob, from Plymouth station, the destination of his short trip from Glasgow... We had a chat in the car, discussing the average life expectency for men in Glasgow - 53 yrs apparently. Arriving back in Newnham Park and Niall was just back, totally blathered. Alex headed out, then me, then Rob and so it went on for the rest of the race.
The course at Newhnam is always enjoyable, the deluge of rain obviously did some damage, no water crossing today - you'd never be seen again. Running/pushing or better still, carrying was a necessity at times, but everyone got on with it in good spirits. The course fairies did a marvelous job of minor alterations as sections become destroyed or more rideable. The marshalls doing their bit in various camps, cheering or making modifications. The "Rock" marshalls were my favourite, belting our the classics. Though I missed the "dance corner" that we have had in previous years, banging out some old skool tunes.
My stuff all cleaned for the 5th time...
By late afternoon we were doing well, leading by a few minutes, over Fruit for London, despite Rob having an awkward puncture - a huge slash in his tyre. He repaired it by putting in a tube but then that bulged out through the gash. Rob still put in a 47min lap including the repair...From tea-time and into the early hours we had been doubling up the laps, giving more time to recover and preserving your clean kit. As in any long races, routine and regime are essential to success, so it was: refuel, drop bike at jet wash, shower, massage, snooze, collect bike, ride bike. By 3am, Niall decided he'd had enough and came back with his rear mech wrapped around his chain stay... no more riding for him. Alex had to go out earlier than expected, on the graveyard shift of 03:15 til 05:15, ouch. My laps landed well, with a gap between 12:00 midnight to 05:00, perfect. It was about 05:30 when the sun slowly came up, I was riding up the Cliff Climb, hardly anyone around, the warmth and brightness of the sun appearing over the horizon was magical. As the daylight hit my body, I could feel primitive mechanisms going on in brain and body, functions gradually switching on and picking up again.
After Niall's mechanical, we lost some of our advantage, the boys gradually pulled it back with some very fast laps. Course changes had meant lap times were actually coming down, alterating our calculations for number of laps. We were finally a lap ahead, I went out for the last one, coming in at 11:55, a bit awkward as I nor anyone else was going out again, full stop. Bit of an anticlimax as I missed the Keith Bontrager hand shake and beer.. However, we did manage the win and the overall fastest team, beating the male team by about 3 minutes. Woop!
A great weekend again of social racing. Best wishes to the Ryley Morris. Thanks to Alex for stepping in and working flipping hard. Poor Rob got home at 12:00 midnight, he left at 12:30. (I was in bed by 8pm)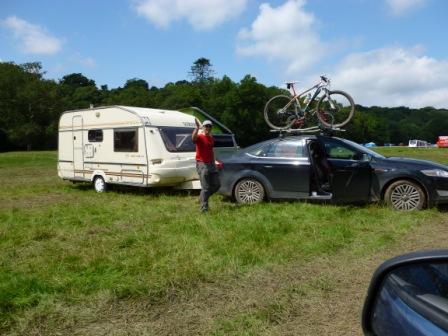 Family Morris on their way.
Thats enough 24 hour racing for me for a bit. What a bloody hard few weeks of bike riding/running. I am recovering surprisingly well, and remarkably motivated too... I think I like it tough. Next race for me is the National Champs, don't think that will be quite so chilled, no cheese and beer.
Big thanks to all who worked at the weekend, the jetwashers were fantastic, how on earth do they keep going in all that shite. Food was in plentiful supply at the catering tent, and the staff always cheery. Thanks to the Hortons for working on that course and then taking it down again, after 24hrs of pairs racing, and washing bikes in rivers. Crackers...
Another great event by Martyn and his team, next stop Olympic MTB !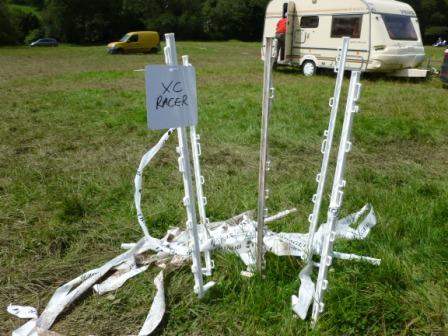 Blogger Info:
---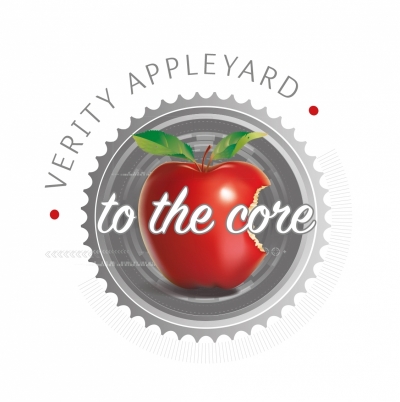 Verity Appleyard.
Riding for Brotherton Cycles
Physiotherapist

XC
Marathon
CX
Enduro

Read More By Verity
---
Disclaimer:
This blog post was written by a third party and their views do not necessarily reflect the views of XCRacer.com