---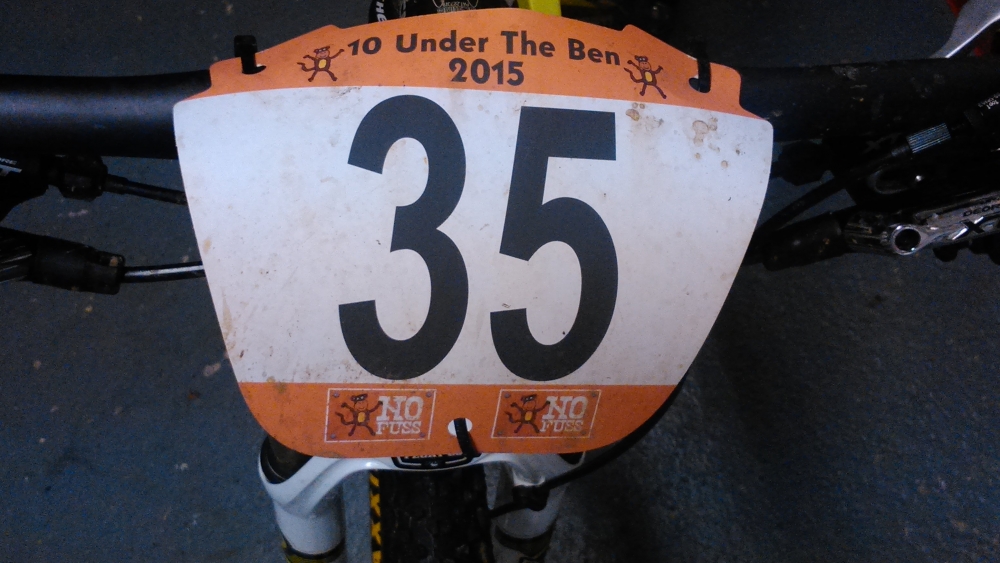 Ten Under the Ben - a solo effort
Share on Facebook
Share on Twitter
Published: 24th June, 2015
Feeling buoyed after a top spot in a pair at Glentress Seven, I made a last minute entry to TUTB as a solo. This is the year for having fun on the bike, riding with friends instead of just a heart rate monitor for company, and riding my bike when I wanted, rather than being dictated to by a plan, so I was a little apprehensive about how I would fare without any formal training. Turns out I didn't do too bad, but I learnt some valuable lessons about how to give yourself the best chance of a good ride, even if you are not on top form…
I got to Fort William pretty early on Friday, and had plenty time for a practice lap after registration, but decided against it. The midges were out in force, the ground looked like it might be a bit damp, and I might have to wash my bike, and I was going to have plenty time to get to know the course on Saturday. First mistake. I've not raced at TUTB for a good few years, and so my first lap on Saturday was a bit of a mystery. I wanted to get a good start to avoid any bottlenecks, and had I known the course I might have held back in some parts and pushed on in others, instead of just giving it my all for the whole lap. A fast first lap was fun though!
If I'd done a practice lap I would also have been able to check out my bike after the journey up. As it was I had a quick spin round the car park on Saturday morning. I was on the start line for about 5 minutes before we got going, chatting to a friend I'd not seen in a while. For some inexplicable reason I took the opportunity to wind both of my brake leavers out. Mistake number 2. My descending on the first lap was atrocious. Everything felt really sketchy. It wasn't until the second lap that I made the connection between the last minute brake adjustment and the complete absence of flow. Due to their new position, where I usually like to cover my brakes on a descent, I was actually braking, loosing grip and giving myself a job to stay on the trail throughout all the twists and turns on the course. With my levers wound back in, descents from lap 3 onward became a lot more fun.
My relaxed attitude to training spilled over to my fuelling plan for the day. I didn't start thinking about what I had and what I needed until Wednesday. I had a rummage in the cupboard and found that I was out of the gels I usually use and so got a quick order in, hoping they'd make it to me overnight. Alas they didn't, so my fuel box consisted of my two remaining gels, and a handful of rejects which had been left in the cupboard for some time. I had a few Trek bars, a couple of cliff bars and some honey stinger chews. I made up a mixture of different types of energy drinks. Recently on long rides I've been fuelling on bacon rolls, coffee, scones, flapjack… I'm a bit out of practice on what to eat when.
On race day I had a vague idea of what I wanted to eat – a bar, a gel and a handful of chews every couple of laps, washed down with some energy drink. I had one of the reject gels just before heading off and remembered why it had been sitting untouched. It was disgusting. The decision to have no more of them depleted my gel reserves considerably. I felt pretty relaxed about this though, as my plan had been pretty loose anyway.
I think I fuelled well for the first four laps, but then it seemed to tail off a bit. When I set out on lap 7 I had four hours left, and felt pretty confident that I would get in another 3, taking my total to 9.
Lap 8 the wheels fell off, and looking back on it now I wonder whether inadequate fuelling played a part. Over the 9 and a half hours on the bike I had two and a half bars (500 cals), three gels (240 cals), a bag of chews (100 cals), about 3 bottles of juice (540 cals), a bottle of coke (200 cals) and half a banana. I probably wasn't too far off what I needed, but the majority of that was taken in the first five laps (for reasons I'll come to). I suspect that the fuelling then tailed off.
On that final lap I was struggling to keep the pedals turning. Gillian Pratt, who had been behind me all day, came flying past me on the climb to the top of the world cup course. She looked so fresh and strong and passed me so quickly that we barely had a chance to exchange greetings. Because of where we were on the course I had a great view of her disappearing into the distance, and storming up the climb. She looked like she was on her first lap, not her eighth!

The final lesson learnt was that I need to charge my Garmin between big rides! For a couple of years now my Garmin has always displayed '100%' no matter how much battery it has left. Halfway through lap 5 it died. I felt genuinely upset by this, and had to have a bit of a talk to myself. Just because I wasn't going to have the stats, didn't mean it hadn't happened! Up to that point I'd been keeping an eye on my HR, making sure it didn't go too high, but also making myself push on if it dropped too low. On a long race, the first check is useful at the beginning, but the second is the one that makes sure I keep moving right up to the finish. So, from then on I was riding to feel. I have never done that before, and I suspect a race is probably not the best time to give it a go. By the time the Garmin died, there was little risk of me pushing on too hard, so really what it would have been useful for was to stop me pootling. The other thing I missed it for was a clear display of time. I'd been taking on some fuel every 30 minutes. I had a watch on, but somehow trying to keep track of time and remembering to look at it became more and more challenging, so that probably contributed to the end of the day bonk.

So, the result. Having sat in third place for most of the day, I believe I moved up to second when I headed out on my eighth, only to drop to third during that lap, then fourth after I finished as another girl put in a ninth lap. I'm pretty chuffed with that. Yes, I might have done better had I done some specific training and been better prepared, but I wouldn't change a thing. I have had a lot of fun on my bike in the last couple of months, going on my first cycle touring trip, entering my first enduro, and getting out on long rides with friends. And I've had a good deal of fun off the bike too.

There were some real positives to take away from the race and the weekend. For a start, completely running down the battery seems to have fixed my Garmin. Secondly, when I was having a rubbish time on the descents I remembered Lee Craigie's trip from the Ride Sierra Nevada trip – slow it down to speed up. As soon as I reigned it in and stopped trying so hard, the descents became smoother, I got a bit more flow and it was all much more enjoyable. It was also great to see so many friends. Seeing someone you know out on the course, having a bit of chat and giving each other some kudos really helps to keep the legs turning. Last but not least, having my bike washed at the end of the day by the lovely mechanic at the Petal Power pit stop, while I refuelled on home bakes and tablet, was pretty good.

Congratulations to the girls on the podium, all of whom had ridden an impressive nine laps. Hannah Barnes and Gillian Pratt are no strangers to endurance events and showed they know what they are doing. Kerry Main was riding her first ever ten hour event. Good going!
---
More on the 10 Under The Ben 2015:
Event Calendar Listing
Blogger Info:
---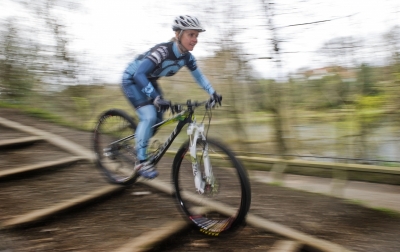 Read More By Katie
---
Disclaimer:
This blog post was written by a third party and their views do not necessarily reflect the views of XCRacer.com