---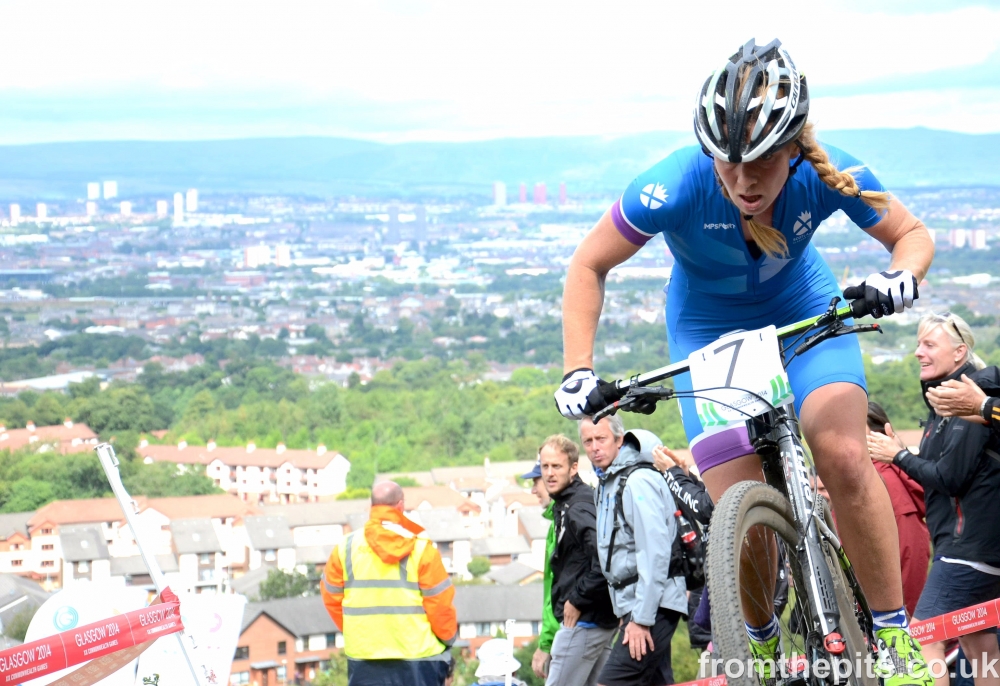 The Friendly Games at Cathkin Braes.
Share on Facebook
Share on Twitter
Published: 5th August, 2014
A week on and I have just about recovered from the Commonwealth Games mountain bike race. I didn't race myself, but I did walk roughly 500 miles to get from the shuttle coach to the venue, and then walked 500 more to get back again.

And once I was inside Cathkin Braes Country Park I did plenty more walking. But I like that of a venue; a course that you can walk around and get up close and personal with. Getting up close and personal is one of the great assets of mountain biking. If you wanted to, you could quite easily lean over the tape that marks the course and push a rider clean off their bike. But that doesn't happen. And that's another reason why I love this sport. Some of the World's best riders lined up at Cathkin Braes last week, and the crowd could watch them race from inches away; hear their breath and feel their speed.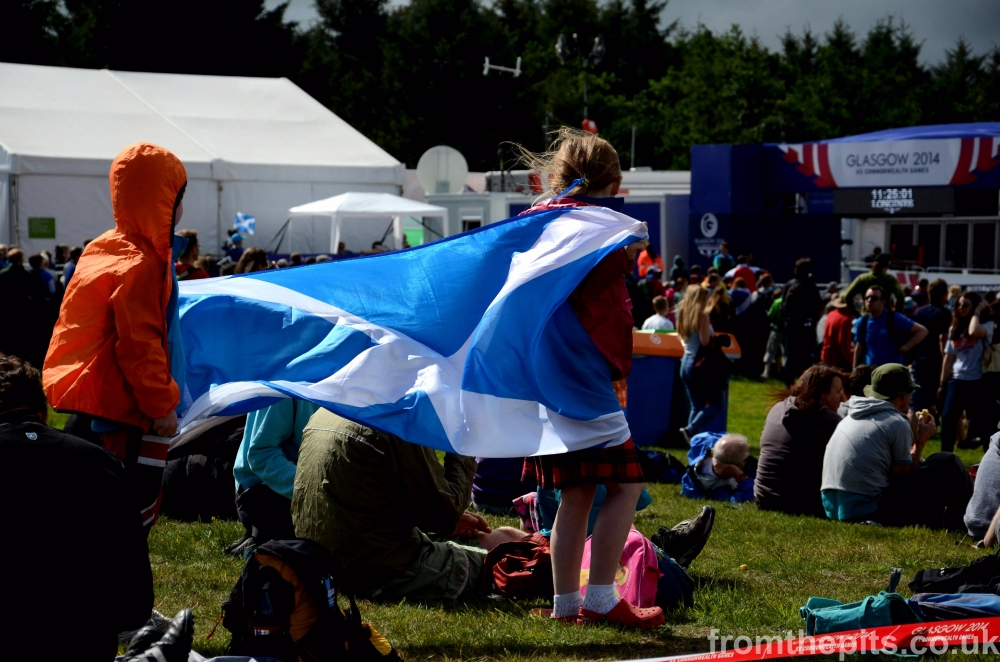 My heart races watching a bike race even if it's on the television and involves no one I know or even care much for, so naturally I was a ball of giddy, and actually quite emotional, nerves as the racing drew closer and a goodly number of friends made their final preparations to race the biggest race of their lives. Everyone else seemed to have their energy channelled into controlling misbehaving picnic blankets and Saltires as the wind whipped across the arena.

The big screen (and it really was big!) showed highlights from the Games so far and interviews with various athletes and organisers, and the MC informed [strong adjective for the slightly dubious 'expertise'] the crowd about the sport, the course, and even the weather. The crowd built around the start straight and start loop, and with around fifteen minutes to the start, we had a countdown on the big screen to "Bring It On Glasgow". Despite not being even remotely Scottish, I felt a funny sense of gutsy Glaswegian pride and punch. I like to think that a wave of this emotion pulsed through the crowd - like when Elizabeth Swann and her cursed Aztec gold fall into the sea at the start of Pirates of the Caribbean, Curse of the Black Pearl - but I'm fairly sure everyone was still just wrestling with their crisp packets.

Well, not everyone. I was standing with the Crumpton family, and their daughter/sister was about to take to the start of the biggest race she'd ever done. They were playing it cool, but they were certainly not partaking in elevenses.

The masses were a little unsure how to react as Dan Jarvis, commentator extraordinaire, announced the riders onto the grid, but the noise grew as the confidence came and by "rider number seven, from Glasgow, Lee Craigie!", the crowds, as they say, went wild! There was also a huge cheer for Beth Crumpton, but that may have been something to do with my location...

Unlike a World Cup - or even a regional race, though obviously the crowds are a lot smaller there - a significant proportion of the crowd at Cathkin was made up of non-cyclists, or at least folk who didn't follow mountain biking. That was evident from people utterly befuddled by the concept of a start loop, and not privy to the term, "hup up up!". As the day went on, they seemed to relax into the swing of things. Polite clapping gave way to raucous cheering, and families migrated from their blankets to explore all that the course had to offer. It was great. The look of wonder on young faces as the pack sped past and riders descended through the likes of Double Dare confirmed that these Games, this mountain bike race, really was inspiring a generation.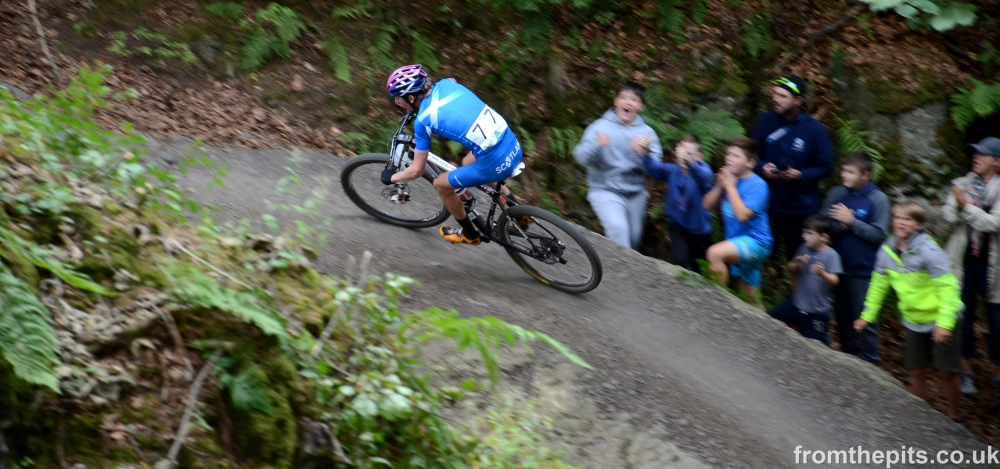 Much was made about the course and the standard of racing. Much was negative.
Catharine Pendrel, who won the women's race, finished second at this weekend's World Cup. Dan McConnell, who got a bronze medal in Glasgow, finished third. These are World Class riders and they came to Cathkin Braes to win. They came with the weight of pressure and expectation of a nation on their shoulders. They treated the course with great respect, and they raced with absolute commitment and passion. Of course the depth of talent was not as you find at a World Cup. But that didn't matter, because what was special was the range of talent. From Canada to Kenya, Namibia to New Zealand.

As for the course, well, the camera always lies. Television's capability of flattening the most extreme terrain is quite extraordinary. I'm not saying that Cathkin was especially technical or badass, but it wasn't as easy at it looked. The hard pack but loose surface took some getting used to, and the features, though not extreme, did offer up plenty of chances to get it all horribly wrong. The track was designed, rather cleverly, to become more difficult the faster you ride it, so it offered a challenge to each of the riders last week, but will also be a usable legacy in the years to come. Plus, its fast nature provided a great men's race, with the front three not able to break away from each other and bringing the race to an exciting conclusion.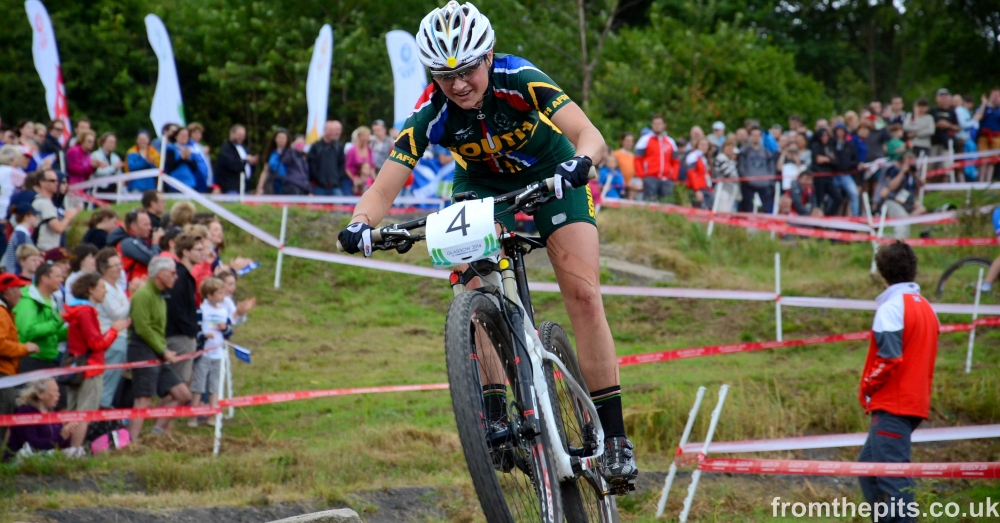 More of that in a moment. First up were the girls. Pendrel, as I've mentioned, took the gold medal, and she did so in emphatic style. I spotted her after the race, just chilling out track-side to support the men, and we had a chat about her ride. [Everything about that sentence is more of why I love this sport!] Catharine said she came to Glasgow to take gold. She knew she was the favourite, however she didn't expect to find herself out front quite so quickly. The strong wind made her nervous that a group could chase effectively together, but Catharine really had no need for nerves as she quickly established a minute advantage and never looked like the win would be anything but hers convincingly.

Behind Pendrel was the Trek Factory Racing trio of Emily Batty (CAN), Bec Henderson (AUS) and Annie Last (ENG). Along with Alice Barnes (ENG), these riders animated and excited the race. It was fantastic to see Annie back on the World stage after a year out of competition with a back injury, and nineteen year old Alice had an absolute stonker, riding much of the race in fourth place and eventually finishing in fifth. Lee Craigie, Jessie Roberts and Kerry MacPhee were, naturally, the fan's favourites, putting their absolute all into the race to do Scotland proud. "The noise", said Jessie, was "just incredible". Lee owed her result to the crowd, and Kerry was so overcome with the support that she had so much to say she was actually speechless! Or, as on her Facebook profile, she wrote single words, in capitals, followed by several exclamation marks!!!! They were absolutely blown away by the crowds.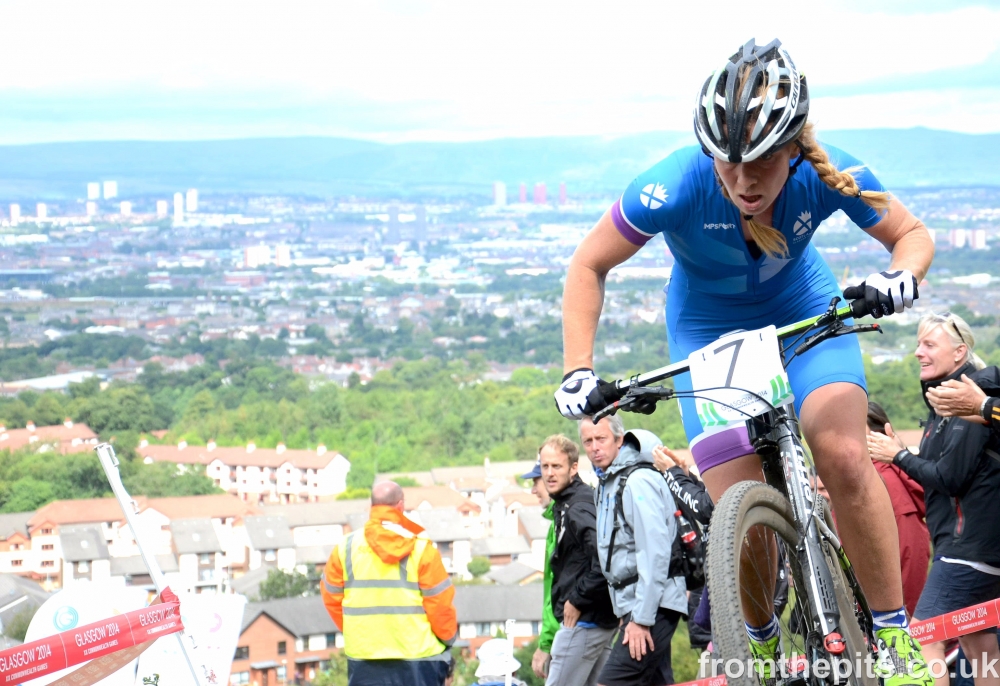 The Men had an equally rousing reception when they raced. Maybe even bigger given the fact that everyone had now fully accepted that shouting until you were hoarse was the done thing in MTB, and, on account of the fact it was after lunch, that there was no longer any need to elicit attention on the fact the gale was grabbing a hold of your sandwiches and carrying them down the hill to Castlemilk. Bloody Gale.

So, Grant 'Frog' Ferguson, as the leading Scot, was on the receiving end of our full capacity roar. We - the crowd - were, admittedly, slightly less keen on the antipodeans who headed the race, which, despite a completely understandable distaste towards Australians in sport (I jest, honestly), is unfortunate really because they put on such a spectacle. The favourite, McConnell, and the two young Kiwis, Anton Cooper, 19, and Sam Gaze, 18, attacked throughout the final lap but no one could break clear. Anton opened up an early sprint to take victory, Sam wasn't able to respond quick enough, and Dan couldn't respond at all. What a showdown! I loved it!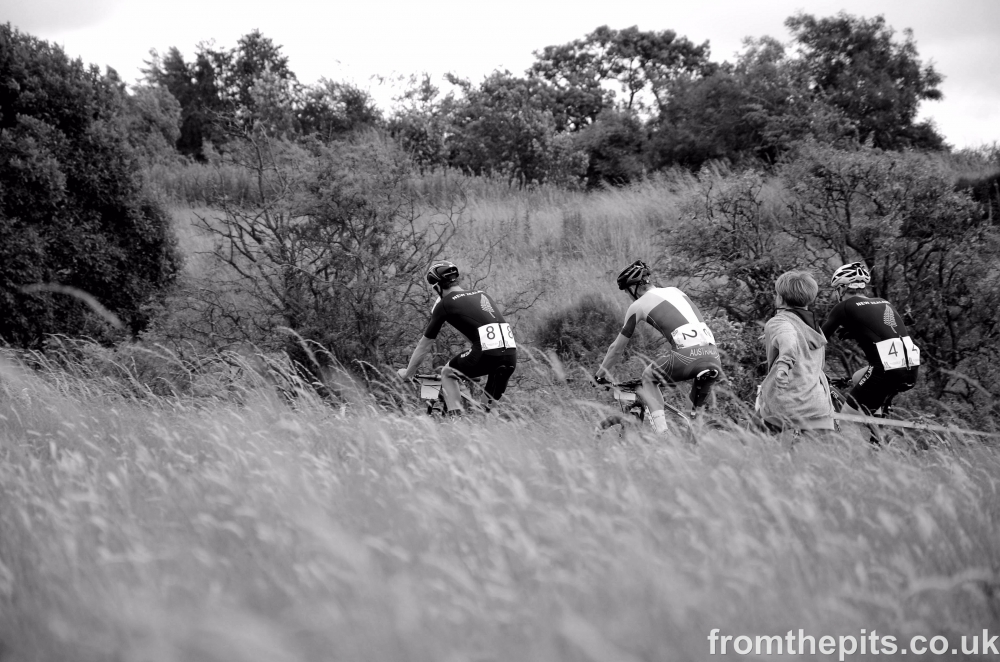 And so it came to an end. Frog rode to an amazing fifth place. The two other Scots, Kenta Gallagher and Gareth Montgomerie, both bow out of the sport following the Commonwealths; what a race to finish on. They all received tremendous support from the partisan supporters. Scotland was very proud last Tuesday. That said, the crowd's bias was not so bold as to fall quiet when other riders passed. Team England were particularly well cheered, and the Africans and Jamaican were encouraged with heartfelt warmth equivalent to at least several watts and a tailwind. The spirit of the Games, The Friendly Games, was alive and well at Cathkin.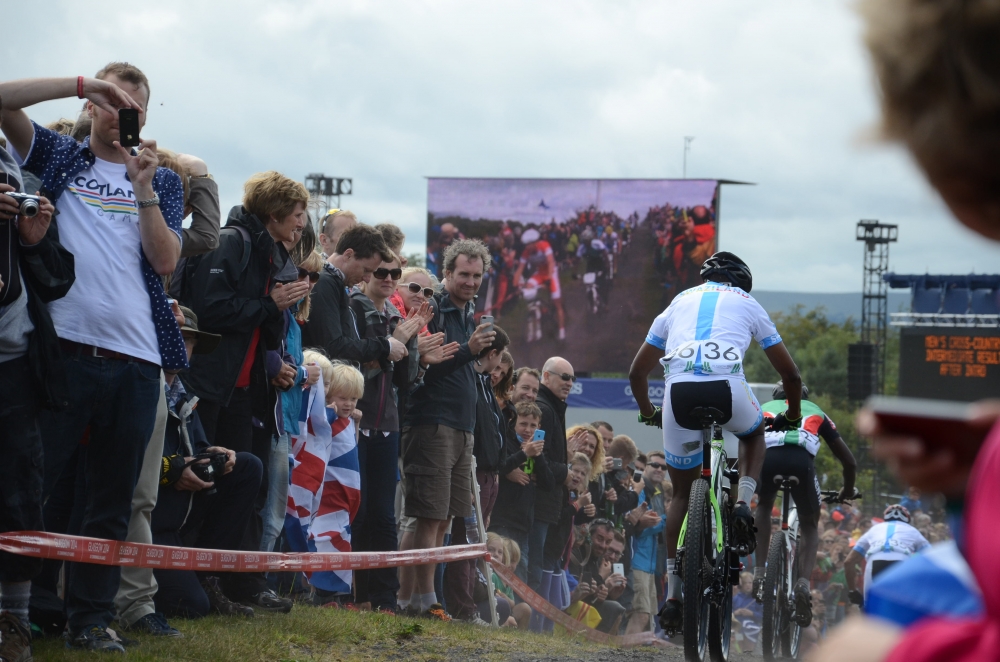 ---
More on the Glasgow Commonwealth Games 2014 XC Mountain Bike:
Event Calendar Listing
Blogger Info:
---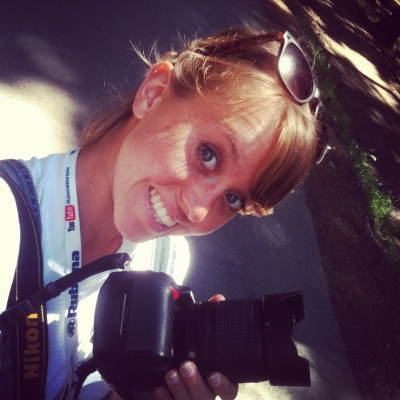 Read More By Anna
---
Disclaimer:
This blog post was written by a third party and their views do not necessarily reflect the views of XCRacer.com