---
The Hairy Coo
Share on Facebook
Share on Twitter
Published: 16th October, 2012
The Hairy Coo is a self proclaimed "grass roots" mtb race. Despite this statement, last year it was won by a British Series winner, the year before that a Scottish Champ and I think I even saw a video of Ben Cathro shredding it up once in some 3/4 length lycra.
As for the track, it's 6km of everything technical you could want, with nothing easy. The old track had tough climbs, with off camber slabs and rooty ramps. The descent had more of the same, with steep drops, river crossings, slick bridges and slimy grassy fast corners. There's even the well known "Double Down" Black arrow. It must be hard if it's named after a Josh Bender video.This years track was basically the same track except it descended and finished right outside the excellent Cafe, with a lap of the new pump track to finish it off.
The field was the usual mix. Plenty of Orange 5's and knee padded riders. Unusual at an XC race, but quite appropriate for this track.
If you want to get a feel for this race I found that Vid:
http://vimeo.com/16052589
The atmosphere was basically a similar one. Lots of people having fun riding push bikes. Just imagine it being really wet and loads more slippy, with the new pump track thrown in (I found a vid of that too - see below).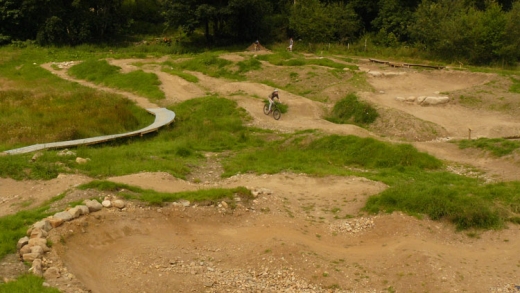 http://www.youtube.com/watch?v=VdvarIOemsU
Comrie Croft itself is a great little place. There's a hostel, an eco campsite and a load of Swedish Kata's that you can sleep in too. The Cafe is new and a good one just next to a mini bike shop. It's nestled into a Perthshire valley, surrounded by big hills and epic day rides and munro bagging. If you like wildlife then you could probably find rutting stags, jumping salmon, ospreys and midges if you know where to look. I suppose the best bit though is that there's really technical mini bike trail and a pump track right up to your front door.
http://www.comriecroft.com/
Sorry for a lack of pics. Result for the big race was myself for the win, then Ian Nimmo. But better than that, a big welcome back 3rd place to Mtb Bob after his achilles rupture.
I'd also like to thank the organisers for the best prizes of any race I've done this year!
After the race it was home to recover with a quick injection of calves blood for the SCX on Sunday. I'm gonna do a Scottish cyclo-cross report soon, but a quick update: Rab Wardell won the first, me the second. David Lines isn't gonna lie down and die though with two 2nd places. Impressively Colin May keeps spanking most of the rest on a single speed. Gareth Montgomerie, Craig Hardie, Jimmy Mac and Dan Whitehead are gonna be lining up soon. Plus I'm sure Dave Henderson is gonna work out how to open a can of whup-ass when he isn't between night shifts. Thinking about it, the fields stacked. Paul McInally, Allan Clarke, James Fraser-Moodie, Ian Walker, Andy Wardman. There's a load of folk that are gonna be challenging for podiums. It's great to see. The womens, vets and juniors are just the same. Huge entries. Huge smiles.
And with that, a thought for the day. British Cycling are announcing record numbers, one off MTB XC events: Hairy Coo, Glentress 7, 10 Under the Ben, Selkirk MTB Marathon, Tour De Ben Nevis and so on are booming. The SCX is the best race series up here just now. BUT the Scottish XC series has Elite and Expert's fileds combined and still the Juniors were racing with us to boost numbers. The courses are the best, but it seems to be getting less popular. I don't get it. Why?
Blogger Info:
--- Read More By Robert
---
Disclaimer:
This blog post was written by a third party and their views do not necessarily reflect the views of XCRacer.com