---
The Innocence of the West
Share on Facebook
Share on Twitter
Published: 26th September, 2012
The Innocence of the West

Last year the third edition of the TCKP Tour of the Himalayas was a huge success. I was lucky enough to ride for the winning GB team and claim 3rd place in the individual. The enthusiasm from last year's GB team raised enough interest to enter 2 British Teams of 5 plus several other Brits joining the Pakistani regional teams, a world team and a Trade team in the 2012 edition. 14 British based riders signed up for the event.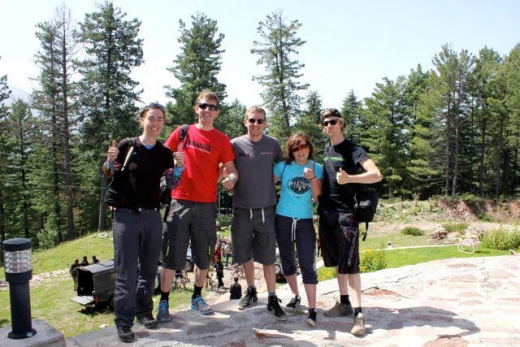 Team 'Would Have Won'
See 2011 report here.
http://www.mountainbikerides.co.uk/news/53-race-reports-a-results/389-team-gb-in-pakistan.html
Four years prior to the 2012 Tour, a spoof film was being made in Hollywood. The actors of the Pythonesque comedy were surprised at the poor quality of the film. The script was awful, the set amateurish, the film was never released.
Then, 1 month prior to the TCKP Tour of the Himalayas "The Innocence of Muslims" went onto YouTube.
The film had changed. The actors voices were dubbed with an anti-islam blasphemous script. The Arab world revolted, US diplomats were murdered at the Embassy in Libya. Western - Muslim relations were highly tense. A few folk raised their eyebrows at my decision to head to Pakistan.
Enjoying the Pakistani roads!
I convinced myself, the rest of the team and those closest to me back home that there would be no problem.
1. Firstly, the organizers wouldn't allow the race to go ahead if we were in danger.
2. And of course, trouble in Libya did not mean trouble in Pakistan. Imagine a Pakistani Muslim cancelling his trip to London based on the Oslo shootings last summer? Stupid?
3. The same man might have chosen to come to England last summer. He might have been caught in a riot because scumbags across England were using a death in Tottenham as an excuse to steal a pair of nice new Nike's and a widescreen TV.
4. That's right - angry mobs exist everywhere. Remember when Gary Neville managed to provoke trouble and a national sporting debate by simply waving his Manchester Utd badge at some disappointed Liverpool fans?
5. On departure day a roadside bomb killed 15 on the Pakistan - Afghan border. Still, I thought we'd be fine. Throughout my childhood and adolescence Belfast was plagued with violence. I lived near Mansfield. No problem. **** happens.
Off we innocently went, 39 Europeans, an Aussie and a Brazilian to take on Pakistan's best riders.
The TCKP Tour of the Himalayas.
The aims of the Tour were:
1. To promote a positive and healthy image of Pakistan abroad;
2. To promote tourism in Pakistan and especially the KP province;
3. To support the development of mountain biking as a sport in Pakistan;
4. To raise funds for the charitable Kaghan Memorial School (KMS) of the Kaghan Memorial Trust.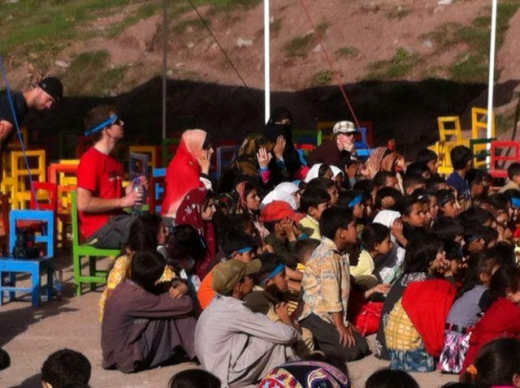 Joining in with my School House. The Bears!
I already knew the mtb riding was some of the best I'd done. I'd been before and convinced some of Scotland's best riders to come and join the race. The success of previous editions of the race had secured some big sponsors. 3 and 4 were covered.
Obviously last year's event was good enough to convince a fair few of us that Pakistan was a great place to visit, especially the KP region. A successful race would have secured another crop of Western riders leaving Pakistan with a positive image. Several MTB publications and websites had coverage and hopefully more westerners would be tempted to come out to the Pakistani Himalayas rather than the usual trek to Everest base camp.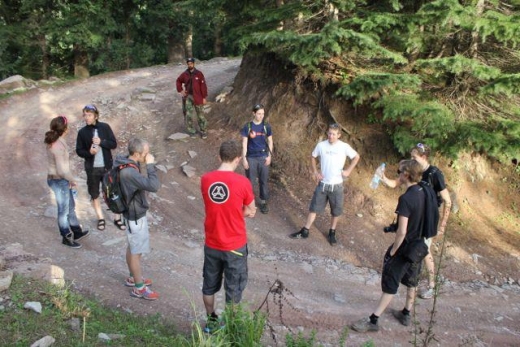 Course Walk.
At the opening ceremony we ate well and were excited to look through the team brochure and check the other teams' palmare's. I knew this didn't really matter. Riding well here meant breathing through your arse without getting diaorrhea. The altitude and culture shock was enough to slow some classy riders and let others flourish.
Included in the race was the 5 x and current Dutch women's XC champ. We had the Slovak women's CX champ. We had a Czech guy who'd top 30'd in the UCI World Champs. We had the current Masters Road Race World Champ. A Hungarian who'd finished 15 Ironman events including a double! Add into that the UK riders who seemed to include more 24hr riders than 'normal folk' with Euro Champs, Mayhem Titles and even a Strathpuffer title to their name. Talented and tough folk for sure.
However, I convinced the "Scottish" team (That should probably be "Living in Scotland" team) we could win. Rab Wardell, Allan Clarke and myself represented the men, Katy Winton and Lisa Kamphausen the women. 2 men and 1 woman had to finish each stage. Well I'd dealt with it last year, and I'm better this year. Rab goes a lot faster than me in normal circumstances. Allan and I are of a similar standard. I know Katy could fly up and down. Lisa I didn't know but she'd won the Strathpuffer 24hr solo and had numb feet for 6 weeks afterwards. She was a pretty good bet to finish if Katy was struggling. We were going to win. You bet your ass.
Race Cancelled
The KP Minister for Tourism and Sport, Syed Aqil Shah addressed the riders to open the 2012 Tour. As we listened to his message and looked at Khurram holding his head in his hands it became clear something was wrong. The Pakistani Government had announced a bank holiday for PEACEFUL PROTEST against the US film. The race couldn't go ahead. Obama and Clinton paid for airspace on Pakistani TV which emphasized their anger and disappointment at the film. Tensions ran high. We were assured we were safe. We were disappointed. It had ruined our race, but I'd been part of Strike action before, we even had a rider who'd climbed a power station chimney to shut it down. We supported the protest. Peaceful political protest is a fundamental human right. We had to support the protest.
Looking at the grim faced politicians and organisers though raised a suspicion we were being kept in the dark. This was more serious than the Public Sector Pensions protest last year. 4 hours after the initial announcement, we re-assembled in the hall. We had to leave. Now. We were to go to the Islamabad Diplomatic Compound where we would have military protection. We travelled through the night with blocked windows. We had 70 Kalashnikov armed guards in our convoy. We were scared.
We arrived behind military blockades in Islamabad in the early hours of Friday morning. We were told to enjoy the facilities of the luxury hotel. The protests were predicted for the afternoon. At about 3pm I walked out to the pool. I heard gun fire and explosions.
The Western bashers, the Gary Neville haters, those in need of a new TV, angry teenagers (you know the sort) were charging the blockade, throwing rocks, battering everything with sticks, burning everything and anything. The Police fired rubber bullets and teargas and as feared some live rounds. The Pakistani mob cut its nose off to spite its face. Darkness fell and the mob went home for tea.
Later in the week a newspaper announced that we fled the Himalayas because Islamic Extremists had threatened to besiege our Hotel and engage us in combat. Scarey stuff. My heart goes out to Khurram Khan (The Henri Desgrange of the Tour) and the Kaghan Memorial Trust. Khurram made a farewell speech to us in Islamabad. He was apologizing for what happened, he was sincerely thanking us for visiting Pakistan. He looked tired. He had risked his own safety by being with us as had the KP Minister. Yet we were treated like superstars throughout. I cannot thank Khurram, the KMT, the KP Governement and the Pakistani Government enough for making our safety paramount, yet still enabling us to have such a brilliant week!
Being interviewed infront of the camera on arrival in Islamabad. Superstars.
Over the next few days the death toll rose to over 2 dozen and over 200 people were injured. What a dark day for Pakistan. What a dark day for the world.
65 years ago my Granddad was building an airbase in Germany after the most evil of wars. 95 years ago my Great Granddad was buried in mud fighting one of the most pointless yet savage wars in history against the Germans.This year I have been to one of my best friends weddings, he's German. What a pleasure to be in the same team as Lisa in Pakistan.
1000 years ago King Richard was bashing Muslims and Robin Hood was stealing from the Sherriff of Nottingham. I went to Pakistan and was the target of an extremist Muslim group.
Why don't we all just stop fighting about religion? Wake up and smell the tea.
Here are several other brilliant blogs, photo's and videos from an amazing week for British and World Cycling.
http://www.alpinebikesracing.com/2012/09/kaghan-memorial-trust-tour-himalayas-report/
http://euanadams.blogspot.co.uk/2012/09/tour-of-himalayas-end.html
http://kinesismorvelo-katy-winton.posterous.com/kaghan-memorial-trust-tour-of-the-himalayas-e
For further info about the school we were raising funds for please see
www.kmt.org.uk
What a brilliant trust, raising funds and educating children in the area devastated by the 2005 earthquake that tore through the Pakistani Himalayas. The Trust is non-profit, aims to give meaningful education to less priviledged children in Kaghan. It is reliant on volunteers. As well as education the school looks after the childrens health. The school grows annually.
I suspect that the British riders will be organising some fund raising for the KMT soon.
Below is a full list of the riders who shared one of the most brilliant and exhilarating weeks with me on the run in Pakistan:
Scotland:
1. Rob Friel
2. Rab Wardell
3. Allan Clarke
4. Katy Winton
5. Lisa Kamphausen
England:
1. Euan Adams
2. Rachel Sokal
3. Jon Pybus
4. Anthony Jordan
5. Anna Buick
Holland
1. Laura Turpijn
2. Chris Van Den Bergh
3. Remko Kramer
4. Guus Gerrits
5. Immanuel (Miel) Barkmeijer
Czech Republic
1. Marek Rauchfuss
2. Michal Vlasek
3. Marcel Sladek
4. Lucie Vlaskova
5. Lucie Macikova
Denmark
1. Lone Sand
2. Keld Fjord
3. Soren Peterson
4. Jon Moeller Andersen
5. Tina Sloth
Slovakia
1. Ivan Viglasky
2. Zuzana Vojtasova
3. Lukas Batora
4. Martin Frano
5. Livia Hanesova
Hungary
1. Eszter Dosa
2. Veronika Cseh
3. Daniel Ordog
4. Gergo Horvath
5. Viktor Szasz
World United
1. Mark Spratt (GB)
2. Rico Busk
3. Mel Alexander (GB)
4. Fernanda Castilho Rodrigues
5. Haroon Rashid
Pakistan
1. Hannah Bussey (GB)
2. Tenna Gregersen
3. Mohammad Sabir
4. Mohammad Ibrahim
5. Asid Mehmood
Khyber Pakhtunkwa (KP)
1. Lousie Mahe (GB)
2. Syed Tahir Shah
3. Sarmad Shabab
4. Rab Nawaz
SUI Southern Gas Company Limited
1. Monika Sudhoff
2. Habibullah
3. Asif
4. Abdullah Aslam
Peace be with you!
Blogger Info:
--- Read More By Robert
---
Disclaimer:
This blog post was written by a third party and their views do not necessarily reflect the views of XCRacer.com