---
Training in Riva del Garda, Italy
Share on Facebook
Share on Twitter
Published: 29th April, 2011
Kristine Norgaard, my partner in the Andalucia Bike Race, suggested that we spend Easter training together in Riva. She's been to Riva many times before and knows her way around the mountains to the western side of the lake. Riva is a really beautiful place with so many different and varied trails to choose from, ranging from asphalt and fire roads; to fun technical trails; through to super challenging and scary trails! There really is something for everyone and it's great to see young children whizzing along on their mini mountain bikes or in bike trailers! It's cool to see so many different people enjoying the amazing trails and views. Add to this the Italian ice cream and coffee and it really is a biker's paradise.
I arrived in Riva exactly two weeks after the finish of the Cape Epic and I wasn't completely recovered. I didn't feel tired but my heart rate was at least 10 beats per minute higher than what it should've been; however I also had bad hay fever and I wasn't sure if it was this or fatigue causing the problem. I decided not to push it but instead to just enjoy some long mixed pace rides with Kristine without any specific structure.
The first day we had a 3 hour easy ride through the valley. The following three days we headed off into the mountains, going up to Paso Nota (1205 metres) and Monte Tremalzo (1686 metres) using a variety of different ascents and descents. It was so nice to follow Kristine and not worry about looking at a map :) I don't have much of a head for heights and some of the narrow ribbons of singletrack on the edge of the mountainside took me by surprise! After a few times I was able to force myself not to look down and I could feel myself relax - a little! We covered 130 miles and 7000 metres of climbing in 15 hours of riding over three days. Great :)
After a rest day (AKA ice cream and coffee day) I decided to try some intervals and see what kind of shape I was in. I found a nice gradual asphalt climb near to our apartment and I did 5 x 10 minutes zone 4 intervals (heart rate 159-169). For the first time since the Cape Epic I felt really strong and I spent the rest of the day buzzing :) The next day I rode alone because Kristine had to go back home to Denmark :( I rode for 4 hours but 3 of those were climbing in zone 3 (heart rate 141-155).
The next day Dave came out to join me and I couldn't wait to show him my favourite ride….I slightly underestimated how tough it was and we had to cut it short ;) Unfortunately whereas I've been getting stronger and racing lots, Dave has been losing fitness while supporting me during Andalucia and the Cape Epic. Nevertheless, we rode for 5 hours and I was able to ride up the climbs and back down again as Dave made his way up to the top. This session was a longer easier one so I stayed in zone 2 on the climbs (heart rate 127-141). Dave was relieved to have an ice cream and coffee day the next day ;)
After a rest day I was feeling recovered and I was eager to try an anaerobic interval session (zone 6), the first since before the Cape Epic. We set off on a 3 hour off-road ride (1000 metres of vertical ascent) during which I completed 6 x 3 minute intervals and 8 x 1 minute intervals (heart rate more than 169). I was really happy with how strong I felt and this made the descents even sweeter :)
I've been winding things down now for the last couple of days because I'm racing in the Riva del Garda marathon tomorrow. The great thing about the marathon is that you can decide what distance you want to do during the race: 53km/1659m, 86km/2705m, or 105km/3561m. I'm feeling in good shape so hopefully I'll be riding the full distance……..followed by ice cream :) I have to admit that it feels a bit strange to be racing alone - I'm used to having a race partner during the last two stage races and I'll miss not having someone to share it with!
Fingers crossed for strong legs and good luck!
Sal :D
Blogger Info:
---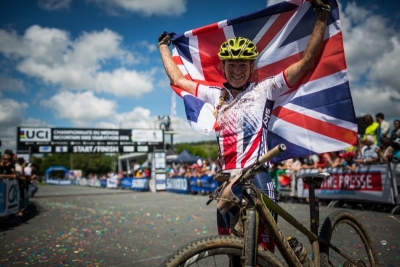 Topeak Ergon Racing Team Rider. European Champion (2016) and 2 x Silver World Championship medals (2016, 2013).
http://topeak-ergon.blogspot.com/
Read More By Sally
---
Disclaimer:
This blog post was written by a third party and their views do not necessarily reflect the views of XCRacer.com