---
Training races, tapering and peaking (hopefully!)
Share on Facebook
Share on Twitter
Published: 10th June, 2011
I'm thoroughly enjoying a recovery week this week after two weeks of high load training J After the Etna marathon my plan was to have 3 weeks of high load training, but a sore throat meant that I had to take a couple of unscheduled rest days and consequently an easy week. Fortunately, I shook the illness off really quickly (lots of Vit C, Echinacea, and sleep!) so I was able to get in two weeks of hard training before tapering for the European Marathon Champs this Sunday.
My training sessions are all designed to ensure that I train in different zones, ranging from Zone 1 which is recovery pace through to Zone 6 which is anaerobic. In order to make sure that I stay in the right zone the majority of my training is on the road because it is very difficult to maintain a constant heart rate when riding off-road. The last two weeks of high-load training looked like this:
Sunday: 3 hours at Z3 (141-152 bpm)
Monday: 6.5 hours at Z2 (127-141bpm)
Tuesday: 1 hour at Z1 (<127 bpm). I usually do this session on the rollers, followed by yoga and core exercises.
Wednesday: Z6 anaerobic intervals with heart rate > 168bpm (8 x 3minutes; 6 x 1 minute; 10 x 15 seconds)
Thursday: 3 hours at Zone 3
Friday: 6.5 hours at Zone 2
Saturday: 1 hour Zone 1, yoga, and core exercises
Sunday: 6 x 10 minute Zone 4 intervals (at or just below 168 bpm) followed by 10 x 30 second Zone 6 sprints
Monday: Travel to Germany
Tuesday: 1 hour at Zone 1
Wednesday to Saturday: Trans Germany 4 day stage race
It was all part of 'the plan' to be tired going into the Trans Germany; I needed some hard training before the European and World Marathon Championships. The idea is to train hard and then back off 7-10 days before your important event so that you are fully recovered and 'peak'. It's not possible to be in top shape for all events and some races have to be sacrificed for other more important events. Together with my coach Matt Hart, I plan which races will be important 'A races' and which ones are less important 'B races'. In this case, the Trans Germany was a B race and I knew that I wouldn't be in top shape for it; nevertheless I still struggled psychologically on the first day when I couldn't keep the pace of Pia Sundstedt (Craft Rocky Mountain) and Milena Landtwing (Centurion Vaude). After some psychological coaching from my boyfriend Dave, I was in a better mental state for the following stages! I felt stronger as the race went on and on the last day I was able to take a stage win J I finished in 2nd place overall, Pia took the win and Milena finished in 3rd.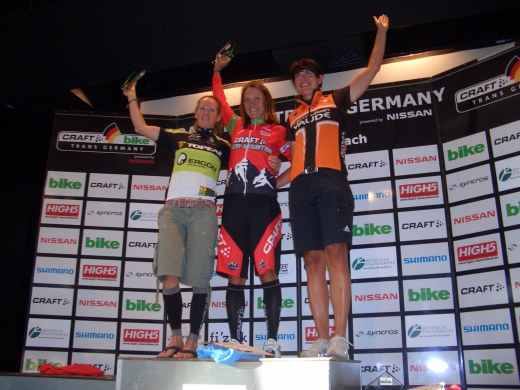 With only 4 reasonably short stages ( hours each stage) the Trans Germany was great training and hopefully I'm now well on the way to peaking on Sunday. Fingers crossed!!! After the Euros we head straight to Italy to prepare for the World Marathon Championships. I'll have one week of reasonably hard training followed by a taper week - I can't wait to spend my days relaxing and recovering while eating Italian ice cream :D
Blogger Info:
---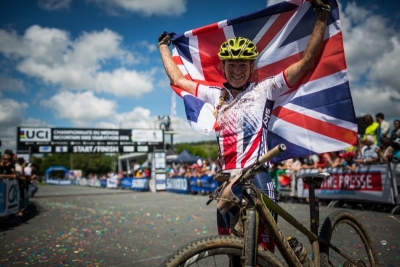 Topeak Ergon Racing Team Rider. European Champion (2016) and 2 x Silver World Championship medals (2016, 2013).
http://topeak-ergon.blogspot.com/
Read More By Sally
---
Disclaimer:
This blog post was written by a third party and their views do not necessarily reflect the views of XCRacer.com